Found November 03, 2011 on Fox Sports Ohio:
Peyton Hillis said many of the right things Thursday when he spoke to the media. He gave his best humble speech, talked of learning, talked of not wanting to let anyone down, talked of not being able to describe things that happen behind the scenes. Perhaps the most important thing he said, though, was that he was able to make it through Thursdays practice and he was pointing toward playing against Houston on Sunday. The NFL is an unforgiving world. If a guy is not out for an extended time and if a guy is able to do things like throw a football across the field before a game, then hes expected to try to play. Teammates want their main guys out there. Its a part of the code; the stars are stars because they play, but leaders cant lead if they dont produce. There was the time that former Chargers linebacker Junior Seau was asked during Ryan Leafs rookie season how a rookie earned respect, and he said: By feeding the families of the guys playing on his team. There was the time a former Brown was talking about a teammate and he said: Hes a jerk, but hes there on Sunday. Translation: Show up for the team on Sunday and a lot is forgotten. Alex Mack demonstrated that this season when he played with appendicitis. Hindsight might say that might not have been the best decision, but he was out there for his teammates. Peyton Hillis hasnt been. There may be reasons. And guys accept them -- to a point. But when they hear that a guy felt well enough to go to the stadium but left on the advice of his agent that raises eyebrows. Then when a guy stands up in front of his teammates at a team meeting prior to a game in Oakland and promises hes going to play for them the next day and then lasts 15 or so plays its noticed. Its not that they dont believe a guy is hurting. They do. They just know hes not out there with them. Then, when a guy misses a charity event for kids, it just doesnt sit well. The same night Hillis missed his appearance at the Boys and Girls Club in Cleveland, Joe Haden missed an appearance. The difference: Haden called ahead and sent memorabilia to sell for the benefit of the group. Hillis, and his management team, didnt bother to answer a call or a text. When all this is going on within the context of a contract discussion, the door is open for more questions. Its safe to say there is a strong feeling throughout the league that Hillis is playing for a contract this season, and people believe -- true or not -- that he is not willing to stretch himself because he wants to protect that contract. Hillis has contributed to the impression. (Oddly, guys usually do this after they sign a big deal. Thats when coast mode sometimes kicks in. Doing it before the contract is signed? Not wise.) So now Hillis faces the situation where he has to get back on the field to earn that contract. At this point, no team is going go give big money to a guy who had one good year, then spent part of the next on the bench. Fair or not, thats how it goes. Running backs are readily available. If reports (that first came from Tony Zarrella of WOIO-Channel 19) are true that the Browns offered Hillis 16.5 million for three years, then he turned 5.5 million per year, with 3 million guaranteed. Thats not big-time running back money, but thats a lot of money for a guy who had one good season, who fumbles a lot, and whose running style puts him at risk. Kevin Johnson had some good seasons for the Browns and wanted big money. When he didnt get it, he sought a trade and a day later took the Browns offer. Hillis may wind up with a longer and better career, but at this point the situations arent that dissimilar. None of this goes unnoticed in a locker room. But theres one way to overcome it: Produce (See Chad Johnson, Cincinnati). As Jimmy Johnson once said, the more a guy produces the more he gets away with. A backup who gets arrested gets cut, Johnson said. What if Dan Marino fell asleep in a meeting, he was asked. Johnson bent over, cupped his hand around his mouth and whispered: Please wake up. I feel like the guys are looking up to me and need me to produce for the team, Hillis said. I think they expect a lot out of me, even more than I expect for myself. That makes me work harder for them. Given the events of the season, that kind of statement might cause some rolled eyes. Hillis a year ago came across as an aw-shucks, jeans-and-boots kind of country guy. Now he comes across as a guy trying to cash in after one big year. His reputation has taken a beating, perhaps a bit unfairly. But where theres smoke theres fire, and a guy who talks about responsibility who simply doesnt show up for an event for kids is stoking a fire.. Hillis talked like he understood. Whether he gets it is another matter. You do care what people think, especially people that you care about and people that care about you, he said. At this point the best thing Hillis can do is get back on the field and start producing. Hes got nine games left to prove to his teammates he is with them, nine games left to prove to his management hes worth more than theyre offering, and nine games left to prove he understands what truly matters -- and thats going out and helping his team win. He said hes trying to be the best player I can be, the best teammate Which sounds good. Going out and actually doing it would be better.
Original Story:
http://www.foxsportsohio.com/11/03/11...
THE BACKYARD
BEST OF MAXIM
RELATED ARTICLES
BURNING BRIDGES
The Cleveland Browns running back is embroiled in another controversy after he allegedly skipped out on a Halloween event for the Boys & Girls Club.
The Cleveland Browns could still be waiting on the return of Peyton Hillis after he appeared to reinjure his hamstring at practice today.
Cleveland Browns running back Peyton Hillis participated in practice Wednesday as he continues his recovery from a hamstring injury.Hillis missed the Browns' previous two games with the strain, and is expected to be cautious throughout the week with an eye toward returning for Sunday's matchup with the host Houston Texans.There were reports that Hillis could have played last...
Cleveland Browns running back Peyton Hillis has been ruled out for Sunday's game against the Houston Texans.Hillis was downgraded Saturday, a day after reaggravating a nagging hamstring injury during practice. A visibly upset Hillis slammed his helmet on the ground after he came up hobbling at the end of a play.An MRI taken shortly after revealed a significant strain of the hamstring...
While there has been little detail revealed about the situation between Peyton Hillis and the Cleveland Browns, it's pretty obvious the relationship is not a pleasant one.  Hillis had a monster year for the Browns in 2010, but the team clearly does not value him enough to offer him a lucrative extension.  It would also [...]
Cleveland Browns running back Peyton Hillis is officially out for Sunday's game in Houston after re-injuring his hamstring in practice.
BEREA, Ohio (AP) -- Browns starting running back Peyton Hillis is practicing and taking part in team drills, increasing his chances of playing this week after sitting out the past two games with a hamstring injury. Hillis hasn't played since straining his left hamstring against Oakland on Oct. 16. He ran at full speed at cut without any difficulty during the portion of Thursday...
Peyton Hillis is out of Sunday's game in Houston, and the way things are going for the Browns running back, it may not be long before he's out of Cleveland for good.
Cleveland Browns running back Peyton Hillis re-injured his hamstring during practice Friday, The Plain Dealer reported.
Cleveland Browns running back Peyton Hillis has rushed for fewer yards this season (211) than Cowboys rookie DeMarco Muray had a single game (253) and he's missed more games (three) than he's been in the end zone (two). Since winning a fan vote to be put on the cover of "Madden 12," Hillis has engaged in public squabbles about his contract, missed a game because...
The Cleveland Browns released Brian Robiskie yesterday when they needed a roster spot for another running back after injuries to Peyton Hillis and Montario Hardesty. Many of us were rooting for Robiskie since the Browns drafted him out of Ohio State. That said, Eric Mangini and George Kokinis were crazy to draft him at the top of the second round in their disastrous 2009 draft....
Browns News

Delivered to your inbox

You'll also receive Yardbarker's daily Top 10, featuring the best sports stories from around the web. Customize your newsletter to get articles on your favorite sports and teams. And the best part? It's free!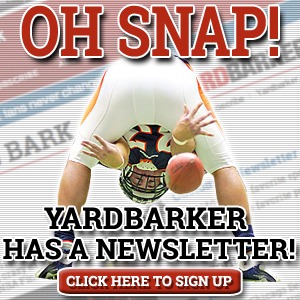 Latest Rumors
The Backyard

Today's Best Stuff

For Bloggers

Join the Yardbarker Network for more promotion, traffic, and money.

Company Info

Help

What is Yardbarker?

Yardbarker is the largest network of sports blogs and pro athlete blogs on the web. This site is the hub of the Yardbarker Network, where our editors and algorithms curate the best sports content from our network and beyond.