Found August 26, 2012 on Fox Sports Wisconsin:
GREEN BAY, Wis. Packers cornerback Davon House wants to play in Week 1 of the regular season. But after dislocating his left shoulder in the first game of the preseason on Aug. 9 and being out ever since, House will not be at full strength this year -- no matter when he can make it back to the field. "I'm going to have to wear that (harness) the whole year," House said Sunday. "I really don't know how it's going to go until I go out there. I haven't really covered anyone since the injury. Running-wise, I can run with the harness on. We'll see if I'll be able to cover with it. "I've been wearing the harness every day for the past week and a half. I figure within the next week I'll probably go out there and run with one of the staffs to see if I can cover with it." The good news for House, however, is that shoulder surgery is not going to happen, at least not under the current circumstances of the injury. "What I was told, if it was to pop out again, then I'll have to get surgery," House said. "As long as it doesn't pop out again, I'll play with the harness on. Hopefully it doesn't pop out at all." House, a fourth-round pick in 2011, had entered training camp in a battle for the starting cornerback spot opposite Tramon Williams. Early on, it was Jarrett Bush who was with the first-team defense. But soon, as House continued to play well, the 23-year-old out of New Mexico State was in clear control of winning that starting job. "To have this shoulder injury happen Week 1 of preseason, it sucks," House said. "I stayed here (in Green Bay) over the offseason, dedicated my time off up here to getting better, getting healthy. Then this accident happened. "It might've been a day or two of me being depressed or sad and whatnot, but with the (defensive backs) around me that hurt their shoulders, Tramon and (Charles) Woodson, that gave me some hope of being able to perform at a high level with a shoulder injury." Williams suffered a shoulder injury in Week 1 last season and missed the following game. But Williams returned in Week 3 and was able to play the remainder of the year, despite the condition of his shoulder. That injury did harm Williams' performance, though, as he was clearly not the same Pro Bowl player that he had been in 2010. House knows that he'll be going through a similar type of season in 2012, being forced to change the aggressive style of play that he prefers. "I'm going to have to be smarter (and) my feet are going to have to be a lot better," House said. "I'll have to be a lot quicker with my hands. I can't just be riding on and throwing receivers like I wanted to. It's going to have to be quick jabs and running with them. "I'm feeling more confident with my shoulder, with talking to our medical staff and how much it's progressed since the injury. They're very impressed with how far it's gone already." House was hurt while on punt-coverage duty in San Diego more than two weeks ago. Two days after that game, coach Mike McCarthy said it would take between two and three weeks to determine whether House would require surgery or could play with a harness on. Even with the positive reports from the Packers' medical staff, there have been issues in House's recovery. "There's pain," House said. "There's certain movements I can't do right now with my arm. But every day it's getting a lot better." With two weeks to go until Green Bay begins its regular season against the San Francisco 49ers at Lambeau Field, it's possible that there is enough time for House to adjust to playing with the harness. But if House is unable to pass certain tests, his return could be delayed. "If my shoulder won't let me go, then I can't really go," House said. "I can't be out there with one arm and trying to cover. It's hard to do. If I can't perform the way I can, they're not going to put me out there. Because then I'll just get picked on and there's no fun in that." House also believes that he'll need to go through several practices before playing in a game. "I doubt I'd be able to go without any practice," House said. "Practice is probably a must." Though it's doubtful House will look like the same player this season that he would have without the shoulder injury, having the talented young cornerback available at all will be a boost to a Packers secondary that is still struggling to find a starter. "They really haven't given me any timetable," House said. "Whenever my shoulder is ready. Hopefully I'm ready for Week 1. That's my main goal is Week 1." Follow Paul Imig on Twitter.
Original Story:
http://www.foxsportswisconsin.com/08/...
THE BACKYARD
BEST OF MAXIM
RELATED ARTICLES
GREEN BAY, Wis. As he does every week, Packers quarterback Aaron Rodgers met with the local media following Monday's practice in front of his locker. This time, things ended very different than usual. After just one minute of Rodgers answering questions, fullback John Kuhn snuck up from behind and shoved a towel-full of shaving cream into the NFL MVP's face. Rodgers stopped...
GREEN BAY, Wis To get their roster down to 75 by the Monday afternoon deadline, the Green Bay Packers released two players, placed six on injured reserve and put two on the reserve physically unable to perform (PUP) list. Defensive end Jarius Wynn, who had three sacks and started four games last season, was one of the two players released. Fullback Jon Hoese was the other. Linebacker...
The Green Bay Packers are being touted as one of the number 1 contenders in the 2012 season, and with the third best passing offense in 2011 (averaging 307.8 yards per game) there are plenty of reasons to be high on the Packers players as fantasy options. Aaron Rodgers and crew are playing the league's second easiest schedule in 2012, playing only seven teams that had at least 9...
The Green Bay Packers have placed linebacker Desmond Bishop on injured reserve, ending his season. Bishop tore his right hamstring in the team's first preseason game at San Diego. Packers coach Mike McCarthy said at the time that Bishop's season was in jeopardy. He had to have surgery, so Monday's move was widely expected. The Packers also placed running back Du'...
The Green Bay Packers have placed linebacker Desmond Bishop on injured reserve, ending his season. Bishop tore his right hamstring in the team's first preseason game at San Diego. Packers coach Mike McCarthy said at the time that Bishop's season was in jeopardy. He had to have surgery, so Monday's move was widely expected. The Packers also placed running back Du'...
A healthier Tramon Williams looks like an elite cornerback once again The title of this post pays homage to Notes On a Scandal - one of the most underrated movies in recent years. Anyway, here are 5 thoughts from the Packers' 27-13 victory over the Bengals on Thursday: 1) Tramon Williams isn't Darrell Revis, but he may receive similar treatment from quarterbacks this season...
Getty According to ProFootballTalk.com, after undergoing surgery to repair a torn hamstring, Green Bay Packers linebacker Desmond Bishop's season will come to an end before it even began. "Packers linebacker Desmond Bishop will not play at all this season," wrote PFT. Bishop had a very good season in 2011 with 115 tackles, 5 sacks and 2 forced fumbles.  
At least one rookie free agent has made the Packers' 53-man roster every season in general manager Ted Thompson's tenure. That trend will likely continue this year with one sure thing, one maybe and one possible surprise to make the team.
It's the Battle of the Week, Player of the Week and Rookie Report for Green Bay and its division rivals. This week's installment leads off with the Packers' quest to find a starting safety opposite Morgan Burnett.
Packers News

Delivered to your inbox

You'll also receive Yardbarker's daily Top 10, featuring the best sports stories from around the web. Customize your newsletter to get articles on your favorite sports and teams. And the best part? It's free!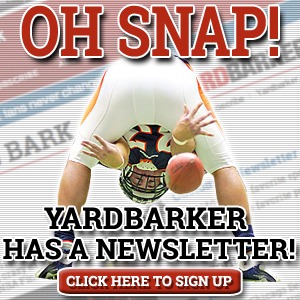 Latest Rumors
The Backyard

Today's Best Stuff

For Bloggers

Join the Yardbarker Network for more promotion, traffic, and money.

Company Info

Help

What is Yardbarker?

Yardbarker is the largest network of sports blogs and pro athlete blogs on the web. This site is the hub of the Yardbarker Network, where our editors and algorithms curate the best sports content from our network and beyond.