Found June 19, 2013 on NFL Draft Zone:
The Houston Texans didn't waste much time when signing Ja'Gared Davis.  Davis from Southern Methodist is not short on honors. He was named a First Team All-Conference USA pick in his senior season, where he amassed 71 tackles, 2 sacks, 3 fumbles, and 2 interceptions in his final year as a Mustang. Despite the fact that Defensive End Margus Hunt received the majority of the hype, Ja'Gared may prove to be the best Southern Methodist defender to come out of the 2013 NFL Draft. He has a chip on his shoulder, and as of right now he is third on the depth chart in Houston behind starters Brian Cushing and Darryl Sharpton. Ja'Gared took the time to sit down with Shaun DePasquale of NFL Draft Zone, check out his interview here: Shaun DePasquale: Thank you for taking the time to speak with me today Ja'Gared. Can you tell me where you trained for the NFL Draft? Ja'Gared Davis: I trained at Southern Methodist University so I can finish up school. SD: What do you feel are your strengths and weaknesses (things you may need to work on)? JD: Strengths are my speed, acceleration, tackling ability, instincts, pass rush, my biggest weakness I would say pass coverage. SD: How do you feel your time at Southern Methodist University helped you prepare for the NFL? JD: SMU helped me prepare on a mental aspect, and mature as a man. SD: What kind of defensive scheme do you feel best fits your talents? JD: Right now I would say a 3-4 because that's the type of scheme I've played in over the past 6 years and the one I feel most comfortable with, but I'm sure playing in a 4-3 would be fun as well. SD: What active NFL player would you compare your skillset to? JD: Honestly I don't know, I'll let you be the judge of that. SD: What has been your greatest accomplishment, athletically or personally ? JD: I would have to say help take SMU 4 straight bowl games and winning 3 of them, but personally will be when I graduate from SMU this May. SD: If you could have dinner with any 3 people, living or otherwise, who would they be and why? JD: Good question… I would have to say Lawrence Taylor, Ray Lewis, and Ernie Davis. Lawrence Taylor because in my eyes he is the greatest linebacker of all time, and the player I would love to even come close to one day. Ray Lewis because I want to pick his brain, I want to play with the passion he has, and gain all the knowledge about the game. Ernie Davis because I have so much respect for him and I would like to just talk and hear everything he had endured during his lifetime. SD: What player growing up did you most admire and model your game after? JD: That's easy…Lawrence Taylor, because I loved how the game feared him, respected him, and how he couldn't be stopped no matter what they through at him. His relentless and aggressive style of play. SD: Give me the name of a teammate on Southern Methodist that isn't talked about nearly enough. JD: I would have to say the whole team in general, because there is not one individual on the team, and the Big East better watch out for the Mustangs. SD: Last question, what would be your first purchase with an NFL paycheck? JD: Get my mother whatever she wants, cause she is the reason I am the man I am today. SD: Thank you so much for your time Ja'Gared. Good luck in your journey!
Original Story:
http://feedproxy.google.com/~r/nfldra...
THE BACKYARD
BEST OF MAXIM
RELATED ARTICLES
D.J. Swaeringer #36 The Houston Texans have a deep 2013 draft class and right now all have a legitimate chance to provide some key playing time in the coming season. We take an early look heading out of mini-camp on the draft class and the impact they will have heading into the 2013 season. This list is compiled without work in pads and preseason games, but our impression from the...
The Houston Texans have 90 players on their current roster and we have paired down which ones are eligible for the practice squad. This is an important aspect for organizations to set their roster, and here is the eligible players for the eight man squad practice squad.   Criteria 1. A player who has not accrued a season of NFL experience is eligible for the practice squad. 2. A...
After being released by the Baltimore Ravens, fullback Vonta Leach has his share of suitors. Now comes the hard part - deciding where to go... "I know I can play in this league and I've got some teams that are courting me," Leach said, via the Greenville (N.C.) Daily Reflector.  "In the next two weeks, I know where I'll be playing." "There are a lot of teams out...
Andre Johnson talked with Skip Bayless and Stephen A. Smith about the Houston Texans Super Bowl chance. Then Johnson defends his quarterback, Matt Schuab, after Smith goes on the attack on Schaub's play.  
Can the Houston Texans hold off the Indianapolis Colts for AFC South supremacy?If the question was asked last season, it would not have been taken seriously, with the Colts coming off the worst record in the NFL.But not, with Andrew Luck firmly entrenched as the pilot of the Colts' ship, Houston has some serious competition this season for the division title.Does Houston, a team...
The Houston Texans have won two straight division titles, but have yet to advance beyond the divisional round of the playoffs. Can this team be a...
Arian Foster is the NFL's resident philosopher, but he also happens to be an emerging lyricist on the Houston hip hop scene. After signing his five-year, $43 million contract in 2012, securing his football future, Foster decided to try his hand in the music industry. So, he partnered up with Houston-based rapper and friend Bun B, formerly of the group UGK, to get in the studio...
J.J. Watt is guarding an important secret with the focus and determination of a security officer outside the Area 51 base. Though he will reveal its location, the contents remain a mystery, and Watt only discusses it in vague terms. So what the heck could be on the list of goals Watt has tucked away in his office drawer anyway? "I've thought about sharing my goals in the...
Houston Texans, FLAT: What is there to say? The Houston Texans are the clear favorite in the AFC South, and there seems to be no valid reason that they won't retain their title atop the division. In the grand scheme of things, the Texans have a very real opportunity to make it a three horse race for the AFC title. The Broncos and Patriots will get all the press, but expect the...
Pro Bowl fullback Vonta Leach put a timeframe on when he will sign with a new team after being released by the Baltimore Ravens last week. "I know I can play in this league and I've got some teams that are courting me," he said on Friday, according to the Daily Reflector. "In the next two weeks, I know where I'll be playing." Leach has called a return to the Houston Texans...
NFL News

Delivered to your inbox

You'll also receive Yardbarker's daily Top 10, featuring the best sports stories from around the web. Customize your newsletter to get articles on your favorite sports and teams. And the best part? It's free!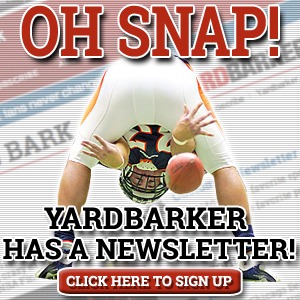 Latest Rumors
The Backyard

Today's Best Stuff

For Bloggers

Join the Yardbarker Network for more promotion, traffic, and money.

Company Info

Help

What is Yardbarker?

Yardbarker is the largest network of sports blogs and pro athlete blogs on the web. This site is the hub of the Yardbarker Network, where our editors and algorithms curate the best sports content from our network and beyond.