Found May 03, 2012 on State of the Texans:
Now that the Houston Texans have taken the next step and made the playoffs for the first time we as fans and NFL analysts expect the Texans to be a consistent contender for years to come. This is new territory for a team that hasn't been in this position before. Have the Texans truly arrived? Are they on the precipice of greatness, or are they just a one year wonder? For the skeptical fans it's hard to see the Texans going any higher especially with the upcoming schedule and the track record that Wade Phillips carries as being a guy who can get his new team to the playoffs his first year but fall back to the pack the next year. The opposite side of the spectrum is the optimistic fan that says yes they can do it and this is the year to prove it. I remain neutral because I have seen teams falter under pressure and I've also seen teams thrive when on top and finally break through. Which team will the Texans be this year is the question I pose to fans?
This year will be the first year where teams in the Texans division will be gunning for them, and as we have seen in the draft the teams in the AFC South are making adjustments to build their offenses to combat our pressure based defense. No one will hand the division to us this year we will have to scrap and prove we belong on top. The Texans have now become the hunted team in the AFC South and no longer will be considered the team that hadn't realized its potential we have seen what we can do and it can bloom into potential Super Bowl runs. First off, I have to look at our defense this has been the Achilles heel of this team. Our defense has been mediocre and pedestrian at times to the point where the offense couldn't overcome it mistakes and inability to close games. Why has our defense been so bad? How is it that a team with multiple pro bowlers and all the potential in the world not be able to scratch the surface of the playoffs when your team is putting up stellar numbers? Stats tell a lot but they don't always tell the whole story. Matt Schaub put up back to back seasons of 4000 yards passing not because he is an elite quarterback, but because of a lack of an effective rushing attack and a horrible secondary that couldn't stop a runny nose at times.
What makes this team different from the Tennessee Titans when they went 13-3 to win the division? What makes us different from the Kansas City Chiefs when they won their division at 10-6 like us only to fall back to mediocrity the following year? Great question let's look into this. The biggest thing that I noticed is quarterback play. Neither quarterback was consistent as they were the year prior or the year after they made the playoffs and won their division, but Schaub on the other hand was except for the fact that he didn't have to throw as much because of the running game. Matt Cassell of the Kansas City Chiefs was only successful based on the system he ran in New England, because of that system he thrived. Kerry Collins (formerly of the Tennessee Titans), on the other hand hadn't been able to shake predictability in his career since he left Carolina. Matt Schaub has a bit of predictability to him, but it is minimized by the running game and the controlled play-action scheme the Texans employ. I look at the Texans and I saw a team that was unbalanced they desperately needed one side of their team to be fixed and that was the defense. The potential was there, but why no results? The easy answer is unproven defensive coordinators like Frank Bush and Richard Smith. When Wade Phillips fell into the Texans lap it was at the perfect time and it was the perfect match. The Texans now had a defensive guru to match a great offensive mind in Gary Kubiak.
By the Texans having such a balanced team now it makes the transition to being a great team easier than the teams mentioned earlier. The Texans have a top 5 running game and a top 10 pass offense and pairing that with a now top 3 defense means that the Texans will not only continue to have great success, but they will get teams best effort on a weekly basis. The Texans have to continue to prove they belong in the conversation with the likes of the Baltimore's, Pittsburgh, and New England's in order to gain respect across the nation. If the Texans go backwards and regress after having such a successful season the fans will go back to being apathetic and begin to call for Gary Kubiak's head and want everyone gone. Gary Kubiak and company need to make this 2012 football season a statement year, because if you can't perform now that you have your weakest part of your team now your strength you have no business calling the shots. This is not to say that the Texans may not goof up once or twice in the season and let a game slip, but it does mean that they need to beat the teams that they should beat and give all other teams all they can handle and then some. When you emerge as a team to be reckoned with now teams plan and scheme differently than before because now you are a threat and considered a team to beat in order to prove they belong in the playoffs. The Texans need to take a page out of the Pittsburgh Steelers book on how to manage being a hunted team and still remain on top and establish themselves as a perennial Super Bowl contender every year. This year will be the biggest test for the Texans in their short existence based on what it can mean to them long term. This year we have more prime time games than ever before because of the promise we displayed in 2011. As much as people like to see the good teams like Pittsburgh, New England, and Baltimore in the hunt every year in the playoffs we like even more to see an up and coming team such as the Texans come in and challenge their supremacy.  My advice to the Texans is prepare to show different and more exotic looks use some formations that haven't been seen before or at least add a few more "wrinkles" into their play calling this year so to stay ahead of the other teams that will be hunting you to find ways to exploit you as a one year wonder.
Original Story:
http://www.stateofthetexans.com/?p=4410
THE BACKYARD
BEST OF MAXIM
RELATED ARTICLES
Here are the new twitter handles of all the new Houston Texans Rookies   Whitney Mercilus @Merci380 DeVier Posey @DPo8 Ben Jones @benjones60 Keshawn Martin @KeshawnMartin82 Jared Crick @JrodVCrick Randy Bullock @randybullock28 Nick Mondek @Mondek62 Dwight Jones @Jones83_ Phillip Supernaw  @PSupernaw11 Mario Louis @meezy_uno Tracy Robertson  @breakingboizoff Nate Menkin...
With the draft talk starting to die down, sadly, things have begun to shift to the current roster for the Texans. And after an offseason of multiple free agent losses, the primary concern has fallen on a trio of upcoming 2013 free agents that fans are already worried about losing. In what I've labeled "The Trifecta," these three players are left tackle Duane Brown, outside...
Last training camp I grabbed Jacoby Jones as he walked off the practice field. I wanted to talk to him about his new contract. The Texans had just signed him for 10.5 million over three years, and there seemed to be some meaning in that. Kind of a "Just so we're clear on this, we're expecting a 10 million receiver out of you" sort of message. I asked him if he...
Usually it is Bob McNair, the owner, in the locker room after the game talking to reporters. The job suits him. He's got that whole old-guy Texas way about him, with the slow, pebbled drawl. Then it goes to Gary Kubiak, the coach, another native Houstonian. He's younger, but he's got that thing, too. And then there is Rick Smith, the general manager. He's not from...
Round 1, Pick 26 – Whitney Mercilus (OLB/DE) With their first pick, Houston selected Whitney Mercilus, OLB from Illinois. Mercilus is a speed demon. He will bring an unrivaled amount of athleticism to the defensive front, and provide consistent pressure on the quarterback. Mercilus may not be an immediate starter, but expect to see him rotate in and get substantial playing time...
HOUSTON—The current peril of WR/KR specialist Jacoby Jones is proof that there is a difference between making mistakes in regular season games and making mistakes in playoff games. Jones was released today by the Texans after making numerous blunders in their second round playoff loss to the Baltimore Ravens. To read this story and watch a touching Jacoby Jones video, please...
On this very special edition of Luy Ya Steel Blue the fellas Mike, Aaron and Pat bring in TXCleaver to discuss the Houston Texans NFL Draft. The guys are excited about what the Texans did on draft day. The topics include the draft, the undrafted free agents and the release of Jacoby Jones. With just good news floating around in Texans land, the organization might be headed into...
26. RLB Whitney Mercilus AI actually had Whitney Mercilus as my 6th rated prospect. I think he's the best pass rusher in this draft class. He's got a great motor and worked himself up the draft chart to have 22.5 tackles for loss, 16 sacks, and 9 forced fumbles last season. He's a refined pass rusher and a great athlete. He could have an Aldon Smith type impact right away....
ALAMEDA, Calif. (AP) -- Matt Leinart is back in a familiar role as Carson Palmer's backup at quarterback. The Oakland Raiders signed Leinart to a one-year contract on Tuesday, giving them two former Heisman Trophy winners from Southern California at quarterback. Leinart reached the deal after working out for the Raiders to show that he has fully recovered from a broken left...
Case Keenum signed as an undrafted free agent with the Houston Texans. Keenum set several NCAA, conference and school records and left Houston as the all-time Football Bowl Subdivision leader in passing yards (19,217) and touchdown passes (155). The Texans put Keenum through a workout at Reliant Stadium and came away impressed. They'll enter the season with Matt Schaub as...
The Houston Texans earned the first playoff berth in franchise history in 2011, as they went 10-6 and won the AFC South, and also added a playoff win in the Wild Card round against the Cincinnati Bengals. Having quarterback Matt Schaub and wide receiver Andre Johnson back healthy after both missed significant time last season makes even further improvement possible in 2012, and...
NFL News

Delivered to your inbox

You'll also receive Yardbarker's daily Top 10, featuring the best sports stories from around the web. Customize your newsletter to get articles on your favorite sports and teams. And the best part? It's free!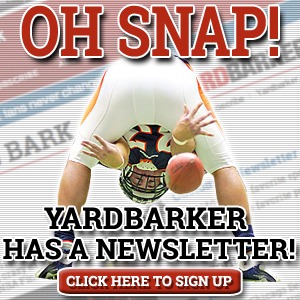 Latest Rumors
Best of Yardbarker

Today's Best Stuff

For Bloggers

Join the Yardbarker Network for more promotion, traffic, and money.

Company Info

Help

What is Yardbarker?

Yardbarker is the largest network of sports blogs and pro athlete blogs on the web. This site is the hub of the Yardbarker Network, where our editors and algorithms curate the best sports content from our network and beyond.