Found February 27, 2013 on Kissing Suzy Kolber:
The Nnamdi-ing meme begins There is no greater act of bonding among NFL players than lunchtime between practice drills. Actually, I don't know if that's true, but the way people are acting like Nnamdi Asomugha committed treason against the Eagles for choosing to eat lunch by himself in his car rather than with teammates, it might as well be. The fact of the matter is that the Eagles and Philadelphia's fan base has soured on the once-standout cornerback. The team wants him to restructure his contract or GTFO. Nnamdi may very well be willing to do that, but that won't make him any less aloof to his teammates. That's right, whether people want to accept it or not, there are just some players who are more distant than others. Nnamdi is a prime example of this. Beyond eating on his own, Nnamdi also exhibited these anti-social behaviors. Joined all team meetings via satellite. Extra "N" in first game stands for "not attending". Filled out absentee ballot for election. WHAT'S WRONG? TOO GOOD TO VOTE WITH THE PEOPLE!? Only took dumps at home. Rarely crossed streams with teammates. Started his own solo mission of Assassin's Creed III even though the rest of the team was trying to beat it together. Refused to pose for "Eagles Dynasty, 2012-????" team photos before the season. Owns a cat, of course. Preferred to play pass coverage by himself in his car. Tried to take the stairs when teammates piled in an elevator, until he saw that Andy Reid outlawed stairs. Tried to coin "Nnamdi Island" nickname for his everyday demeanor. The post How Else Did Nnamdi Asomugha Distance Himself From Teammates? appeared first on Kissing Suzy Kolber.
Original Story:
http://kissingsuzykolber.uproxx.com/2...
THE BACKYARD
BEST OF MAXIM
RELATED ARTICLES
The Philadelphia Eagles sputtered to a disappointing 4-12 record last season, and at one point, endured an eight-game losing skid. A lack of team chemistry was rumored to be one of the causes for the poor showing. Well, this story from ESPN certainly seems to support that claim.According to WIP Radio's Hollis Thomas, who played for the Eagles from 1996 to 2005, defensive back...
Nnamdi Asomugha's days in Philadelphia appear to be numbered, and it seems some of his teammates are trying to push him out the door. Hollis Thomas is a former Philadelphia Eagle and now radio host on 94.1 WIP here in Philadelphia.  According to an unnamed source, Hollis reported on air this morning that Asomugha who is different, and a little distant, would eat lunch in his car...
Come back and have lunch with me 10) Wanted to limit the smell of burnt toast while dining to just his own stench 9) As was proven during the 2012 season, prolonged exposure to Kurt Coleman produces rage 8) Communication among the secondary was already so good, didn't want to jinx it 7) Fewer witnesses for when he fell down and let his lunch get behind him 6) Dominique Rodgers...
I don't see the big deal about this, I use to eat lunch in my car all the time when I was working in corporate America. Sometimes you do need some "me time" away from your bosses. It appears from the report by Pro Football Talk, some of Nnamdi teammates didn't like his quirky and aloof ways and are now leaking them to the media. They are doing it anonymously of course. According...
It is no secret that since joining the Eagles in 2011 cornerback Nnamdi Asomugha has been a huge disappointment. After 8 seasons with the Oakland Raiders–3 of which he went to the Pro Bowl–Asomugha was thought to be the biggest free agent signing during the 2011 offseason as he was among many headline acquisitions by the Eagles. He joined a secondary that already included former...
Although he had a lot of success protecting Ryan Tannehill, Luke Joeckel really made a name in 2012 as he was protecting the blindside of Heisman Trophy winner, Johnny Manziel. Standing at 6-6 and 306 pounds, he was a rock all year for Manziel on the left side. When watching tape of Joeckel, you won't see him as an overly flashy offensive tackle. The Texas A&M offense had...
Cullen Jenkins, now 32, had 29 sacks and five forced fumbles during seven seasons with the Packers.
Hot News for DE Cullen Jenkins
Eagles News

Delivered to your inbox

You'll also receive Yardbarker's daily Top 10, featuring the best sports stories from around the web. Customize your newsletter to get articles on your favorite sports and teams. And the best part? It's free!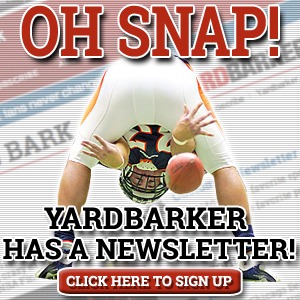 Latest Rumors
Best of Yardbarker

Today's Best Stuff

For Bloggers

Join the Yardbarker Network for more promotion, traffic, and money.

Company Info

Help

What is Yardbarker?

Yardbarker is the largest network of sports blogs and pro athlete blogs on the web. This site is the hub of the Yardbarker Network, where our editors and algorithms curate the best sports content from our network and beyond.