How recent Super Bowl winners made free agency work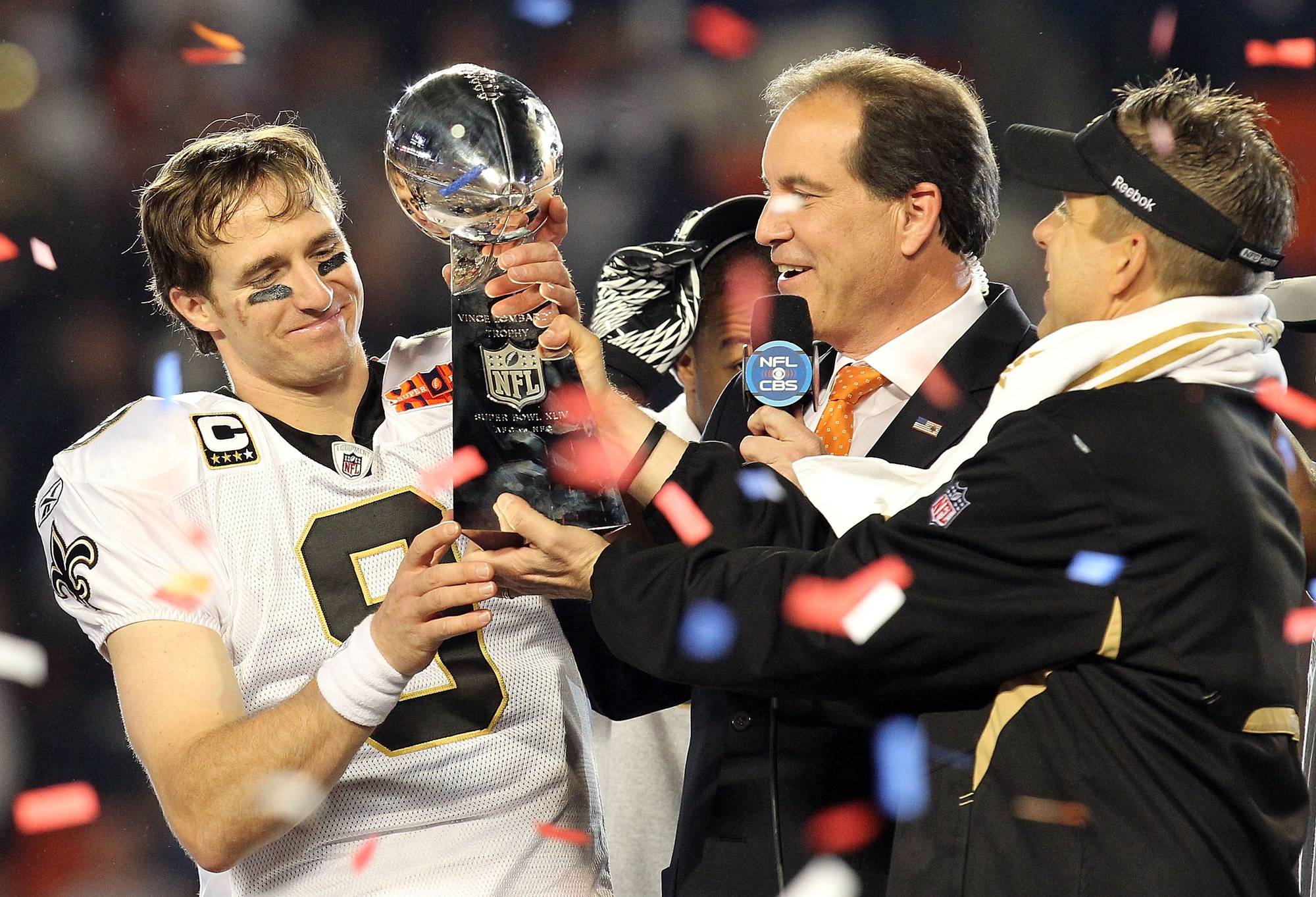 Head coach Sean Payton of the New Orleans Saints passes quarterback Drew Brees the Vince Lombardi trophy after defeating the Indianapolis Colts during Super Bowl XLIV. 
Ronald Martinez/Getty Images
Even though NFL players generally make less than their counterparts in MLB and NBA, that doesn't stop the rampant grousing about escalating contracts in professional football come the arrival of free agency. In fact, one of the things you can reliably count on each year is sermonizing from self-professed roster experts about how supposedly smart teams eschew the open market and instead build a winner through the draft.
Let new Rams defensive coordinator Wade Phillips share his deep thoughts with you:
Teams don't get any "free"agents in free agency.

— Wade Phillips (@sonofbum) March 9, 2017
Except in recent history it's rare to find a Super Bowl champion without at least one key contributor who came to the team via free agency. Obviously, trying to compile a championship team solely with big-ticket free agents isn't a sound strategy, that doesn't mean going after them is unwise as a principle. As with most things, moderation is key.
Not all of these were splashy deals, of course. It's no coincidence that many of the ones that work out for teams are mid-sized deals, but not exclusively. As you'll see, some of the key acquisitions by title teams were among the most lucrative of their given year.
2007 Giants - Plaxico Burress, Antonio Pierce, Kareem McKenzie, Shaun O'Hara
Burress was a top free agent when left Pittsburgh for New York in 2005. Two years later, he caught the winning touchdown in the Super Bowl to make the Patriots 18-1. Antonio Pierce was signed away from division rival Washington and became a defensive captain. Meanwhile, McKenzie and O'Hara were dependable starters on the offensive line.
2008 Steelers - James Farrior, Justin Hartwig
Pittsburgh is one of those teams that typically stays away from big-name free agents and is lauded for it. Occasionally, however, the Steelers will spring on a mid-level free agent every once in awhile. Hartwig was just an okay center but Farrior was a starting inside linebacker and a lynchpin for a dominating defense throughout most of the aughts.
2009 Saints - Drew Brees, Darren Sharper, Scott Fujita
Brees is one of the most successful NFL free agent signings ever. It's fun to remember that teams were trying to choose between him and Daunte Culpepper back in 2006. The benefit of hindsight makes that choice a laugher now, but Brees was coming off a career-threatening shoulder injury at the time, making it more of a risk than it might seem now. Sharper and Fujita were key starters for Gregg Williams' Bountygate defense.
2010 Packers - Charles Woodson, Ryan Pickett
It's a bit ironic that the Packers have a reputation for avoiding free agency when their deal with Reggie White was a landmark for the market and perhaps one of the most successful free agent acquisitions ever. Picking up Charles Woodson before the 2006 season was a bit of a risk as he was coming off stints on injured reserve each of the previous two seasons. The seven-year, $52 million deal paid off, as Woodson was the 2009 Defensive Player of the Year, and the leader on a solid defense that helped capture a championship.
2011 Giants - Antrel Rolle, David Baas, Chris Canty
In the intervening years between Super Bowl wins over the Patriots, the Giants added Rolle to shore up the secondary and Canty to be the fourth starter on a still-stout defensive front. Free agent Baas replaced former free agent acquisition O'Hara at center.
2012 Ravens - Anquan Boldin, Matt Birk, Bernard Pollard
Baltimore has a checkered history drafting receivers, so it's hardly surprising they had to bring in a veteran like Boldin to help a team that was closing in on a title run. Boldin led the team in receiving yards in their 2012 Super Bowl season, while Birk anchored the offensive line in his final season, and Pollard was a capable starter in the secondary. 
2013 Seahawks - Zach Miller, Paul McQuistan
Perhaps the best example in recent memory of a championship team being built near exclusively through the draft. The biggest exception was Marshawn Lynch, though he was acquired via trade with Buffalo, and not by free agency. Otherwise there's so-so tight end Zach Miller and a few passable linemen.
2014 Patriots - Darrelle Revis, Brandon Browner, Brandon LaFell, LeGarrette Blount
Bill Belichick has never been shy about picking up big names, but has always been able to pursue them by buying low and selling high. The Patriots got Randy Moss after a few years of discord in Oakland. Before their fourth Super Bowl season in 2014, they landed Darrelle Revis following a frustrating season in Tampa that lowered his stock. Bringing in Browner gave the Pats a formidable corner tandem overnight. Blount had also been acquired a few years earlier from Tampa, giving the Pats a handy power running option.
2015 Broncos - Peyton Manning, Aqib Talib, DeMarcus Ware, Emmanuel Sanders, T.J. Ward
There isn't a better case for the virtues of being a big player in free agency than the 2015 Broncos. Landing Peyton Manning in 2012 kept Denver vying for a title for several years. By 2015 he was running on fumes, but still game-managed his way to a title with a dominant defense. The Broncos get credit for drafting Von Miller, but Talib, Ware and Ward all came to town via big-ticket free agent deals.   
2016 Patriots - Martellus Bennett, Chris Long, Alan Branch, Jabaal Sheard
That's the good chunk of a starting defensive line from a Super Bowl team, and Marty B. surely came in handy once Rob Gronkowski's season was prematurely ended by injury.
PLAYERS:
Wade Phillips
,
Plaxico Burress
,
Antonio Pierce
,
James Farrior
,
Justin Hartwig
,
Drew Brees
,
Scott Fujita
,
Gregg Williams
,
Charles Woodson
,
Ryan Pickett
,
Antrel Rolle
,
David Baas
,
Chris Canty
,
Anquan Boldin
,
Matt Birk
,
Bernard Pollard
,
Zach Miller
,
Marshawn Lynch
,
Bill Belichick
,
Randy Moss
,
Peyton Manning
,
Demarcus Ware
,
T.J. Ward
TEAMS:
Pittsburgh Steelers
,
New Orleans Saints
,
Houston Texans
,
Chicago Bears
,
Baltimore Ravens
,
San Francisco 49ers
,
Tennessee Titans
,
Seattle Seahawks
,
New England Patriots
,
Denver Broncos
MORE FROM YARDBARKER:
QUIZ: Name every prominent quarterback in the history of the New Orleans Saints
While there are obscure quarterbacks who threw passes for the New Orleans Saints, the QBs featured in this quiz were the 'top passer' for the team that year, according to the number of yards passing. We have identified 19 (with some repeats), how many of them can you name?
Clue: Years active
MORE FROM YARDBARKER
NFL News

Delivered to your inbox

You'll also receive Yardbarker's daily Top 10, featuring the best sports stories from around the web. Customize your newsletter to get articles on your favorite sports and teams. And the best part? It's free!