Found April 18, 2012 on Awful Announcing:
The Bud Light Fan Forum was supposed to be an opportunity for Hugh Douglas to flex his muscle as a talented NFL analyst. Apparently though the average fantasy football team owner might have more knowledge of the league than Douglas who was left swinging in the dark as he tried to answer a pretty simple question regarding Bengals receiver AJ Green. Credit to Jay Harris for not making a face as Douglas goes down in flames. Kind of an add question to start with as there are probably a handful of receivers in the league that can probably be classified in a tier ahead of Green who I'm a huge fan of. Even though the question is kind of odd, it's really a softball as I don't think most people would say Green is the best receiver in the league. The Bengals like to run the ball, their quarterback is not a top 15 QB, and there is little help around him in the receiving game. You see what I did there Douglas? I improvised an answer that makes sense. We should note that Douglass answered the first question on the fan forum with just a firm one word answer "no" when asked if teams will figure out Cam Newton. Why he chose to give a one word answer for something he probably had more knowledge of, yet flounder around thinking AJ Green was in this year's draft class is befuddling. Douglas digs himself into a bigger hole as he says Green can hopefully follow in the footsteps of Julio Jones, a player Green pretty much outperformed last season as evidenced below. Protege AJ Green Role Model Julio Jones It should be noted that Jones had an extra game to put up those stats and oh yeah big time talents like Matt Ryan, Tony Gonzalez, Michael Turner, and Roddy White around him. AJ Green's supporting cast includes Andy Dalton, Jerome Simpson, and Cedric Benson. Basically guys that you're not taking in the first dozen rounds in your fantasy draft. It's a bit of an insult that Green flew under the radar of a ESPN NFL analyst when statistically he was a better performer than Jones. Hugh if you're watching, I've embedded this grainy crash course on AJ Green featuring terrible music to help you get up to speed.
Like Awful Announcing on Facebook Follow Awful Announcing on Twitter
Original Story:
http://www.awfulannouncing.com/2012-a...
THE BACKYARD
BEST OF MAXIM
RELATED ARTICLES
Today, Alex Marvez reported on Twitter that former Bengals RB Cedric Benson has not gotten a call yet from an interested NFL team. After the draft that will definitely change as not everyone will be able to address their needs at the RB position. Either they won't get who they want or the well will run dry in later rounds after they have addressed other needs they deem more pressing...
Strictly guesswork here, but you have to think just about everybody in the Cincinnati Bengals' offices was pleased when the 2012 NFL regular-season schedule was announced on Tuesday. The Bengals earned a little national attention with their surprising 2011 season, and they'll get it this fall. They also got a schedule that's manageable and back-loaded. Considering they...
Whether or not you like Mike Florio, you have to concede that he has put together one of the top NFL blogs on the interwebs. Last night he decided to weigh in with his thoughts on what positions the Bengals need to bolster through the draft. Do you agree with him? (Reading article not required [...]
Terrell Owens will appear in an upcoming episode of the TV show "Dr. Phil" with three of the four mothers of his children to discuss some of their issues, his publicist confirmed to Larry Brown Sports. Owens, a former NFL star now playing in the Indoor Football League, has been in the news several times over the past year because of family issues. One of the mothers of his children...
Hey there Bengals fans! We are now LIVE with our 32 pick mock draft. Come join the chat room and watch us pick at whodeyfans.com/video.
For the first time since 2007, the Cincinnati Bengals will square off against the Baltimore Ravens in a "Primetime" Monday Night Football game on September 10 at 7pm. With all the excitement from the release of the NFL schedules, fans get to see two of the premier teams in the league such as the Bengals and Ravens make that Monday Night debut at M&T Bank Stadium. For...
Cam Newton Who would have guessed this guy would have the mammoth record-setting season he had this past year. He had over 4,000 yards passing and 35 touchdowns, 14 of which were rushing, and over 700 yards rushing. These kind of numbers are jaw-dropping for a veteran quarterback let alone a rookie. By the time he takes the field in September he will have learned a great deal from...
ProFootballTalk.com Breaks Down The CIncinnati Bengals Team Needs Mike Florio at ProFootballTalk.com analyzes the perceived team needs for the Cincinnati Bengals going into next week's draft. It's a pretty good read--check it out.
Perhaps the most notable free agent signing that the Bengals made this year was in former New England Patriots running back, BenJarvus Green-Ellis. He has been a productive NFL back since going undrafted four years ago, but unfortunately has been stuck with the label of not being a "breakaway back" or being capable of generating big plays. One thing that can't be denied...
As draft weekend approaches, more and more rumors and smokescreens fly around. But when a rumor that has a pattern rears its head, we are inclined to write about it. According to Aaron Wilson of The National Football Post, the Bengals are one of seven teams that are enamored with Alabama outside linebacker/defensive end, Courtney Upshaw. @RavensInsiderAaron WilsonPer a source, among...
NFL News

Delivered to your inbox

You'll also receive Yardbarker's daily Top 10, featuring the best sports stories from around the web. Customize your newsletter to get articles on your favorite sports and teams. And the best part? It's free!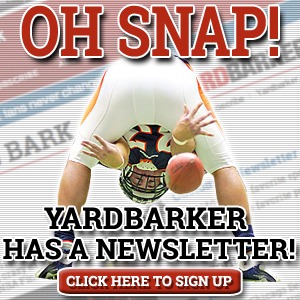 Latest Rumors
Best of Yardbarker

Today's Best Stuff

For Bloggers

Join the Yardbarker Network for more promotion, traffic, and money.

Company Info

Help

What is Yardbarker?

Yardbarker is the largest network of sports blogs and pro athlete blogs on the web. This site is the hub of the Yardbarker Network, where our editors and algorithms curate the best sports content from our network and beyond.