Found October 03, 2012 on Fox Sports North:
PLAYERS:
Steve Hutchinson
,
Jake Locker
,
Matt Hasselbeck
,
Mike Munchak
,
Jared Allen
,
Michael Jenkins
,
Leslie Frazier
,
Andrew Sendejo
,
Mistral Raymond
,
Erin Henderson
,
Christian Ponder
,
Charlie Johnson
,
Antoine Winfield
,
Marcus Sherels
TEAMS:
Tennessee Titans
,
Minnesota Vikings
,
Seattle Seahawks
,
Houston Texans
EDEN PRAIRIE, Minn. Guard Steve Hutchinson said he, "saw the writing on the wall" as the Minnesota Vikings entered last offseason looking to get younger and that he wasnt surprised by his release a few days before free agency started in March.Hutchinson, the 12-year veteran who spent six years with the Vikings, ended up signing a three-year, 16 million contract with the Tennessee Titans, who come to Minnesota this weekend."I didn't have an option, so I got a call and they told me the decision they were going," Hutchinson said Wednesday on a conference call with Minnesota media. "I wasn't completely blindsided. Just knowing the direction that the team was going; they were trying to get younger. I kind of saw the writing on the wall, so to speak. It was a fun run. It was a good six years. But, it's a business, too, and they've got to do what they've got to do."Hutchinson, 34, was a part of a purge of several veteran players in the offseason, following a six-year run with the Vikings in which he was named a Pro Bowler four times and an All-Pro three times. The Vikings signed him to a lucrative seven-year, 49 million deal in 2006, which included wording designed to make it nearly impossible for the Seattle Seahawks, who had chosen Hutchinson with the 17th pick in the 2001 draft, to match. The infamous "poison pill" contract offered by Minnesota caused some outrage throughout the league and led to a retaliation of sorts by Seattle years later with receiver Nate Burleson.Hutchinson said it would feel strange walking into the Metrodome on the other side, but its not the first time hes felt such a feeling."I was just kind of thinking how weird it is to go back," Hutchinson said. "I remember when I went back to Seattle in 2006 and basically playing against all the guys youve been in the locker room with for however many years. Yeah, Ive been over there. I kind of remember a little bit about what that visiting locker room looks like, so I wont be completely lost."Hutchinsons release came with him due 6.95 million in the final year of his contract with the Vikings. He said he had thought about retirement if he would have played out the rest of his contract, which would have put him at 12 years. But after being cut, he wanted to continue on and reach the 12-year mark."That sounded like a good number to me, a dozen years," Hutchinson said. "So, I dont know if I felt comfortable hanging it up after 11. You get that number in your head. I dont know what this contract will take me to realistically, but three-year deal, I dont know if all three years will come into play. But it wasnt much of a hard choice to figure out if I wanted to keep playing because I just wanted to honor that 12-year mark I had in my head, at least."Hutchinson said the toughest part was making a move with his kids and he still maintains a residence in the Twin Cities. He said he has "no complaints" physically and isnt surprised by the success Minnesota has had this season."No, Im not surprised with all," Hutchinson said. "I know the character of the guys in that locker room, the leaders they have on the team. I dont think there was a doubt that Christian was going to be a great player for that team. I think last year with the new offensive system and the lockout and the no offseason and asking a rookie to come in and grasp every aspect of the game at the quarterback position at the NFL level was hard to do. I knew once he settled in, hed be good. So, theyre doing well. Theyre looking good, and Im sure the fans are happy and they deserve that."Locker ruled out Sunday: Tennessees second-year starting quarterback Jake Locker was officially ruled out for Sundays game with a separated left, non-throwing shoulder. Veteran Matt Hasselbeck, in his 14th NFL season, will start Sunday for the Titans.Tennessee coach Mike Munchak said he would give Locker a couple of days to see if the soreness would allow him to play Sunday when he talked with Minnesota media during a conference call, but he must have had a change of heart with his young quarterback, declaring Locker out to Titans media later in the afternoon Wednesday.Locker suffered a dislocated left shoulder for the second time this season in last weeks 38-14 loss to the Houston Texans, when he was sacked by cornerback Glover Quinn. It was a reoccurrence of the injury he sustained while making a tackle in the season opener. Locker returned to play in Week 2 after the first injury, but reports have speculated this time he might be forced to miss several weeks. An MRI showed no structural damage, and Munchak said he isnt ruling Locker out past this week. Allen, Jenkins miss practice: Minnesota Vikings defensive end Jared Allen was held out of Wednesdays practice with a groin injury, as was wide receiver Michael Jenkins with the rib contusion he sustained in last Sundays game.Coach Leslie Frazier said hes hopeful neither player will have to miss Sundays game. Safety Andrew Sendejo missed Wednesdays practice with a lingering ankle injury, as did safety Mistral Raymond, who is out two to four more weeks. Frazier said Sendejo could miss Sundays game.Linebacker Erin Henderson was cleared to participate in part of practice as he tries to return from a concussion."Theyve cleared him to the point where he can go through parts of our practice and then theyll evaluate again tomorrow after hes done some of the things hell do today," Frazier said, later adding: "Not certain as to why its taken this much time. As you know, youre going to err on the side of caution when it comes to a head injury. So, thats what were doing. Thats what our doctors are doing."Henderson complained of the concussion symptoms two days after Minnesotas Week 2 loss at Indianapolis, a game in which he had to leave for a few plays because of an injury. Frazier said hes hopeful Henderson will be back in time to play Sunday but wasnt making any promises."I was hoping the same thing a week ago," Frazier said. "So, hoping that hell be able to practice tomorrow, theyll clear him and say, 'Hey, you can do everything.' The fact that its to the point where he can participate some today, thats a good sign."Quarterback Christian Ponder was listed on the injury report with a knee injury and practiced on a limited basis Wednesday. Frazier didnt meet with the media following practice. Guard Charlie Johnson (low back), cornerback Antoine Winfield (knee) and cornerbackreturner Marcus Sherels (quadriceps) were also limited during Wednesdays practice.Follow Brian Hall on Twitter.
Original Story:
http://www.foxsportsnorth.com/10/03/1...
THE BACKYARD
BEST OF MAXIM
RELATED ARTICLES
Chris Johnson is arguably the best runner for the Tennessee Titans. An explosive runner that has been reduced to the bottom of the NFL stat sheets. Johnson is the 2K yard man with many attributes that attributed to one of the top contracts for a running back in the NFL.Why the suggestion to get rid of him? I'll admit that it would be hard to watch your star player once again be...
EDEN PRAIRIE, Minn. The Minnesota Vikings understood the low expectations from outside the organization. During training camp, linebacker Chad Greenway asked the obvious: Why would the pundits predict good things for Minnesota, a team coming off a franchise-tying 13 losses, with a star running back trying to return from major knee surgery, an unproven second-year quarterback and...
Titans Rule Out QB Jake Locker For Week 5 - Jake Locker (shoulder) will not play in Sunday's game against the Vikings. Locker is in danger of missing multiple weeks. The Titans want his twice-dislocated left shoulder to get as strong as possible so he doesn't end up needing season-ending surgery. Veteran Matt Hasselbeck, who averaged 223.2 yards per game and threw 18 touchdowns...
EDEN PRAIRIE, Minn. The Minnesota Vikings went on the road last week and won a game against the Detroit Lions, ending their NFC North losing streak without scoring an offensive touchdown.Improved special teams units, exemplified last week with two return touchdowns and five touchbacks, have played a big role in Minnesota's surprising 3-1 start. With a rookie kicker who has met...
EDEN PRAIRIE, Minn. Christian Ponder's development in his second year as the Minnesota Vikings quarterback has been a key, along with a revived defense, to the team's surprise resurgence. Minnesota, with Ponder as the only starting quarterback in the league without an interception, is tied with the Chicago Bears at the top of the NFC North standings. Ponder is a big reason...
QB Joe Webb's Vikings career has run the gamut, but he remains committed to dutifully serving his role as the backup. He talked about how he helps Christian Ponder, the past as a receiver and where that Blazer package has been.
Jake Locker's injured left shoulder likely will keep the Tennessee Titans quarterback from playing Sunday against the Minnesota Vikings and there's a possibility he could miss several games. Locker suffered a separated non-throwing shoulder in Sunday's loss to the Houston Texans. Coach Mike Munchak said an MRI on Monday showed no structural damage, The Tennessean reported...
  It's time for a new parlor game here at Total Titans, namely "what the heck is going on when the Tennessee Titans give up a passing touchdown." Since we're all about the synergistic gain here at Total Titans, I'll be doing this in a series of photos highlighting Michael Griffin in a takeoff of the "Where's Waldo" series of books, thus...
Now fully healthy, Adrian Peterson is a big reason the Minnesota Vikings are tied atop the NFC North. The Tennessee Titans hope Chris Johnson's latest performance is the start of good things to come for them and their star running back. Looking to continue their surprising start, Peterson and the Vikings can surpass their win total from last season with a third consecutive...
The following fantasy football e-mail chain between Ryan Fowler and Joel Beall took place on October 1 - October 4, 2012. The topic featured was not discussed in advance. On the Fantasy Pedestal: Chris Johnson From: Joel Beall Sent: Monday, October 01, 2012 1:59 PM To: 'Ryan Fowler' Subject: Pedestal Week 5 Though three games is a relatively small sample to extrapolate...
It is officially week five of the fantasy football season and in this article we are once again focusing on the rankings for this week. These rankings will help you determine which running backs you should play and sit this week and are based off standard scoring with a point per reception. It has kind of been an up and down season for running backs thus far, with some big...
NFL News

Delivered to your inbox

You'll also receive Yardbarker's daily Top 10, featuring the best sports stories from around the web. Customize your newsletter to get articles on your favorite sports and teams. And the best part? It's free!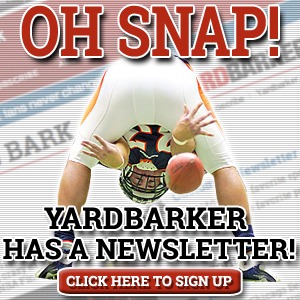 Latest Rumors
The Backyard

Today's Best Stuff

For Bloggers

Join the Yardbarker Network for more promotion, traffic, and money.

Company Info

Help

What is Yardbarker?

Yardbarker is the largest network of sports blogs and pro athlete blogs on the web. This site is the hub of the Yardbarker Network, where our editors and algorithms curate the best sports content from our network and beyond.