Found March 16, 2012 on NorthWest Sports Beat:
PLAYERS:
Marshawn Lynch
,
Shaun Alexander
,
Matt Hasselbeck
,
Adrian Peterson
,
Michael Turner
,
Frank Gore
,
Cedric Benson
,
John Schneider
,
Maurice Jones-Drew
,
Michael Robinson
,
Pete Carroll
TEAMS:
Seattle Seahawks
,
Tennessee Titans
,
San Francisco 49ers
,
Cincinnati Bengals
,
Jacksonville Jaguars
Seahawks re-sign Lynch to a 4-year $31 million deal
Okay, so this isn't exactly breaking news but on 3/4/2012 the Seahawks were able to re-signed the NFL's top running back of the second half of last season.
The anti-Alexander
Marshawn Lynch runs hard every-time he touches the ball. It doesn't matter if he is at the 1-yard line or mid-field. If he has a huge hole or a wall of defenders he is going to give everything he has to eek out every last yard.
If you remember Shaun Alexander playing like that you only watched him near the goal line.
Mostly I remember a guy who loved the limelight, was standoffish to fans and fell down if a blade of grass was out of place.
Rarely can a single tackler bring down this 25 year old running back. Watching "Beast-quake" and the debut of the "Baby Stiff-Arm" never gets old.
A face for the franchise
The Seahawks have been missing a face for the franchise since Matt Hasselbeck departed. Sure the Seahawks have a bunch of very good young talented players but Marshawn Lynch has the "it" factor. He is a young man who is very like-able and he always has a smile on his face having fun both on and off the field.
Lynch is signed, sealed, and will deliver in 2012.
Skittle power
Chances are if you are taking the time to read this you already know that the "Beast" runs on Skittles. The question is have you eaten one recently?
I hadn't had any since I was a kid and remembered liking them. So the other day I decided to try them for the first time as an adult. Wow, they are so sugary that I nearly choked to death.
I drink a lot of coffee, I take it black and I have even been know to chew on coffee beans but never have I gotten a shot of energy like that.
Someone needs to talk to Skittles about setting up stations for fans during the game to get tweaked out on sugar rushes.
Think we were loud before?
The flights to Boeing Field will hear us as they fly by.
The Seahawks didn't' break the bank
Can we agree that Marshawn is a top ten back in the NFL?
I definitely think he is.
Let's take a moment to look at the top 10 highest paid running backs last season:
 Jamaal Charles – $12,350,000= $1,029,167/carry, $148,795/yard and he never scored a touchdown
Adrian Peterson – $11,320,000= $54,423/carry, $11,670/yard or $943,333/touchdown
Steven Jackson – $9,848,332= $37,878/carry, $8,601/yard or $1,969,666/TD
Darren McFadden – $8,121,667= $71,873/carry, $13,227/yard or $2,030,416/TD
Maurice Jone-Drew – $7,910,000= $23,061/carry, $4,925/yard or $988,750/TD
Michael Turner – $7,500,000= $24,916/carry, $5,597/yard or $681,818/TD
Frank Gore – $7,133,000= $25,294/carry, $5,890/yard or $891,625/TD
Brandon Jacobs – $6,962,500= $45,805/carry, $12,193/yard or $994,642/TD
Chris Johnson – $6,280,000= $23,969/carry, $5,998/yard or $1,570,000/TD
Cedric Benson – $5,000,000= $18,315/carry, $4,686/yard or $833,333/TD
For the purpose of comparison I am going to take Marshawn's new contract for the 2012 season and use the numbers from the 2011 season for the breakdown (since the 2012 season has yet to take place)
Marshawn Lynch (2012) $4,000,000= $14,035/carry, $3,322/yard or $333,333/TD
Thats $1 million less than Benson in salary, over $4,000 less per carry, $3,164 less per yard and $500,000 per touchdown.
Four-year $31 million contract with $17 million guaranteed seems like a bargain when you compare him to the other top backs in the league.
He has redeemed himself
Early in his career Lynch had a couple legal issues (a hit-and-run accident and a misdemeanor gun charge) that he plead guilty to. The gun charge led to a 3-game suspension to start off the 2009 season.
This was the beginning of the end for Marshawn in Buffalo.
The fan base had grown tired of his off the field issues as did the team.
That is in stark contrast to the guy we know as a Seahawk. When he was traded to Seattle the organization and the 12th man gave him a clean slate.
They didn't care that he had issues in the past they just wanted him to prove that he had learned from his mistakes and had grown from them.
So far he has taken his second chance and ran with it. He's found a home and a city that he loves. Marshawn has found a jersey that he can proudly put his name on and a fan base who will cheer him on to such an extent that we created a seismic event.
CLICK HERE CHECK OUT THE SEAHAWKS BLOG IN OUR CLUBHOUSE AT NWSB!
© Brett Bivens for North West Sports Beat, 2012. | Permalink | No comment |
Follow NWSB on Twitter or join US on Facebook for real-time updates OR... | Share This on Twitter | Share NWSportsBeat.com on Facebook
Post tags:
12th man
,
2012 Free Agents
,
Adrian Peterson
,
Brandon Jacobs
,
Cedric Benson
,
Chris Johnson
,
Darren McFadden
,
Frank Gore
,
Free Agency
,
Free-agency primer
,
Jamaal Charles
,
John Schneider
,
Marshawn Lynch
,
Matt Hasselbeck
,
Maurice Jones-Drew
,
Michael Robinson
,
Michael Turner
,
Pete Carroll
,
Seahawks
,
Seahawks Blog
,
Seahawks Blogs
,
Seahawks News
,
Seahawks signings
,
Shaun Alexander
,
Steven Jackson
Original Story:
http://www.nwsportsbeat.com/seahawks/...
THE BACKYARD
BEST OF MAXIM
RELATED ARTICLES
According to Eric D. Williams of The News Tribune, the Seattle Seahawks will likely won't offer free agent quarterback Matt Flynn "starter" money, but rather a contract in the neighborhood of two-years, $8 million. I've been very impressed with Flynn, but he clearly isn't a proven quarterback and will need to prove exactly how much he's worth before a team will  be willing...
Free agent fullback Michael Robinson says on Twitter on Thursday night that he's returning to the Seattle Seahawks. The team said an agreement with Robinson, who spent the last two seasons in Seattle, was not yet official. Robinson was a Pro Bowl alternate last season as the blocker in front of running back Marshawn Lynch. Robinson was also a captain and versatile on special...
Playing catchup on Seattle Seahawks news here as I was out to dinner with family, who I must say I love for putting up with my "blogging fever" during NFL Free Agency. I had to introduce myself to my kids again tonight. Ok onto the news... A short while ago the NFL Network reporter Steve Wyche broke the news that the Seahawks will host tight end Visanthe Shiancoe...
The Minnesota Vikings have signed John Carlson to a five-year deal, bringing the tight end back to his home state. The 27-year-old Carlson spent his first four seasons with the Seattle Seahawks. But he missed all of last season after needing shoulder surgery to repair a torn labrum that occurred in training camp. ESPN first reported the agreement, which includes $11 million in guaranteed...
Hot News for QB Charlie Whitehurst
Quarterback Charlie Whitehurst has agreed to a two-year contract to return to the San Diego Chargers. Whitehurst was San Diego's third-round draft pick in 2006. He was the third-string quarterback behind Philip Rivers and Billy Volek for four seasons and never attempted a pass in the regular season. He was traded to Seattle and played in nine games in two seasons, throwing for...
The Sports Xchange discusses a slow moving market for running backs, the interest in LaRon Landry, the Seahawks' intentions to re-sign Chris Clemons, Buffalo's new-look defense and more.
So how does a one day Hall of Fame Left Guard who you'll probably remember being in town sound? Steve Hutchinson... "HUTCH" is here for a visit reports Danny O from the Seattle Times blog. Seahawks Offensive Co-ordinator Darrell Bevell was with Hutchinson in Minnesota. And I'm pretty sure Hutch loved the fishing in the northwest, and knows Tobeck and Walter Jones...
(Update: Gallery has been released) Robert Gallery's agent made a public statement saying that the guard will be released from the Seahawks. Last offseason the Bengals got into a bidding war for Gallery and he chose Seattle because former Raiders coach Tom Cable was hired there. He could become a target for the Bengals again this year and would come at a cheaper price.  
NFL News

Delivered to your inbox

You'll also receive Yardbarker's daily Top 10, featuring the best sports stories from around the web. Customize your newsletter to get articles on your favorite sports and teams. And the best part? It's free!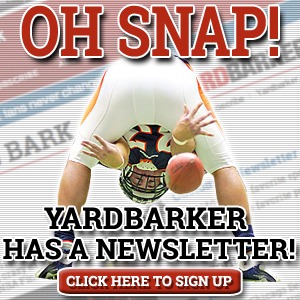 Latest Rumors
The Backyard

Today's Best Stuff

For Bloggers

Join the Yardbarker Network for more promotion, traffic, and money.

Company Info

Help

What is Yardbarker?

Yardbarker is the largest network of sports blogs and pro athlete blogs on the web. This site is the hub of the Yardbarker Network, where our editors and algorithms curate the best sports content from our network and beyond.