Found March 13, 2013 on The Nosebleeds:
Just before I left work today a co-worker interrupted my conversation to tell me that Wes Welker was gone, on his way to Denver.  A minute later, thanks to the wonders of twitter, I saw that it was a two-year deal.  I became puzzled, wasn't that what the Pats offered Welker last year, a deal he rejected?  I rationalized that Welker surely got two years and $16 million or more with incentives.  Nope, Welker walked for two years and $12 million (although we're hearing it could be up to $14 million with incentives). So what happened between a year ago when the Pats offered $18 million and this year when they allegedly only offered $10 million?  It certainly wasn't for a lack of production (118 catches) or injury concerns (16 games played).  It seems like it comes down to one number, 32.  Welker's theoretically entering the downswing in his career.  But even if he is what kind of dip are we talking about?  Is he ONLY going to catch 100 passes for 1150 yards?  Excuse me if I'm missing something, but that's still pretty damn good, right?  There were only six 100+ catch guys in the NFL last year and the Pats were willing to walk away from one of them over $2 million? I think a large part of the decision comes down to Bill's pride.  He's been hearing for five years that Wes Welker is the Patriots best offensive weapon and that they can't do anything without him.  We've seen how Bill reacts to these kind of things before with Randy Moss especially.  The head coach tries to prove the team can win without said weapon by phasing them out of the gameplan.  Don't believe me?  Take a look at Welker's first three games of last season?  Remember when he was only targeted five times in Week 1?  That's all Bill's pride.  If it's not pride it's him trying to take down Welker's value, which I don't buy.  What happened when Hernandez, Gronk, and Edelman got hurt?  Bill couldn't afford to not involve Welker so he began to use him, and weirdly enough, the Pats began to win. It was funny to see how fast people turned on Welker today.  It really is all about the laundry, isn't it?  I had people tweeting about him just being a system player, for him being a traitor and a sell out.  It really was quite entertaining.  Now, it will be interesting to see if Peyton Manning adds Welker to his growing list of 'slot receivers whose brains I've scrambled thanks to suicide passes over the middle'. Let's talk about Danny Amendola for a bit.  He's strikingly similar to Wes.  Undrafted from Texas Tech, short white guy.  If you compare Amendola's numbers to Welkers in Miami they're fairly similar.  In Amendola's last full season, which is three seasons ago (we'll get to that in a bit) he had 85 catches for a bad Rams team.  That's much better than Welker managed for a bad Miami team.  It's expected that Amendola's production will get a decent bump in New England, if so it could be around 100 catches.  That's also provided that the Patriots offensive philosophy stays the same.  After letting Welker walk it looked like the Pats offensive philosophy might have taken a turn but with the signing of Amendola it looks like the Pats have faith in their offensive philosophy.  They've just replaced Welker for a younger version. What worries me with Amendola, and what should worry you as well, is the injury problems and the amount of money thrown at Amendola with said injury history.  Amendola played in just one game in 2011 and 11 in 2012 and they gave him $6.1 million per for five years.  Oh and if you don't think that extra $100,000 isn't a big FU to Welker, than you don't know BB.  This has the potential to be a big problem for the Patriots.  He's missed most of his time due to an elbow injury but he also have a clavicle injury that nearly killed him last season.  The Patriots are essentially trading one of the most productive and reliable receivers for a younger poor man's version of that player who has an injury history.  For anyone to start feeling good about this the Patriots have to use the rest of their money wisely, which means shoring up the secondary. Let us know what you think about the day's events below in the comments.
Original Story:
http://thenosebleeds.com/immediate-th...
THE BACKYARD
BEST OF MAXIM
RELATED ARTICLES
"Wes Welker must look at Danny Amendola and shake his head. A younger — and likelier cheaper —...
How Wes Welker Went from Tom Brady's Favorite Weapon to Just Another Free Agent: Taking a look back...
So, Danny Amendola wasn't a reaction to Wes Welker's exit, after all. According to Tom E. Curran, the Patriots and the former Rams receiver agreed to the five-year deal on Tuesday — not Wednesday when the signing was leaked. That being said, Curran believes that the Pats had likely already moved on from Welker and went after Amendola when No. 83 went on the market. Check...
Wes Welker may be hooking up with a future Hall of Fame QB after all. The former New England Patriots standout wide receiver is in "serious talks" with the Denver Broncos today, the second day of free agency, ESPN's Adam Schefter reports.  The team reportedly wants to "hammer out a deal" with the All-Pro slot receiver. Welker, 31, had 118 catches for 1,354 yards last year...
Wes Welker Wired (by amaris574)
http://boston.cbslocal.com/2013/03/15/felger-mazz-mike-reiss-calls-in-to-challenge-felger/ Mike Felger (Comcast Sports TV Anchor and Radio Host) had allegedly called out Mike Reiss (Patriots Beat Writer for ESPN Boston) for being "in the bag of the team." Felger is referring to Reiss's comment about Wes Welker's agent being partially at fault for the mishap in...
I'm as heartbroken as anybody right now. Watching Wes Welker leave for nothing more than an average contract has to make you think that the Patriots have something up their sleeves... RIGHT?? Well according to SI.com, Bill Belichick's master plan will not include free agent CB Nnamdi Asomugha. The teams interested include the 49ers (seriously, where are they getting...
The New England Patriots officially announced the signing of free agent Danny Amendola today. Terms of the deal were not disclosed.
The easy thing is not always the right thing. That is the hardest part about running a successful NFL franchise. Unless you're Bill Belichick, that is. The hoodie and his minions — and/or staff — have always been very much about putting the business first. While some teams add players to try and liven up their fan base or re-sign guys based off emotion and sentimentalism, Belichick...
NFL News

Delivered to your inbox

You'll also receive Yardbarker's daily Top 10, featuring the best sports stories from around the web. Customize your newsletter to get articles on your favorite sports and teams. And the best part? It's free!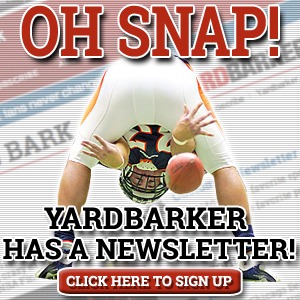 Latest Rumors
Best of Yardbarker

Today's Best Stuff

For Bloggers

Join the Yardbarker Network for more promotion, traffic, and money.

Company Info

Help

What is Yardbarker?

Yardbarker is the largest network of sports blogs and pro athlete blogs on the web. This site is the hub of the Yardbarker Network, where our editors and algorithms curate the best sports content from our network and beyond.