Found January 11, 2013 on Fox Sports Ohio:
PLAYERS:
Pat Shurmur
,
Tom Heckert
,
Nick Saban
,
Doug Marrone
,
Chip Kelly
,
Ken Whisenhunt
,
Norv Turner
,
Ken Dorsey
,
Brandon Weeden
,
Trent Richardson
,
Josh Gordon
,
Greg Little
TEAMS:
Cleveland Browns
,
Arizona Cardinals
,
San Diego Chargers
,
Alabama Crimson Tide
,
Syracuse Orange
,
Penn State Nittany Lions
,
Oregon Ducks
The coaching search conducted by the Cleveland Browns sure seemed (from the outside at least) well chaotic at times. But in the end the Browns may have gotten it right. Which may be the most amazing thing of all. Rob Chudzinski is the 14th coach of the Cleveland Browns, and hes a good coach. A very good coach. The kid from Toledo who went to St. Johns who grew up rooting for the Browns before taking his talents to Coral Gables to play for the U comes full circle. Chudzinski -- everyone calls him Chud -- is a bright guy who knows the passing game and a guy who has had some good years running offenses. Think Derek Anderson in 2007, think Cam Newton as a rookie, think Newtons last few games this past season. Chudzinski has spent the past two years interviewing to be a head coach (with Tampa Bay, St. Louis and Jacksonville last year, but only the Browns this time). Hes put in his time. Hes ready. And he can turn out to be a very good hire, because aside from experience he has almost anything a team would want in a coach. Hes young, hard-working, energetic, dedicated and smart. His hiring also will not require a complete re-do of the roster to fit an offense that may or may not work. With Chudzinski, the Browns build on the work done by Pat Shurmur and Tom Heckert, albeit with a slightly different system. This has a real possibility of turning out to be a good hire. And for the Browns it could turn out well despite the fact they tripped all over themselves in making the hire. But thats not Chudzinskis fault and should not be held against him. Nor should the fact that the Browns shot high and at college guys and missed be a reason to doubt him. Nor should the fact that the Browns fired an inexperienced former offensive-coordinator-turned-head-coach to hire another. None of those have a thing to do with the new coach. Except association. But clearly Chudzinski was not in the Browns top tier, not originally at least. Owner Jimmy Haslam said strong leadership was his first criteria, and to find that he went after some big-name college guys -- Nick Saban of Alabama, Doug Marrone of Syracuse, Bill OBrien of Penn State and, eventually, went all in with Chip Kelly of Oregon. When Kelly waffled the Browns pulled out, and said they did because they werent convinced Kelly wanted to be in the NFL. Which of course was something they didnt learn in a seven-hour interview. Got it. The others either used the interview for a raise (OBrien), went elsewhere (Marrone) or were not leaving (Saban). Chudzinski was in the next tier of NFL types interviewed -- along with Bengals defensive coordinator Mike Zimmer and former Cardinals coach Ken Whisenhunt. The Browns chose Chudzinski. There are normal concerns. Theres already talk the Browns will switch the defense to a three-four, which seems to be fitting the proverbial round peg in the hexagonal hole given the team is built for a four-three, with a passel of defensive linemen. Chudzinski also must accept the fact that Joe Banner will be involved in personnel, and may make decisions the coach does not like. As long as this structure is in place, its reality for the coach. Too, Chudzinski usually he has his best season in his first with a team. Thats because he doesnt ask too much. In the second year, he expands his offense -- figuring players are ready for more. But Anderson regressed in year two, just like Newton struggled early in in his second season. When the offense was pared back, the old Newton appeared. Lots of reports have the Browns bringing in Norv Turner as offensive coordinator, which would be great but seems odd -- unless youre used to going to work for the guy who used to work under you. But word is Turner doesnt care about that fact, so if he wants the job he may take it. Other reports say Turner will bring his son, and theres the very real possibility Ken Dorsey will be an assistant coach. Yes, that Ken Dorsey. Chudzinski does not bring sizzle the way Kelly might. But what he brings NFL-wise might be more solid in the long run. Because hes been around the league and understands the personnel and approach. He wont bring in a gimmick offense, but he will bring in an NFL one that will focus on the vertical passing game -- no more of those constant underneath crossing routes -- that opens up the field for a power running game. In short, its the kind of system Brandon Weeden and Trent Richardson and Josh Gordon and Greg Little would seem to like. Its also NFL proven. Chudzinski may not have been in the Browns initial list of top choices -- but time may prove he should have been.
Original Story:
http://www.foxsportsohio.com/01/11/13...
THE BACKYARD
BEST OF MAXIM
RELATED ARTICLES
Browns fans, you might have to un-burn your Derek Anderson jerseys, WEWS Mike Cairns reporting that new head coach Rod Chudzinski may bring Derek Anderson back to Cleveland. From late Friday: hearing a little whisper about DA coming back to the Browns. Still owns a house in Westlake. Just saying Stay tuned. said he would love too — Mike Cairns (@MikeCairns5) January 12, 2013 from...
For the first time since 2009, the Browns have had two players voted to the Associated Press All-Pro Team. Kicker Phil Dawson joins tackle Joe Thomas as the Browns representatives on the 2012 AP All-Pro Team. Joe Thomas was selected to his fifth straight All-Pro team (just two votes shy of his fourth consecutive First Team selection) and this marks Dawson's second time on the...
According to ESPN's Chris Mortensen, the Cleveland Browns will make Panthers offensive coordinator Rob Chudzinski their next head coach. It was reported earlier today that the Browns were giving Ken Whisenhunt a second interview, but it seems like they didn't want to go in that direction. Chadzinski certainly isn't a sexy candidate, but with a new owner and front office, all...
Terry Pluto called it underwhelming. That's the only thing I read about the Browns hiring of Rob Chudzinski before I took to my keyboard to react. And my reaction is pretty much nothing. I can't be excited because I wasn't in the interviews. I can't be totally disappointed for the same reason. The only reaction I have is actually more of a demand. Show me why this was a good...
According to Mary Kay Cabot of the Cleveland Plain-Dealer, the Browns are interviewing former Cardinals head coach Ken Wisenhunt for a second time, today in Cleveland. I really like Wisenhunt as a head coach and feel like he didn't get enough support in Arizona to succeed. The Browns are putting together a good front office that would be able to help Wisenhunt if they do hire him...
CLEVELAND (AP) -- A person familiar with the decision says the Cleveland Browns have hired Carolina offensive coordinator Rob Chudzinski as their new coach. Chudzinski will become the Browns' sixth full-time coach since 1999, said the person who spoke to The Associated Press on Thursday night on the condition of anonymity because the team has not yet announced the hiring. The...
From the Browns- The Cleveland Browns today named Rob Chudzinski as the 14th full-time head coach in franchise history.  Chudzinski comes to the team after spending the past two seasons (2011-12) as the offensive coordinator for the Carolina Panthers.  Overall, Chudzinski's résumé includes 19 years of experience, including nine seasons in the NFL. Chudzinski re-joins the Browns...
Last night the Cleveland Browns made a surprising hire by naming Panthers offensive coordinator Rob Chudzinski their new head coach. Chudzinski has hit the ground running and his first duty as head coach was to find someone to an implement an offensive system that can be productive. According to Pro Football Talk, Chudzinski will hire a guy that regardless of his ability as a head...
Cleveland Browns offensive coordinator Brad Childress was in Kansas City yesterday, where he could potentially be hired by the Chiefs as either the team's offensive coordinator or as an advisor to new head coach Andy Reid, according to Adam Schefter of ESPN. Browns OC Brad Childress is in KC today, where he could be hired as either OC or as an advisor to new Chiefs head coach...
According to Peter Schrager of FOXSports.com, the Cleveland Browns will likely hire Norv Turner as their new offensive coordinator now that Rob Chudzinski has been brought in as their new head coach. If the Browns are able to land Turner, their offense will be in very good hands.  He's arguably the best offensive mind's in the game.     Need NFL Tickets? var _CI = _CI ...
OK, I often make very bold statements, and this one is no different from the rest.The Cleveland Browns are a few off-season moves from returning to playoff contention, an accomplishment their fans have been dying to witness since the team's last playoff appearance in 2007. Following their return in 1999 after the late Art Modell relocated the original Browns to Baltimore (now...
NFL News

Delivered to your inbox

You'll also receive Yardbarker's daily Top 10, featuring the best sports stories from around the web. Customize your newsletter to get articles on your favorite sports and teams. And the best part? It's free!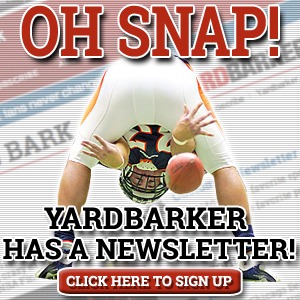 Latest Rumors
The Backyard

Today's Best Stuff

For Bloggers

Join the Yardbarker Network for more promotion, traffic, and money.

Company Info

Help

What is Yardbarker?

Yardbarker is the largest network of sports blogs and pro athlete blogs on the web. This site is the hub of the Yardbarker Network, where our editors and algorithms curate the best sports content from our network and beyond.