Found August 26, 2012 on isportsweb.com:
In a highly touted pre-season match-up between Andrew Luck's Indianapolis Colts and Robert Griffin III's Washington Redskins, RG3 and the 'Skins were the ones who went home happy. The game really didn't live up to the hype, but as a pre-season game, how could it possibly? As underwhelming as the game may have been, there are still some things the Colts can take away from the loss. 1. Andrew Luck is officially the Man This was Andrew Luck's most impressive performance in the pre-season. Yes, you read that right. I rank this higher than even the Rams game where he shredded the defense. Why? Because the colts offensive line was simply, well, offensive (more on that in a moment). There was almost no single drop back that Luck was not under pressure. The 'Skins blitzed and blitzed. They got to Luck on more than occasion, either hitting him just after a throw or sacking him. And how did Luck respond? 14 completions on 23 attempts for 151 yards and a touchdown. No real bad throws, no interceptions. He either stepped up into the pocket or rolled out to avoid the pressure and made some extremely nice plays, including the 31 yard touchdown to rookie T.Y. Hilton. Luck will make mistakes, especially if the protection doesn't improve, but this kid does not get rattled under pressure, and that is huge. 2. The O-Line really blows (right now) What can I say other than "wow?" And that's not a good "wow." More of a "holy crap are they terrible right now" kind of "wow." Colts GM Ryan Grigson and head coach Chuck Pagano have to hope that this game's performance was the exception and not the rule. If not… well, can anyone say "David Carr?" Everyone knows that winning football teams ALWAYS start with the guys up front. It doesn't matter if you have Dan Marino throwing the ball to Jerry Rice and handing off to Emmitt Smith if you can't keep defenders out of your back field. We all know that this was going to be a work in progress. No Jeff Saturday. Ben Ijalana was a bust. And one of our starters is Jeff Linkenbach (who? Exactly.). I haven't watched a whole lot of other pre-season games, but right now the only offensive line I've seen play worse is the Jets O-line. 3. Defensive injuries are a major concern Pat Angerer. Corey Redding. Brandon McKinnie. What do these guys have in common? All are defensive guys expected to make major contributions and who will miss some or all of the regular season. For those who haven't kept up on the news, McKinnie tore his ACL last night and will be going on IR. Add that to the fact that the Colts are still trying to perfect their defensive scheme switch, and it could spell trouble for the regular season. The run defense was especially atrocious last night. Washington totaled 147 rushing yards on 27 carries. For those like me who aren't math majors, that would be an average of 5.4 yards per carry. Yes, that includes the back-ups, but the per carry average was even higher than that when the starters were in. 4. Freeney not looking good in new scheme Right now I think I'm the only one pointing this out right now. But Freeney has not looked particularly good in his new OLB position. He has not really put much pressure on the opposing quarterback and there have been several instances where he has blown right past the running back allowing big gains. One of the problems in my humble opinion is that they are really just trying to use him (and Robert Mathis) as another defensive lineman instead of a natural OLB. I've already mentioned that the Colts defense on many plays resembles a 5-2 alignment (5 defensive lineman, 2 linebackers) more than a 3-4 (3 defensive linemen, 4 line backers). In this instance, it may be the Freeney's speed, an asset that has helped him dominate for 10+ years, is now a hindrance. Now, obviously this is way too early to be making such statements definitively. Freeney very well could begin to get the hang of his new position and look like his normal beastly self, especially given that this is a contract year for him. I won't be doing a game preview for the last game of pre-season against the Bengals. The starters will play very little, it at all. Most of the guys who play the majority of the game won't even make the team in all likelihood, so what's the point? Instead I will work on my NFL and Colts season previews. Keep an eye out. Follow me on Twitter @expertfan1
Original Story:
http://feedproxy.google.com/~r/isport...
THE BACKYARD
BEST OF MAXIM
RELATED ARTICLES
Andrew Luck has one more chance to get things right before the games count. The rookie quarterback has looked good in the Colts' first three preseason games, though Saturday afternoon's loss at Washington was clearly the toughest. Against the Redskins, Luck had to contend with a bevy of blitzes, breakdowns along the offensive line and penalties that led to stalled drives...
Today at 4 p.m. EST, we'll see a preseason matchup that pits the first two picks in the 2012 NFL draft against each other for the first time. The Redskins are putting their quarterback RG3 against the Colts' main man Andrew Luck. It will be the man with sizzle and flash against the guy that just tries to play quarterback. In short, the variances in their style of play could...
The best thing about preseason NFL football is the fact that it signifies that regular season football is only a couple weeks away. It's where the starters go through the motions for a couple weeks and the back-ups earn roster spots. The play-calling is very vanilla and games are sometimes tough to watch in the second half. A couple times a year there's a preseason match-up that...
Although it was just a preseason game, when number one versus number two face off, it always seems to grab everyone's attention. Andrew Luck and Robert Griffin III faced off against each other and did not disappoint the fans at FedEx field as Griffin and the Washington Redskins got the best of Luck and the Indianapolis Colts 30-17 on Saturday night. Both young quarterback looked...
Joe was on ESPN's "First Take" to promote the new Madden 13 game when the round table discussion inevitably came around to co-host Skip Bayless asking the four-time Super Bowl winner which rookie he would pick to have more long-term success as an NFL quarterback — Andrew Luck or Robert Griffin III. Montana  tried to dodge the question before a nagging Bayless said...
Who has a better fantasy season in 2012, Robert Griffin III or Andrew Luck? Rizzla: I believe RGIII is destined for a better rookie season from a fantasy standpoint as he will likely rush for a few hundred more yards than Luck, who has some wheels of his own. RGIII also has better weapons around him which will help lend a hand to his fantasy success in 2012. I have both pegged for...
The hype leading up to the RGIII Vs. Luck Bowl was one that started heating up back in March and April when everyone pretty much knew that the Indianapolis Colts were going to select Andrew Luck with the number one pick in the 2012 Draft and the Washington Redskins trading and moving up to get [...]
Who is Andrew Luck?  He has impressed during the preseason not only with his stats but with his poise and his mind. Just like any good quarterback you will only go as far as your arm will take you, I don't find that accurate. I think its as far as your mind can take you, a lot like Former Colt, Peyton Manning's mind has made him look like a genius on the field, Andrew's mind...
Deep Sleepers are players that are not drafted or rarely drafted. At least an average draft position (ADP) of 150 or greater qualifies for the deep sleeper list, with a couple exceptions as you will find below.Quarterback:Andrew Luck is being drafted 45 spots after Robert Griffin III with an ADP of 125 and 20th quarterback off the board. In most 10 or 12 teams league only one quarterback...
Next Sunday when the full slate of games kick off for the start of the regular season, five rookie quarterbacks will be starting for their respective teams, which sets an NFL record by more than doubling the previous record set last season of two.By having a rookie starting at quarterback, it means that most of the teams are in a rebuilding phase, so we don't expect any of these...
We all know by now that Indianapolis Colts owner Jim Irsay is a man who will do anything to help his football team move forward. Heck we are talking about the guy who found it in his team's best interest to part ways with a legend in Peyton Manning to start a new regime with QB Andrew Luck.
There may not be a division more reliant on young quarterbacks than the AFC South. Outside of Houston, each team will be looking to young quarterbacks to develop into the franchise players that their GMs hoped for when they drafted them. The development of Andrew Luck, Jake Locker, and Blaine Gabbert will be crucial to the long term fortunes of Indianapolis, Tennessee, and Houston...
Colts News

Delivered to your inbox

You'll also receive Yardbarker's daily Top 10, featuring the best sports stories from around the web. Customize your newsletter to get articles on your favorite sports and teams. And the best part? It's free!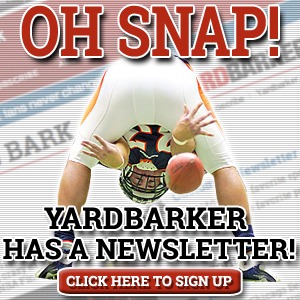 Latest Rumors
Best of Yardbarker

Today's Best Stuff

For Bloggers

Join the Yardbarker Network for more promotion, traffic, and money.

Company Info

Help

What is Yardbarker?

Yardbarker is the largest network of sports blogs and pro athlete blogs on the web. This site is the hub of the Yardbarker Network, where our editors and algorithms curate the best sports content from our network and beyond.