Found March 04, 2013 on More Than Stats:
I hope everyone checked out my interview with Detroit Lions LB Justin Durant I recently posted, I also had the opportunity to interview Buffalo Bills star Brad Smith via phone. Brad was really down to earth as I spoke to him while I sat in a lounge of a Hotel in Manhattan. The Hotel music was disturbing, which made our phone conversation kind of difficult  on my side to apprehend, but  I was still able to pull if off successfully(with the help of my Photographer recordings). Note to self, never conduct an phone interview in the lounge of an Hotel. Anyway Me and Brad discussed his recent internship with Men's Health Magazine, his experience assisting with New York Fashion Week fall 2013, personal style, and more. Check out our interview below. Brad Smith & Tommy Hilfiger Footage of Brad's Men's Health Magazine Internship experience/Fashion Week 2013 MTS: How was your experience interning with Men's Health Magazine and assisting them in covering New York Fashion Week Fall 2013 ? BS: It was an awesome experience, I had the opportunity to learn, first off Brian Boye(The Fashion Director for Men's Health Mag.) was amazing as far as the amount of stuff that he does and is responsible for. He's a writer as well as knowing everything about Men's fashion, all the trends, watches, everything. Its a lot that they have to know. To learn from Brian and being able to shadow him and his staff, was excellent. MTS: What were some of your responsibilities? BS: Whatever they needed me to do. Lets see, helping with executing the game plan, whose doing questions, and things like that. Going to the shows, evaluating and understanding what the designer is going for. Getting the opportunity to interview the designers backstage and ask them their inspirations behind their collections. Then I would go back to the office, Men's Health actually had a Photo shoot that Monday I was there, I helped pack all the trunks of clothes, shoes, accessories, also steamed clothes for the shoots. They actually had a layout for me too, it was a little bit of everything. MTS: I see you've attended a few prestigious shows and interviewed some top designers during New York Fashion Week, which show was your favorite and why? BS: Tommy Hilfiger had to be my favorite, first off getting to meet him, I talked to him for a quick second too, go backstage see how big the event is, and how many people are working behind-the-scenes. The whole atmosphere was amazing. MTS: From my perspective It seems like you are really into fashion, how would you describe your personal style? BS: I try to be fashionable, try to present myself in a professional way. I can't say I'm huge into fashion, where I wear all the crazy stuff. I'm very simple, classy and clean, little bit of an urban edge to it at times. MTS: Athletes getting involved in the fashion world continues to progress, do you see yourself with your own clothing line in the future? BS: Its definitely a possibility, what intrigues me more than having a line is what it takes to keep up behind the scenes, what it takes to brand and market to the minds. You can have great clothes, but you have to present it right to people. I think a lot of it is hype, who you can get to wear your clothes. I love the marketing aspect of it. MTS: How would you describe New York Fashion Week to someone who have never experienced it? BS: Its a whole different world, different people, different atmosphere, different vibes. The shows are shorter than you would think they were. You would think they were at least 30 minutes long, but you would get 10 minutes at the most. All the anticipation they build up for them, definitely outweighs the length of the whole show, other than that then its awesome. MTS: Say you have a big event to attend this weekend, you have to dress to impress, what are you wearing? BS: Definitely got to go with a suit of some sought, I would be underdressed to be comfortable, but still respectable. Definitely a nice tailored suit, probably Tom Ford, keep it real classy and clean.    
Original Story:
http://morethan-stats.com/interviewnf...
THE BACKYARD
BEST OF MAXIM
RELATED ARTICLES
It appears that Vince Young will make another attempt at the NFL. Young, 30, was the third overall pick in the 2006 draft but did not play in the NFL last season. Vince Young, back on campus this semester finishing his degree, will work out at Texas' pro day, according to Mack Brown. — Stewart Mandel (@slmandel) March 5, 2013 Young led the Longhorns to the 2005 National Championship...
Vince Young's NFL career may not be over after all. The former Longhorn great will work out at Texas' pro day on March 26 along with UT's current pro prospects. Sports Illustrated's Stewart Mandel broke the news, which he attributed to Texas coach Mack Brown, in a tweet Tuesday. It's been known for some time that Young was back in Austin, taking classes and...
WASN'T HE ALREADY?
Shawne Merriman announced his retirement after nine seasons in the NFL. The former first-round pick was a three-time Pro Bowler.
While Buffalo Bills wide receiver Stevie Johnson hasn't produced the smoothest of rides through the first part of his NFL career, his effort, outside of the gym, hasn't been questioned.Last December, Johnson welcomed the idea of playing from the slot as opposed to his usual perimeter spot, calling it "easy money."Under a completely new coaching staff, Johnson'...
Linebacker Shawne Merriman is calling it ''Lights Out'' on his career. The three-time Pro Bowl selection and 2005 NFL Defensive Rookie of the Year said on his website Tuesday night that he intends to file retirement papers. ''I retire today not because I don't feel I can go out there and still play the game at a very high level,'' Merriman wrote...
BUFFALO, N.Y. — Linebacker Shawne Merriman is calling it "Lights Out" on his career. The three-time Pro Bowl selection and 2005 NFL Defensive Rookie of the Year said on his website Tuesday night that he intends to file retirement papers. "I retire today not because I don't feel I can go out there and still play the game at a very high level," Merriman wrote. "I am retiring...
A middle-of-the-road offense led by a quarterback who made too many mistakes and a defense that could not stop opponents doomed the Buffalo Bills to a 6-10 record, extending the team's stretch of non-playoff seasons to 14. But this is not a team devoid of talent. C.J. Spiller and Fred Jackson could be a potent running back combo and Stevie Johnson is a solid wide receiver. Mario...
Free agent DE Shawne Merriman announced his retirement from the NFL on Tuesday. "After a lengthy discussion with my agent, family and team, I have officially decided to put in my retirement papers," writes Merriman, via ShawneMerriman.com. He added that he's not retiring because he can no longer play, but instead wants to go out on his own terms and pursue other opportunities...
Breaking News:Randy Colling invited to participate in Buffalo Bills mini camp in April Big Randy Colling dominated the d2 scene last year for Gannon University. Randy is a New York native and we just found out that he was invited to participate in the April Mini camp on April 16-18.  This is great news for the massive defensive tackle who has been in Charlotte working hard then...
Tweet   At one time Shawne Merriman was one of the most feared defensive players in the NFL. He was the Associated Press Defensive Rookie of the Year and a Pro Bowl selection in 2005. He followed up that season with two more Pro Bowl years in 2006 and 2007. During those three seasons Merriman [...]
For the next several days leading up to the start of free agency, I will be breaking down the potential free agents for the Colts. This entry is about Andy Levitre, the unrestricted free agent offensive guard for the Buffalo Bills.Overview: Levitre is a very underrated guard for the Buffalo Bills. Levitre was highly hyped out of college, and was named one of the best guards in his...
I think this is what they called a forced retirement. Truth be told, once he was busted for steroids he was never the same player.
NFL News

Delivered to your inbox

You'll also receive Yardbarker's daily Top 10, featuring the best sports stories from around the web. Customize your newsletter to get articles on your favorite sports and teams. And the best part? It's free!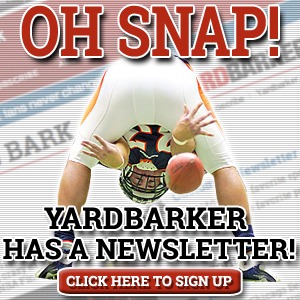 Latest Rumors
The Backyard

Today's Best Stuff

For Bloggers

Join the Yardbarker Network for more promotion, traffic, and money.

Company Info

Help

What is Yardbarker?

Yardbarker is the largest network of sports blogs and pro athlete blogs on the web. This site is the hub of the Yardbarker Network, where our editors and algorithms curate the best sports content from our network and beyond.