Found February 12, 2013 on State of the Texans:
Word coming out of Minnesota is that disgruntled wide receiver Percy Harvin is looking for a way out-of-town, and looks like it is heading that direction. One of the more complete and explosive players in the NFL, Harvin can create instant offense on the ground, in the air and returning kicks. Adam Rank of NFL.com said this of Percy Harvin, It is apparent that Harvin will be finding a new zip code for the 2013 season, but the question remains, would the Texans take a chance on the play maker from Minnesota? Also to go along with his play making ability is the tag of being "baggage" that teams don't want especially with his start in Florida reportedly grabbing a coach, a verbal altercation with Vikings Head Coach Leslie Frazier and his latest contract demands for the next season.  The contract demands Harvin has thrown out are in the neighborhood of $30 million guaranteed in his next contract that he wants now. He has threatened to hold out of all football activities until his demands are met, which will cause some issues for the Vikings on the trade market. One report showed that one NFL executive said it would take a 2nd round pick with an extra pick to get Harvin off the Vikings hands for the 2013 season. Harvin has one season left on his rookie deal which he is owed over $4 million in 2013, with $1,128,800 of that $4 million being guaranteed. The real issues is the long-term deal that it would take to keep Harvin on the team that could possibly trade for him. Enter the thought the Texans could use a player like Harvin to instantly upgrade their offense and give the team that play maker opposite Andre Johnson. Harvin has averaged 825 receiving yards and 170 rushing yards in the past four seasons and put up 29 total touchdowns. He can be put anywhere in the offense to help, wide receiver or running back and he has shown he can make an impact with the football at both positions. Throw in his return ability, players like him with his skill set do not come around often. Add in the fact the Texans have around 10 draft picks (7 picks and compensatory) in the upcoming draft and the front office could package their 2nd round pick and late round pick to possibly land him in Houston. Harvin is a known quantity when it comes to his play on the field, but the "baggage" could be enough to scare off the squeaky clean Texans mentality. Also, factor in that the Texans have "no money" for a player like his caliber to sign in Houston is for the front office to figure out. If the Texans can make moves with less than $3 million during the 2012 off season, there are ways to make it work. Opportunities to add a 24-year-old triple threat to an aging offense could be a much-needed spark to a unit that is looking for help. It's moments like these that NFL teams take advantage of to make a difference in their teams, and this could be one of those times. The only issue is that the Texans are not known to make "out of the box" moves to address needs and this could be one of those times the Texans will pass on the opportunity  The risk may be great, but it would be a sight to see the Texans to take a calculated risk, and despite Harvin being a wildcard as a personality, change could be good for the disgruntled Harvin. You can follow Patrick on Twitter.  He is the Editor of State of the Texans.    
Original Story:
http://www.stateofthetexans.com/?p=10353
THE BACKYARD
BEST OF MAXIM
RELATED ARTICLES
Here it is one week after the last game of the NFL season was played and Minnesota wide receiver Percy Harvin is at the top of the headlines again like he was before the season started.Think about it, with all the noise and hype Harvin likes to raise in the offseason, his lackluster play on the field and injury-prone seasons have trumped all the racket the media makes about him.Over...
Percy Harvin may be on his way out of Minnesota. The Vikings will try to trade their star receiver this offseason, according to CBS Minnesota. Harvin was placed on injured reserve prior to Week 13, but that may have had to do with his attitude more than a sprained ankle he suffered in Week 9. According to the report, Harvin "had an embarrassing tirade directed toward [Vikings head...
The Percy Harvin saga continues with a new report suggesting that the wide receiver might be seeking a deal worth $12 million per year. Now Harvin is a talented player, but character and injury issues will likely prevent the receiver from landing a contract that he might desire. The number he reportedly is looking at is what Larry Fitzgerald and Calvin Johnson currently earn and...
Ian Rapoport of the NFL Network says he spoke with two NFL executives and one told  him that he would be shocked if the Minnesota Vikings received more than a third round pick in return for Percy Harvin. Heard from 2 NFL execs on possible Harvin trade: 1 spoke of how complex finding value is. Another said he'd be shocked at better than a 3rd — Ian Rapoport (@RapSheet) February...
The Minnesota Vikings will attempt to trade wide receiver Percy Harvin this offseason following an "embarrassing tirade" directed at head coach Leslie Frazier, according to Mike Max of CBS Minnesota. Harvin left the Vikings last season, and many believed this was mainly due to the wide receiver's injury. However, Harvin's exit had more to do with his blowup with Frazier...
A Minnesota Vikings team source told Josina Anderson of ESPN that they shouldn't get rid of wide receiver Percy Harvin. "He is a star athlete who is a great player. Is he a volatile guy? Yes. Can he be managed? Yes. For me he is not an issue. You just have to be able to deal and manage star players. I don't think we should be at the point of being done with him." With Harvin...
You'll have to excuse the sub-par level of reporting that this site is usually known for when dealing with this story. Admittedly, I've brushed off following this "Vikings trading Percy Harvin" news bit for so long because I thought it was just some big joke that people were discussing online the past couple days. Ha ha, funny one guys! Yeah, Percy should be traded...
Percy Harvin has been the subject of a lot of talk around the Minnesota Vikings lately. His future with the team is questionable, and now it looks as though the team will actively seek to trade him.  Sources tell WCCO's Mike Max that the main reason that Harvin left the team this season was not his injury, but instead it a blowup he had with Vikings head coach Leslie Frazier...
Filed under "Topics I Can't Believe I Still Have to Slow-Talk to your Morons About," people are apparently still discussing whether or not the Minnesota Vikings should trade wide receiver Percy Harvin. I know. It's god damn ludicrous. You know what someone asked me the other day in regards to this? They asked, "But if we sign Percy long term, how are we going...
Evidently, the Minnesota Vikings feel electrifying slot receivers, who are just as dangerous in the return game, grow on tree. Sources for CBS Sports confirm that Percy Harvin is now on the trading block.During four abbreviated seasons in the Great White (NFC) North, Harvin has racked up 29 all-purpose touchdowns (20 receiving, 5 returning and 4 rushing) for the Minnesota Vikings...
The Minnesota Vikings are reportedly going to pursue a trade of wide receiver Percy Harvin this offseason, but this wouldn't happen if running back Adrian Peterson was in charge. Peterson told Paul Allen of KFAN yesterday that, if it were up to him, he wouldn't trade Harvin. "To be honest with you, I don't know if we will or not," Peterson said.  "But me, individually...
NFL News

Delivered to your inbox

You'll also receive Yardbarker's daily Top 10, featuring the best sports stories from around the web. Customize your newsletter to get articles on your favorite sports and teams. And the best part? It's free!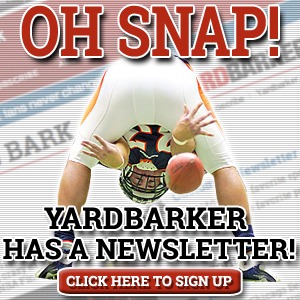 Latest Rumors
Best of Yardbarker

Today's Best Stuff

For Bloggers

Join the Yardbarker Network for more promotion, traffic, and money.

Company Info

Help

What is Yardbarker?

Yardbarker is the largest network of sports blogs and pro athlete blogs on the web. This site is the hub of the Yardbarker Network, where our editors and algorithms curate the best sports content from our network and beyond.