Found April 23, 2012 on Waiting For Next Year:
From Jason Pinkston's Twitter - Doing Work
According to an article by Pat McManamon from March 30th there probably isn't anyone on the Browns working harder this off-season than offensive lineman Jason Pinkston. Pinkston is headed into his sophomore season as an NFL player after being selected by the Browns in the fifth round of the NFL draft. He was thrust into a starting position as a rookie when Eric Steinbach went under the knife for back surgery. After an uneven but overall promising first year, how does Pinkston respond? He jumps into training with LeCharles Bentley where the workouts are hard, the training is unpredictable and comprehensive to even include diet. Is this just a guy working to get better at guard, or is Pinkston readying himself for a shot to be the Cleveland Browns' right tackle this year?
Maybe I am thinking way too much about all this. The Browns – most notably Pat Shurmur – have stated time and again that they like Pinkston as offensive guard. The Browns' actions backed this up when they cut ties with Eric Steinbach. That being said, the door isn't closed on Steinbach returning for less money than he was scheduled to make.  Heading into the draft where the Browns want everyone to think that right tackle is a major position of need, why would they tip their hand that a former left tackle from Pittsburgh was poised to make the move to right tackle in the off-season?
Back to LeCharles Bentley. He is the one working with Pinkston and he has also been one of the ones who has been most vocal that you can't just take a guy like Matt Kalil and push him from the left side to the right side. According to Bentley, the switch from left side to right side takes more work than that. When Bentley says that I believe him. Why wouldn't I? He took Alex Boone from NFL pretender to the point that the 49ers extended him until the end of the 2014 season with a deal that gave him a $1.7 million signing bonus and decent annual salaries of $540k, $950k, and $1.2 million. That's a pretty amazing turnaround for a guy who went undrafted and struggled with alcohol abuse. Even in his truthfulness though, is Bentley tipping his hand that maybe he is grooming the next right tackle for the Browns?
Imagine what Bentley and Pinkston could be accomplishing this off-season. Maybe just maybe they are grooming the next starting right tackle for the Cleveland Browns. We are talking about a guy who is 6'4″ and over 300 pounds. We are also talking about a guy who played right tackle for a season at Pitt before playing two more seasons as a left tackle.
Cleveland media keeps sniffing around it and the Browns keep denying any switch is in the plans. As I said, heading into the draft, I can hardly blame them for denying it. Let's just say that I wouldn't be totally shocked if Pinkston ended up working at the right tackle spot in training camp this year. Based on the results of other guys who have bought into the LeCharles Bentley school I would be lying if I said I wasn't kind of excited by the prospect assuming my conspiracy theory turns out to be true.
Original Story:
http://www.waitingfornextyear.com/201...
THE BACKYARD
BEST OF MAXIM
RELATED ARTICLES
Browns WR/Returner Josh Cribbs took to twitter to give his opinion on who the Browns should draft- " Who do I think we should take in the draft??? Hmmm someone who will come in right away & contribute if not that we don't need'em#justsaying" That about sums it up. Thanks Josh.
Give her credit for sticking to her guns through the entire process. Browns beat writer Mary Cay Cabot, despite outside pressures, has penned wide receiver Justin Blackmon to Cleveland in what is her fifth Sunday mock draft heading into this week's festivities. Tom Heckert told the Browns media this week that he'd like to stay at No. 4 and take one of the top two players left...
If Greg Cosell is right then the Browns will get the highest rated player in the draft overall at #4 this week. Interestingly enough, he echos a lot of what I was trying to say about Peter King's stat of the week trumpeting the need for a passing game. Now Greg Cosell's mock draft seems to back me up even more. Cleveland: The Browns select my highest rated player, RB Trent Richardson...
With the NFL Draft set to begin on Thursday night and the Browns heavily involved in the first two days with three picks at 4, 22, and 37, there's plenty of different routes that the Browns could take in attempting to improve an anemic offense and a defense with a need for more playmakers. You don't hear me talk NFL Draft too often, primarily because I fail to see the point of...
You've heard our podcasts. You've partaken in our live chats. Tonight, worlds collide as we talk Cleveland Browns and NFL Draft  with the kind folks over at The Cleveland Plain Dealer and Cleveland.com. Craig and I will be joining columnist Dennis Manoloff and web extraordinaire Glenn Moore in a special one-hour live event that will involve any an all who choose to participate...
@rodofdisaster is the author of our in-season "Xs and Os with the Bros" feature. He's also a University of Texas alum with some pre-2012 draft thoughts on Colt McCoy. Enjoy. ————— It was 2006. Austin, Texas was coming down from the high of a national championship several months earlier. Like every other Texas alum, I was glued to a quarterback battle between blue...
Tim Couch isnt afraid to look back. He might not always like what he sees, but hes not afraid to look back and wonder -- at the craziness, difficulty and challenges he faced in a brief four-year career with the Cleveland Browns. That career seems to symbolize the post-1999 Browns. Drafted first overall, Couch never lived up to the expectations he had for himself and the team. He...
Peter King does great work and his Monday Morning Quarterback column is a must-read. He has some really enlightening information in the column even if you sometimes question his sources. Obviously Tom Heckert does, as he blatantly told the Cleveland press this week that he hasn't talked to King in years. Be that as it may, King was talking about the 2012 NFL draft and the Browns'...
Browns general manager Tom Heckert's draft-day gamble last year is about to pay off. Heckert traded down in the first round a year ago, giving the No. 6 overall pick to Atlanta and acquiring the Falcons' first-round pick this year (No. 22) as well as a fourth rounder. The additional first-rounder should enable the Browns, who also have the No. 4 overall selection, to acquire...
According to the NFL Network's Dan Hanzus, NFL Commissioner Roger Goodell has decided punishment of individual players associated with the Saints' 'bounty' program is warranted. "In an appearance Tuesday on "The Rich Eisen Podcast," NFL Commissioner Roger Goodell said "evidence was clear that the players embraced it" in regard to the Saints' pay-for-performance...
Without further ado, here is the schedule that the Cleveland Browns will face in the 2012 season:   September 9: vs. Philadelphia Eagles September 16: at Cincinnati Bengals September 23: Buffalo Bills September 27: at Baltimore Ravens October 7: at New York Giants October 14: vs. Cincinnati Bengals October 21: at Indianapolis Colts October 28: vs. San Diego Chargers November...
We're moving closer and closer to the draft. While not the premiere QB in the draft, Texas A&M's Ryan Tannehill has a lot of tangibles that put him in our QB top 5... Positives: He's converted quarterback after playing wide receiver for the first half of his career, and was the team's leading receiver two seasons prior to becoming a quarterback. This shows...
NFL News

Delivered to your inbox

You'll also receive Yardbarker's daily Top 10, featuring the best sports stories from around the web. Customize your newsletter to get articles on your favorite sports and teams. And the best part? It's free!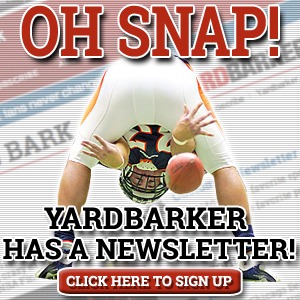 Latest Rumors
Best of Yardbarker

Today's Best Stuff

For Bloggers

Join the Yardbarker Network for more promotion, traffic, and money.

Company Info

Help

What is Yardbarker?

Yardbarker is the largest network of sports blogs and pro athlete blogs on the web. This site is the hub of the Yardbarker Network, where our editors and algorithms curate the best sports content from our network and beyond.