Found January 11, 2013 on Boston's Bettah:
Rob Gronkowski and Johnny Manziel make a lot of news for being "bros" off the football field Texas A&M quarterback Johnny Manziel took college football by storm this season becoming the first Freshman in the history of college football to take home the Heisman trophy, honoring the best player in college football. Affectionately known as "Johnny Football", Mr. Football was a play-maker extraordinaire at the quarterback position. He extended plays with his feet, created all the big plays for his team and showed up biggest when the lights were brightest, most notably in wins in Tuscaloosa and in the Cotton Bowl. There is also another side to Johnny Football a side that might be all too familiar to fans of the New England Patriots. Simply, dude is a bro, bro. Here are some "highlights" from Johnny Manziel's freshman season in college station: Dressed up as Scooby-Doo for Halloween in college station and proceeded to do the "starting quarterback thing" and end up at what is either a strip club or a very loose definition of a Halloween party. I don't know what that girl is dressing up as but bless her soul. Is a frequent in the Dallas night-club scene despite the fact that he is nineteen years old. For example, here is a picture of Johnny Manziel with a sparkler between his teeth. I get the sense that Manziel walks into a corner gas-station, puts a six pack of beer on the counter and nobody questions who he is, and if you didn't get that, you clearly haven't watched Varsity Blues enough. Had court-side tickets to a Dallas Mavericks game that he said "he bought" and got to hang out with NBA players like Lebron James. Sure Johnny, you bought those tickets, we believe you. In all seriousness, I have heard that is parents do have a bit of money so he might have a trust-fund somewhere. Rumors are the name of the game when it comes to Johnny Football. Went to a casino with some of his buddies and flashed the dolla-dolla for the cameras, wait, is that a Miami Heat hat? The dude is from Texas. BURN THE WITCH! Johnny Football certainly has been busy off the field, just like a certain tight-end that Patriots fans have come to know and love. Yes, I am talking about Rob Gronkowski. Last off-season, or what was affectionately known as "The Summer of Gronk", Gronkowski completed all of the following: Got on the cover of ESPN The Magazines annual "Body Issue" where he went full Gronk. Went to a charity for the Boston Children's hospital, followed by going to the after-party, downing a lot of drinks and ripping off his shirt and dancing. Going down to Spring Break in Panama City, ripping off his shirt and having pictures of himself beer-bonging with some random college kids. I'm also starting to notice a trend here. Making a video of himself doing push-ups in his house before playing a game of Madden against a Megatron action figure and then spiking that figure against the ground. The best part about that video was that Rob Gronkowski has a fathead of himself in his home. Went to one of the Barstool parties, removed his shirt, and danced by himself for a while. Again, notice the trend. Auctioned off the ability to party with Rob Gronkowski for charity.By the way, if you really want to party with Rob Gronkowski, just go to any hot club in Boston and just wait long enough. I'm sure he will show up and remove his shirt eventually. Went to the ESPY's award show and allegedly went to the bathroom and asked a random patron, "Yo, crossies?" Learned about space. The similarities between Gronkowski and Manziel are similar in the sense that they both just seem to be "bros". They are living life the way that any warm-blooded American man would love to live it. They have money, fame, woman, money, and a decent bit of notoriety that nobody bats an eye at because they are still so damn successful on the field. Manziel is just a freshman so he has a long way to go to reach the level that Rob Gronkowski has achieved over his years, but it seems like he is on the right track to being American's most beloved NFL player.
Original Story:
http://www.bostonsbettah.com/?p=5600
THE BACKYARD
BEST OF MAXIM
RELATED ARTICLES
Tom Brady's (Fake) Gmail Inbox: Hilarious!
oldschoolfootball: Tom Brady, New England Patriots
""I had heard about the Patriots and the way they do things, all that stuff. You know what?...
3TFO: Texans @ Patriots, AFC Divisional | ProFootballFocus.com: Dead on stuff in this...
In this week's build up to the Divisional Round game between the New England Patriots and the Houston Texans, there has been a lot of "Bulletin Board" material flying around. And there's been even more today, for Patriots wide receiver Wes Welker.It has been provided by Texans defensive coordinator Wade Phillips. When asked about some of the key points of the...
A couple of days ago, I wrote about the Patriots hunger to win and belief in their new and improved team (check it out here). Arguably the most important improvement to this year's New England Patriots team as opposed to last year's Super Bowl Runner-Up team is the presence of a rush offense.At the end of the regular season, the New England Patriots ranked #7 in rushing offense...
The Texans were embarrassed by the Patriots on MNF, will the same this happen this weekend? The Wildcard games disappointed for one reason, quarterback play.  That will not be a problem this weekend.  The marquee quarterbacks are off their bye weeks and are ready to lead their teams onto the field. Here is a look at the games and my selection of the winners. Baltimore vs...
The Broncos, Patriots and Packers each have a future Hall of Fame Quarterback on their roster.  This weekend is going to have some great QB play. The Wildcard round brought us some pretty bad games.  The marque quarterbacks were on a bye so this week should be a lot better.  Here are the quarterbacks and how they stack-up 1) Manning - Peyton Manning is the MVP of the League...
The New England Patriots defense has thrived on takeaways. Their +25 turnover ratio towers over the +12 ratio of the Houston Texans. It's amazing really, considering that the Pats D is often criticized yet they come up big. To this day they still embody the "bend but don't break" defense that they have for years. Boston.com's Zuri Berry recently wrote an article...
For years, stats geeks and old-schoolers have been fighting over the importance numbers and trends possess when it comes to predicting future outcomes. The champion of the stats side of that argument is Nate Silver, who comes from the world of sabermetrics and who also happened to use his advanced system to predict the winner of all 50 states and all but one Senate race in November...
With the final contest of the weekend being a rematch of the "Monday Night Massacre" from week 14, the third seeded Houston Texans will travel to New England to face the second seeded Patriots to get another crack at an opponent who completely manhandled them in every facet of the game just one month ago. Houston Texans (3) @ New England Patriots (2) Of all of the games this...
Las Vegas odds makers learned their lesson from the Patriots-Texans matchup earlier in the season. When New England and Houston matched up in Foxboro in Week 14, the Patriots were just 5.5-point favorites before beating the Texans 42-14. This week, the Patriots are 9.5-point favorites over Houston, but is that enough? Since New England embarrassed the Texans on Dec. 9, the Patriots...
Patriots News

Delivered to your inbox

You'll also receive Yardbarker's daily Top 10, featuring the best sports stories from around the web. Customize your newsletter to get articles on your favorite sports and teams. And the best part? It's free!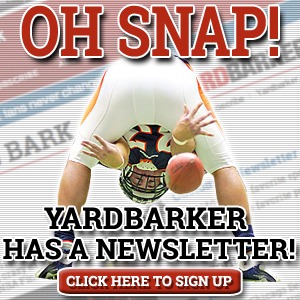 Latest Rumors
Best of Yardbarker

Today's Best Stuff

For Bloggers

Join the Yardbarker Network for more promotion, traffic, and money.

Company Info

Help

What is Yardbarker?

Yardbarker is the largest network of sports blogs and pro athlete blogs on the web. This site is the hub of the Yardbarker Network, where our editors and algorithms curate the best sports content from our network and beyond.