Found June 08, 2012 on State of the Texans:
PLAYERS:
Chad Ochocinco
,
Gary Kubiak
,
Tom Brady
,
Rob Gronkowski
,
Aaron Hernandez
,
Wes Welker
,
Carson Palmer
,
Andre Johnson
,
Kevin Walter
,
DeVier Posey
,
Keshawn Martin
,
Lestar Jean
,
Johnathan Joseph
TEAMS:
Houston Texans
,
New England Patriots
,
Oakland Raiders
If you have listened to any of our Luv Ya Steel Blue podcasts, you have heard me bang the table more than once for the Houston Texans to possibly look into Chad Ochocinco as a potential wide receiver before he ended up in New England. Well the Patriots have decided to end the Ochocinco experiment and release him to the NFL unemployment line. Coming off of his worst season as a NFL wide receiver, questions are now going after Ochocinco's declining skill set, determination and football I.Q. Considered a steal by the Patriots when acquiring the star wide receiver for a 5th round pick in 2012 (which ended up being rookie wide receiver Marvin Jones) and a 6th round pick in 2013, the situation just did not work out.
Looking at the Texans, Head Coach Gary Kubiak has made it clear that the team will seriously look into veterans to bring in prior to training camp. Nick Scurfield tweeted out that he would expect the Texans to bring in a veteran wide receiver to compete with the young wide receivers on the roster. Now could be the time for the Texans to take a look at a player like Ochocinco to bring in and make this Texans offense potentially better.
When first hearing of his release, I had to bite my tongue not to go on twitter and express my interest for the Texans to bring him in. The more I look at the opportunity for the Texans to bring him into camp, there are few things that come to mind:
1. Analyst are sure that Ochocinco is done as an NFL wide receiver but it is hard to get a good gauge on what his real worth was for the Patriots. Tom Brady made a living on attacking the middle of the field, targeting Rob Gronkowski (90 rec.), Aaron Hernandez (79 rec.) and Wes Welker (122 rec.), which accounted for 73% of Brady's completions in 2011. Ochocinco only started 3 of the 15 games he appeared in for the Patriots in 2011 and had 354 snaps on the field (26% of the offensive snaps). It is hard to say if he didn't understand the offense or just was not a good fit, but he did have his highest yards per reception of his 11 year career with 18.4 yards a catch.
2. The chances of Ochocinco coming to Houston is going to be very slim. He has shown he plays his best football when he is himself, the "look at me" type of player. His persona doesn't fit the Texans mold of a football player but he did show his ability to step out of the lime light for the team in New England, so there is some hope.
3.With the Bengals, Ochocinco had seven 1,000+ receiving yard seasons (10 seasons) with 66 touchdowns. When allowed to free-lance with routes, he and Carson Palmer were a dynamic duo in the passing game. The potential for a top 15 wide receiver is there but the question remains, can he be that player he once was with the Bengals?
4. If the Texans did decide to take a chance on Ochocinco, the reality of the situation would be that he would come cheap but the Texans would lose a young wide receiver in the process. With Andre Johnson and Kevin Walter (as of now) to be on the opening day roster, and rookie draft picks DeVier Posey and Keshawn Martin also locked into roster spots, it would come down to second year wide receiver Lestar Jean. Kubiak has shown he will carry five wide receivers and not more than that and to think this season would be any different just doesn't seem to be an option. The Texans would have to make a tough choice if Ochocinco came in, had a stellar training camp, impressed, and cut lose a potential player in Jean for years to come for one season of Ochocinco. That might be a steep price considering the early impressions Jean has been making during OTAs.  NFL teams would be ready to pounce if the Texans tried to get Jean to the practice squad.
5. Tie into that thought of Ochocinco vs. Jean, what they each can bring to the table, with tape on Ochocinco and the limited tape on Jean, the Texans would have to come up with a decision based on a guy who has been there versus a guy who has looked good in a shirt and shorts. The risk is high but it could pay off in the long run especially when there could be a veteran presence on the field.
6. The time to win for the Texans is now and if Ochocinco is the answer to put them over the top and give them another threat offensively, this could be huge. The Texans lacked a playmaker last season when Johnson was out and if Ochocinco could provide some type of playmaking ability it would be a no brainer for the Texans to bring him in.
7. Do we think that his former teammate in Cincinnati, Johnathan Joseph, might speak up for Ochocinco to the Texans brass, maybe. The truth is that players usually are asked about former teammates before they are brought in to get an idea what they are dealing with. If Joseph had a good relationship and experience with Ochocinco in Cincinnati, that could be a wild card Texans' fans are not looking at right now. Joseph could possibly set the ball in motion for the Texans to find out more information on the free agent.
With all of these thoughts, I have come to a final solution for the premature Ochocinco to the Texans talk. As much as I would like to see him at Reliant, the Texans need to at least "kick the tires" on him and see if he could be an option down the line if still available as a free agent. Bring him in for a workout and write notes on him and put his phone number in the Rolodex for emergency purposes. Let the Texans do their due diligence, pass on the chance to sign Ochocinco, but leave the option open to sign him later in the season if an injury occurs or if one of the youngsters does not pan out.
You can follow Patrick on 
Twitter
.  He is the Editor of State of the Texans and is a draft analyst on 
Sideline Scouting
.
Original Story:
http://www.stateofthetexans.com/?p=5360
THE BACKYARD
BEST OF MAXIM
RELATED ARTICLES
Chad Ochocinco was released by the Patriots on Thursday after an unsuccessful season with the team. The primary reason for his release is that he never could pick up the Patriots' offense. Or, as Greg Bedard of the Boston Globe put it, Ochocinco lacked "football IQ." Bedard's report states: According to multiple sources, he just doesn't have the football I.Q. that he appeared...
Veteran wide receiver Chad Ochocinco will work out for the Miami Dolphins next week and is excited about a possible return to his roots, CBS Sports reported Saturday, citing a source. The New England Patriots announced on Thursday that they had released the South Florida native after one season. The 2011 campaign saw career lows for the six-time Pro Bowler, with just 15 receptions...
Chad Ochocinco was an ill fit for the New England Patriots who ended up releasing him on Thursday. The Patriots attempted to trade him but found no suitors which led to his release. But Ochocinco is still a very skilled receiver who has the ability to contribute to a team. But which teams would be a better fit for Ochocinco's skills? Here are five teams that could use a skilled...
Chad Ochocinco's inglorious tenure with the Patriots is over, according to published reports. Earlier reports that Ochocinco was still on the roster and left the team facility early for a dentist appointment were debunked by the Boston Herald Thursday. According to the paper, the Patriots first attempted to trade the veteran receiver but found no takers. He struggled to acclimate...
According to CBSSports' Jason La Canfora, the Cowboys are not interested in Chad Ochocinco, who was released by the Patriots earlier this week. The Cowboys seemed like a potential destination as they need a 3rd receiver and because they've taken chances on frustrating players like Ochocinco in the past. The Cowboys reportedly did their homework on both Chad Ochocinco and, believe...
If Chad Ochocinco could get his wish, he reportedly would continue his NFL career with the Miami Dolphins. After the wide receiver was waived this past week by the New England Patriots, he's in the market for a new employer and the south Florida native is hoping that could be the Dolphins, souces told CBSSports.com. Ochocinco indicated via Twitter on Friday that there's interest...
Chad Ochocinco was released from the Patriots, and it sparks the question, is his career over? Granted the New England Patriot system is notoriously one of the most difficult systems in the league according to present (and past) players. Perhaps Ochocinco simply could not adapt to Bill Belichick's game plan. It is more likely that he could not compete with the ten other wide...
You'd had to be blind not to have seen this coming. Never mind that Ochocinco's contribution to the Patriots last season was next to none, but during the offseason New England signed free agent receivers Brandon Lloyd, Donte Stallworth, Anthony Gonzalez, and Jabar Gaffney. So it was hard to see where Ochocinco would fit in. Turns out, he doesn't. And the Patriots, after trying...
Upon news of the release of wide receiver Chad Ochocinco by the New England Patriots, the speculation about his next possible destination ran wild. While many people are mentioning the same old teams who have either gone after diva wide receivers in the past, or those who are a bit thin at the position, it remains a mystery as to whether or not Ochocinco will draw nearly as much...
After conflicting reports earlier today, the New England Patriots made it official by releasing Chad Ochocinco, the outspoken receiver who lasted only one year with the Patriots after they traded for him last offseason. [View the story "Chad Ochocinco Released by the New England Patriots" on Storify]
There was some speculation this afternoon as to why New England Patriots WR Chad Ochocinco was not present during team OTA's. ESPN's Adam Schefter reported initially that he wasn't with the team because of an eye doctor's appointment. Schefter then reported that after the Pats got no offers in a trade for Ochocinco, they released [...]
NFL Daily Digest: 6-8-2012 C'mon Chad: It seems that Chad Johnson was released because he is not smart enough to do what the Patriots need him to do according to the Boston Globe. He apparently lacked the "football I.Q." to get it... To read this feature which tackles the biggest NFL headlines, please click the link below.
NFL News

Delivered to your inbox

You'll also receive Yardbarker's daily Top 10, featuring the best sports stories from around the web. Customize your newsletter to get articles on your favorite sports and teams. And the best part? It's free!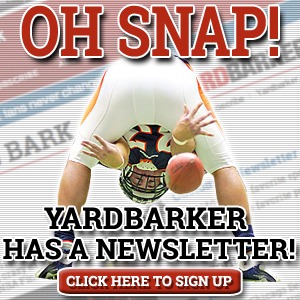 Latest Rumors
Best of Yardbarker

Today's Best Stuff

For Bloggers

Join the Yardbarker Network for more promotion, traffic, and money.

Company Info

Help

What is Yardbarker?

Yardbarker is the largest network of sports blogs and pro athlete blogs on the web. This site is the hub of the Yardbarker Network, where our editors and algorithms curate the best sports content from our network and beyond.