Found February 18, 2012 on CJ Sports NFL Talk:
Recent reports from SI.com say that quarterback Peyton Manning has been holding back when it comes to revealing his neck surgeries. NFL sources were cited on Feb. 15 as saying that Manning went through four medical surgeries/procedures on his injured neck over the past two years, not the three he has admitted to.
His most recent operation took place on Sept. 9 last year when doctors performed neck fusion surgery on him. He also underwent an operation in May to fix a bulging disk and now it's believed that he had another procedure between those two, but the exact date isn't known. Manning missed the entire NFL season for the Indianapolis Colts due to his condition, but he claims he'll be ready to play when the 2012 season kicks off. However, the Colts aren't completely convinced that he'll be healthy.
The source said all four of Manning's surgeries were performed on the right side of the player's neck and the doctor who repaired his disk problem also took care of the previously unknown procedure in Chicago. Manning and his agent Tom Condon wouldn't comment on the reports of a fourth surgery. It could be because he doesn't want to scare the Colts away since he's due for a $28 million bonus from the club by March 8.
The Colts need to protect themselves at the position just in case Manning can't play anymore and will likely draft a quarterback in the first round of the college draft. Even if Manning is healthy enough to give it a go in the fall, he'll be 36 years old and in the twilight of his career. The Colts could still release him and save themselves the $28 million bonus, making Manning a free agent.
It's a big decision to make and they're running out of time. Any money saved could be used for the team's salary cap, allowing them to sign some decent free agents in the off-season. This would enable them to pick up a veteran quarterback to fill in until a draft pick learned the ropes and took over the starter's role.
Manning will meet with Jim Irsay, the Colts' owner, in the near future to see if they can come to some sort of mutual agreement about the player's future with the football club. Irsay said on Feb. 14 that it's up to Manning to decide what he wants to do. He added that he'd like to have Manning back in the lineup if he wants to come back. Irsay said he hopes Manning understands there could be a physical risk if he returns to top-level football and he should consider his long-term health before making a decision.
Manning's under contract, but Irsay said if he returns to the team the deal can be restructured, which roughly translates into Manning having to take a cut in pay. The Colts believe Manning will need a further medical procedure to rectify his condition since he may have developed some bone spurs in his neck following the fusion surgery.
Original Story:
http://cjsportsnflblog.com/2012/02/is...
THE BACKYARD
BEST OF MAXIM
RELATED ARTICLES
Now that ESPN has removed Ron Jaworski from the Monday Night Football broadcast booth, it could be a sign that they're positioning themselves to lure Peyton Manning if he were to decide to retire before this season.  At least that's what Bob Raissman of the New York Daily News is speculating, and I can't disagree with him. Once ESPN announced the removal of Jaworski, I was...
Since Peyton Manning hasn't been in the news much lately, I thought it might be a good idea for someone to provide an update. OK, so despite every talking head in the country having already shared their two cents on Manning's future and what the Colts should do with the first pick, as a lifelong Colts fan and Indy native I feel it is my duty to chime in with another worthless...
Miami has a lot of needs this offseason. Their offensive line was a mess last year, their solid defense is changing schemes, and they can't make explosive plays on offense. Before they get to all that, their needs start at the quarterback position. The Dolphins will be mentioned prominently in all Peyton Manning and Matt…
The Peyton Manning story will be a daily soap opera for most of the offseason.  Matt Flynn is this year's Kevin Kolb.  Drew Brees and Alex Smith aren't going anywhere. After those four men, there hasn't been a lot of talk about free agent quarterbacks. We'd argue that two players — Kyle Orton and Jason…
Test your knowledge of current sports events of the past week: (For the most part, there are no right or wrong answers, so everybody scores 5.) Over or under 21? A) The Red Wings' home winning streak. B) Peyton Manning's neck procedures. C) Hitting on 16 in blackjack. D) Kate Upton.
This is the first episode of The Jaggernaut Podcast, Jaggernaut Talk. Please join us here at 11:30 AM today to listen live. The podcast will be playable here after the show is over whenever you have time for it. The show is scheduled for 30 minutes, although I'm guessing it'll run more like 15 to 20 minutes in this inaugural episode. Today's show is scheduled to cover...
Colts News

Delivered to your inbox

You'll also receive Yardbarker's daily Top 10, featuring the best sports stories from around the web. Customize your newsletter to get articles on your favorite sports and teams. And the best part? It's free!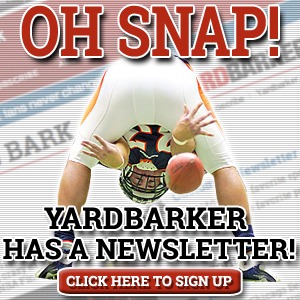 Latest Rumors
The Backyard

Today's Best Stuff

For Bloggers

Join the Yardbarker Network for more promotion, traffic, and money.

Company Info

Help

What is Yardbarker?

Yardbarker is the largest network of sports blogs and pro athlete blogs on the web. This site is the hub of the Yardbarker Network, where our editors and algorithms curate the best sports content from our network and beyond.