Found October 05, 2012 on Queen City Sports:
Is Stevie Johnson the Bills' first true number one receiver since Andre Reed and Eric Moulds, or is he the next Lee Evans?
The first two names mentioned were seen as true number one receivers in the eyes of Bills fans. Since Moulds left in 2005, many fans have been looking for their next true number one receiver.
While the Bills did have Lee Evans from 2004-2010 and while some saw him as a number one receiver, Evans was more of number two wide receiver forced to play as a number one.
Where does Stevie fit? Let's look inside the numbers of his career thus far.
Through Four NFL Seasons:
Evans: 233 receptions, 29 touchdowns, 3,727 yards
Reed: 229 receptions, 22 touchdowns, 3,096 yards
Moulds: 181 receptions, 18 touchdowns, 2,935 yards
Johnson: 170 receptions, 19 touchdowns, 2,189 yards
I need to be honest here; I chose these stats for a reason. It's because the stats are misleading. Looking at these numbers it seems that Lee Evans was on his way to a hall of fame career as his numbers are better than Andre Reed, a wide receiver who belongs in the H.O.F, Eric Moulds, and Stevie Johnson.
But in football and many times in life, it's not how you start but how you finish.
Evans went on two have two more decent seasons before declining sharply in 2009.
Reed's brilliant career was just starting. In 1989, year five, Reed eclipsed 1,000 yards for the first time and did so for the last time in 1996. During his career in Buffalo, Reed finished with under 800 yards only six times in fifteen year career in Buffalo.
Moulds started his career in Buffalo slow, but by year three he went over 1,300 yards receiving and finished with over 1,000 yards receiving three more times after this.
Johnson is the slowest start of the bunch. After his first two seasons, Johnson only had 12 receptions and 112 yards. However, in years three and four Johnson did something that no other Buffalo Bills wide receiver has ever done: Finished with over 1,000 yards receiving in back-to-back seasons. In the last two seasons Johnson has finished with 158 receptions and 2,077 yards.
Is Johnson a true number one receiver? The jury is still out in my opinion. His last two seasons have been impressive, but he needs to continue to produce. Through four games in the 2012 season, Johnson currently has 15 receptions, 195 yards, and three touchdowns. The stats don't jump off the page, but a lot of the blame can be placed on the uneven play of Ryan Fitzpatrick. Johnson has actually been targeted 36 times this season, an average of nine targets a game, but only has 15 receptions on these throws. As someone who watches Johnson closely, I can state that he is open on most of his targets this season. He can run his routes to the best of his ability, but there is nothing he can do about terribly inaccurate throws.
Can Stevie Johnson be a number one receiver for the Buffalo Bills? Absolutely. Is he currently? No, but he's a lot closer than some Bills fans think.
Bills fans, what do you think? Is Stevie Johnson a true number one receiver right now? Let me know here or reach me on twitter @bonasbillsfan.
The post Is Stevie Johnson a True Number One Receiver for the Bills? appeared first on Queen City Sports.
Original Story:
http://www.queencitysports.net/can-st...
THE BACKYARD
BEST OF MAXIM
RELATED ARTICLES
Buffalo Bills reserve defensive tackle Spencer Johnson has been ruled out from playing at San Francisco this weekend because of an ankle injury. Coach Chan Gailey made the announcement after Johnson missed his second straight practice Thursday. Gailey said Johnson was hurt but continued playing in a 52-28 loss to New England on Sunday. Gailey also said offensive linemen Cordy Glenn...
In order to avoid writing a thousand cogent words about the travesty that was Week 4 at Ralph Wilson Stadium, I beefed up on my western films. Mainly my favorite: The Good, The Bad and The Ugly. It's a common favorite, I realize, but it does have the single best climactic duel in cinematic history. Plus it has a seriously motivating soundtrack. I feel like I could draw a pistol...
Buffalo Bills wide receiver Steve Johnson is known for his off-beat sense of humor. While we sit around and say ' hey man focus on your season,' he continues to promote his Street Games reality show. In this episode he talks a young lady into staging a fake engagement to the dismay of her mother. Please Click Here To Watch This Video
Bills DT Kyle Williams Fined $15,000 + - Buffalo Bills DT Kyle Williams was fined $15,750 for hitting New England Patriots QB Tom Brady below the knee area. He was called for roughing the passer. In a stunning development, Williams was not happy with the fine. Original Story Here!
  Before making his decision to stay out west for the two-game road trip, Buffalo Bills head coach Chan Gailey consulted with someone who has been there, and done that. That person is this week's opposing head coach, Jim Harbaugh. "San Francisco's done it the last couple of years," Gailey said. "I talked with Harbaugh, and he thought there were some real positives in...
There are a few key fantasy contributors that have had a number of injury question marks surrounding their playing status leading up to Week 5 of...
The last time the Buffalo Bills entered Candlestick Park, the 2004 San Francisco 49ers started a struggling quarterback (not named Smith!) the day after Christmas on the way to a 2-14 season under then coach, Dennis Erickson.Drew Bledsoe played conservatively following a running game that pounded the Niners for 226 yards and a 41-7 score.Oh, how things change! In 2012, if you have...
The Buffalo Bills and defensive lineman Mario Williams haven't gotten off to the start they wanted. While there are multiple issues plaguing the Bills, Williams has been slowed by a wrist injury, reports Gregg Rosenthal of NFL.com: "I'm a hands-on player and it's all about power in my game," Williams said via the Rochester Democrat and Chronicle...
Just when you thought the East Coast -West Coast battle ended with Tupac and Biggie, then came this week's Chick Fight. In one corner, a die-hard female football fan with loads of "California Love" for her San Francisco 49ers. In the other corner, a Buffalo Bills believer who thinks QB Ryan Fitzpatrick "loves it when she calls him Big Poppa!" What never officially got...
Mark Miller, Bills enthusiast. It's frustrating to have stereotypes applied to a group that you're a part of, isn't it? These blanket classifications, in their nature, very seldom hold positive connotations. What's worse than the feeling that someone is wrongfully slinging generalizations at you and those like you?  When the things said are validated, becoming...
Photo Courtesy of Zimbio.com The Buffalo Bills were absolutely brutalized in a disgusting 52-28 loss to the New England Patriots after a 21-7 lead going into halftime. Safety/linebacker Bryan Scott replaced Kelvin Sheppard at the middle linebacker position for the majority of the game. This was a gameplan installed to implement a nickel package that would allow the Bills' defense...
LEXINGTON-- It's a great thing to write one's name in the record book. Yet for Chad Bumphis notching his 18th career touchdown catch means something else and maybe even bigger. "I get to talk stuff to Eric Moulds now!" the senior receiver said. "Next time I see him, and he said he'd be at the Tennessee game so I'll talk to him about it a little bit!"
Bills News

Delivered to your inbox

You'll also receive Yardbarker's daily Top 10, featuring the best sports stories from around the web. Customize your newsletter to get articles on your favorite sports and teams. And the best part? It's free!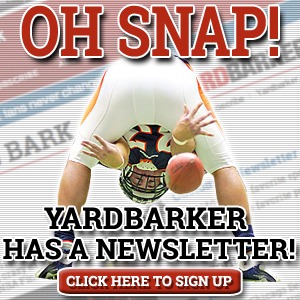 Latest Rumors
Best of Yardbarker

Today's Best Stuff

For Bloggers

Join the Yardbarker Network for more promotion, traffic, and money.

Company Info

Help

What is Yardbarker?

Yardbarker is the largest network of sports blogs and pro athlete blogs on the web. This site is the hub of the Yardbarker Network, where our editors and algorithms curate the best sports content from our network and beyond.