This past week, Jason Cole of Yahoo! Sports wrote an opinion piece on possible landing spots for Michael Vick. Cole's top landing spot for Vick? Buffalo. While Cole's piece was based purely on opinion, is there any reason to believe the Bills would bring in Michael Vick? Let's take a look and see how realistic this scenario is. Rewind to last year. Michael Vick took part in an interview with GQ Magazine. The most notable part from the article to me was this comment: "I think I can say this now, because it's not going to hurt anybody's feelings, and it's the truth," Vick tells me a few weeks after the commencement ceremony. "I didn't want to come to Philadelphia. Being the third-team quarterback is nothing to smile about. Cincinnati and Buffalo were better options." Those two teams wanted him and would've allowed him to start, but after meeting with commissioner Roger Goodell and other reps from the NFL, Vick was convinced—and granted league approval—to sign with Philly. "And I commend and thank them, because they put me in the right situation." Buffalo was rumored to have plenty of interest in Vick and this quote seemed to confirm it. Instead of signing with Buffalo or Cincinnati, Goodell swayed Vick to Philadelphia where he wouldn't start right away. Why Chan Gailey Should Want Michael Vick: If, and this is a huge if, Chan Gailey gets one more season in Buffalo, he'll have to make the playoffs to keep his job. Publicly, he can back Ryan Fitzpatrick, but I'd like to think that he knows Fitz isn't the answer. Gailey wasn't head coach in 2009 when the Bills were linked to Vick, but the QB has everything that Gailey likes. Vick is mobile, can run, has a big arm and when given time he is pretty accurate with his throws. As Cole points out in his article, Vick is a superior version of Kordell Stewart, whom Gailey had plenty of success with in Pittsburgh. Why Michael Vick want to come to Buffalo: 1. A great chance to start. If you look across the NFL landscape there aren't a ton of teams where Vick could be given the opportunity to come in and start. In Buffalo, the team would likely hold an open competition between Fitzpatrick and Vick and the loser would be released. Buffalo is likely to draft a QB in the 2013 draft, but at worst Vick would be able to get one season as starter. 2. A great offensive line. Michael Vick's offensive line in Philadelphia was atrocious, especially this season. In Buffalo, he's have a much better line to work with. Buffalo's best OL, Andy Levitre is an impending free agent, so much of this is based on Levitre resigning. If Buffalo's current line in is tact, Vick will have the ability to stay in the pocket to throw, and also have the ability to show off his mobility on designed run plays. 3. Talent on both sides of the ball. The Bills have talent on offense to work with Vick. C.J. Spiller, Fred Jackson, Stevie Johnson, and Scott Chandler range from dynamic to serviceable, but it's plenty for a QB like Vick. Vick would also feel good about the defense. Especially one that has held starting offenses to 44 total points in the last four weeks (Miami, Indianapolis, Jacksonville, and St. Louis). The Bills have an extremely talented defensive line, a young aggressive corner, and if Jairus Byrd resigns, one of the top safeties in the league. From what I've seen on social media sites, especially Twitter, many Bills fans are adamantly against Buffalo signing Vick. Many fans cite Vick's heinous acts that put him in jail. That being said, Vick served his time. I'm not going to say that fans have to like and support Michael Vick, but at least realize that he is a better option than what Buffalo currently has at the position. Are there any legs to the Michael Vick to Buffalo rumors? No, right now it's purely speculation. However, we all know the old saying… Where there's smoke, there's fire. If Michael Vick is Buffalo's starting quarterback entering 2013, he'd be the best starter we've had at the position since Drew Bledsoe. He may not win any popularity contests, but he'd give many fans a reason to believe that 2013 would end Buffalo's playoff drought. Leave your comments below or find me on Twitter: @bonasbillsfan. Some of the best comments and responses may be shared in a future post! The post Is There Anything to the Michael Vick to Buffalo Rumors? appeared first on Queen City Sports.
Original Story:
http://queencitysports.net/bills/mich...
MORE FROM YARDBARKER
NFL News

Delivered to your inbox

You'll also receive Yardbarker's daily Top 10, featuring the best sports stories from around the web. Customize your newsletter to get articles on your favorite sports and teams. And the best part? It's free!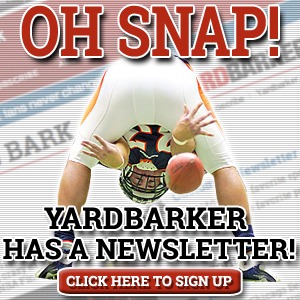 Latest Rumors
Best of Yardbarker

Today's Best Stuff

For Bloggers

Join the Yardbarker Network for more promotion, traffic, and money.

Company Info

Help

What is Yardbarker?

Yardbarker is the largest network of sports blogs and pro athlete blogs on the web. This site is the hub of the Yardbarker Network, where our editors and algorithms curate the best sports content from our network and beyond.