Found November 29, 2011 on It's Always Sunny in Detroit:
Many who cover college football call the newly-named Ohio State head football coach Urban Meyer a gentleman and a class act. And since I don't know him, I can't debate that, so I won't. I'll give him the benefit of the doubt there. Why wouldn't I? But over the last couple years, if there has been a prominent sports figure who has spoken out of both sides of his mouth more, who has been more wishy washy that isn't named Brett Favre, please inform me.

We go back to December 26, 2009 when Meyer was the head coach of the Florida Gators. It was revealed that he was admitted to a Florida hospital with chest pains and dehydration on December 6. He says that he will resign from his position following the Gators Sugar Bowl appearance on New Year's Day. The very next day, December 27th, Meyer changed his tone and announced that he would take a leave of absence instead of resigning. We were critical of him then and not much has changed now. Were his health concerns thrown out the window? Did he have some massive revelation the previous night? Was it a conversation with his agent concerning the validity of his recently-signed $24 million extension depending on whether he resigned or took a leave of absence? We'll never know.

Florida, coached by Meyer, won that Sugar Bowl. Meyer took some time off after that, but after a whole three and a half months later (March 17), Meyer was back coaching the Gators full time. Nine months later, December 8, 2010 to be exact, Meyer, citing the same health reasons as before and a desire to spend time with his family, declared that he would actually retire this time. I won't rip the guy for wanting to spend more time with his wife and two college-aged daughters whom he hadn't seen a whole lot after coaching college football for decades.

But as expected, Meyer couldn't keep his word. On January 31, 2011 - 54 days after "retiring" - Meyer was named as a member of ESPN's college football coverage team, covering one game per week and working as a studio analyst. Yes, covering football is a lot less stressful and a lot less time consuming than coaching, but it also means a lot less family time.

Yesterday Urban Meyer accepted the head coaching position at Ohio State University. So the same guy who claimed that he needed family time is leaving the South where he has a daughters playing volleyball at Florida Gulf Coast University and Georgia Tech. The Georgia Tech daughter, Niki, said back in April that her father would not be accepting the OSU job. My how times have changed.

During yesterday's presser in Columbus, if you go over his transcript, Meyer gave more examples of his wishy-washyness (google it). He said that part of the reason he left his Florida job is because he didn't like what was going on in college football. So less than two years later, he joins the most-publicly corrupted program (save Jerry Sandusky and Penn State) of 2011. OSU only had ten-plus players suspended for either selling memorabilia for tattoos or accepting improper benefits. So if you don't like the nature of the corruption that litters college football, why would you go to the 2011 epicenter? Meyer said that he thought about coaching in the Ivy League or for one of the service academies because of the lack of politics and corruption. So why didn't he do that? The Buckeyes gave him 24 million reasons not to. They don't put a dollar in O$U for nothing.

Meyer also reportedly signed a contract with his family that he would take better care of himself and be more involved at home. This after saying that the coaching profession is a 24 hour/7 days a week job after stepping down at Florida.

The guy may be classy, but he's a walking contradiction. Meyer said a lot of things that Buckeyes wanted to hear yesterday. He's in-tune to the Ohio State-Michigan rivalry. He was excited to meet freshman quarterback Braxton Miller. Current head coach Luke Fickell will remain on staff as the defensive coordinator.

But in the midst of all the fluff was just more nonsense. I'm not exactly sure why all of it is so glaring to me. He'll go into high schoolers' living rooms and talk the talk (as if OSU couldn't recruit itself) and he'll probably win a Big Ten title or two. Meyer is a good coach. But as obvious as it is that he is a good coach, he's also a liar.

And you know what might be the weirdest thing about this rant. I'm not even a Michigan fan.



Timeline source
Original Story:
http://feedproxy.google.com/~r/ItsAlw...
THE BACKYARD
BEST OF MAXIM
RELATED ARTICLES
After the Texans lost both Matt's — Schaub and Leinart — to significant injuries, the Texans need help at quarterback if they want to achieve a playoff berth for the first time in franchise history. Naturally, when a contending team needs a signal-caller, one name, for whatever reason, immediately comes to mind: Brett Favre. When some begin to connect the dots, assuming the...
According to a tweet from some guy named Alex Tallitsch (who?), a guy who used to work for the Green Bay Packers-centric digital magazine "Cheesehead TV" and is apparently plugged-in to all-things-Brett-Favre, a rumor is circulating that the Gunslinger's person friend/pilot (whaa?) has said that Favre will unleash his Southern-fried observations and just-having-fun-out-there...
All the planets seemed to be aligned for the Houston Texans to finally take charge of the AFC South this season. Peyton Manning was injured, transforming to Colts from a contender to the worst team in the NFL. The Titans have played on valiantly with 36-year-old Matt Hasselback at quarterback and the ghost of Chris Johnson at running back. The Jaguars cut David Garrard before the...
The Texans didn't call "retired" quarterback Brett Favre two weeks ago, after starting quarterback Matt Schaub suffered a season-ending foot injury.  Now that backup Matt Leinart is feared to be lost for the season with an apparent broken collarbone, will the Texans call Favre? Um, no. Peter King of Sports Illustrated explained during Football Night…
The Texans are on the hunt for a signal-caller again, and a familiar name -- Brett Favre -- has emerged. But both the team and the QB deny that anything's in the works, or even possible for that matter.
I mean, Brett Favre threw interceptions before.  You're not going to have a perfect game all the time, you're not going to have your best game all the time. I've have had horrible games in the past." – Darrelle Revis on his performance Sunday, to ESPN NY
We're a fan of Deadspin. Really, name a sports fan who isn't. With that in mind, it's certainly notable that Deadspin Editor-in-Chief has been promoted to the Editor-in-Chief of all of Gawker. To replace AJ Daulerio on Deadspin, the company pegged Tommy Craggs. AJ Daulerio has pushed Deadspin into being arguably the largest and most important sports blog in the world. His crowning...
Vikings News

Delivered to your inbox

You'll also receive Yardbarker's daily Top 10, featuring the best sports stories from around the web. Customize your newsletter to get articles on your favorite sports and teams. And the best part? It's free!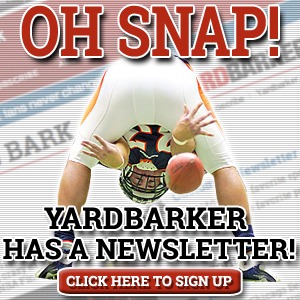 Latest Rumors
Best of Yardbarker

Today's Best Stuff

For Bloggers

Join the Yardbarker Network for more promotion, traffic, and money.

Company Info

Help

What is Yardbarker?

Yardbarker is the largest network of sports blogs and pro athlete blogs on the web. This site is the hub of the Yardbarker Network, where our editors and algorithms curate the best sports content from our network and beyond.