Found March 21, 2013 on Fox Sports:
I was in line at the Jewel grocery store Wednesday when word started spreading through Chicago: Brian Urlacher is no longer a Bear. Where were you when you heard it, Chicago? "They finally did it?'' the guy behind me asked. "What did they get for him?'' They didn't trade him. They dumped him. "They dumped him,'' he repeated. "Ah, it was probably time.'' "Urlacher is gone?'' said the cashier? "Don't you think he could have played one more year?'' Sure. He wanted to stay. But he thought the Bears' offer was an insult. They low-balled him to get him to leave, so they wouldn't have to get out from under their desks and tell him goodbye. "They dumped him?'' she said. "It was probably time.'' As for emotional goodbyes, this isn't one. Urlacher was the face of the Chicago Bears for over a decade. He was a Hall of Fame linebacker, but not the next Dick Butkus, which is what Chicago expected. And no one wanted to see Urlacher limp around the way Butkus did at the end, anyway. Urlacher didn't win a Super Bowl (not that Butkus did), but he did give the city what it craves: a tough defense with a tough linebacker who smacked people in the mouth. Chicago lives for that. Chicago identifies with it. But while Urlacher will go down as one of the Bears' all-time greats, he will not be a Chicago sports icon. This is a town of icons, of Butkus and Sayers, of Payton and Banks, of Hull and Jordan. Not Urlacher, who famously defended coach Lovie Smith in December from criticism by saying, "Two of the people I don't care about: fans or media. . .They don't know what they're talking about, obviously.'' Well, Chicagoans did know one thing about football that Urlacher didn't: It was time. He can't run anymore. At this point, you wish he'd just retire, rather than go to another team for another needless year or two. He takes a lot of shots now, and is so vulnerable. He is constantly hurt. You wish he'd just quit and not risk turning into a vegetable when he gets older. Goodbyes are never comfortable for franchise-types of players, but this one was unnecessarily ugly. The Bears treated Urlacher perfectly throughout his career, even giving him more money when he whined that the deal he had previously agreed to wasn't good enough. But they botched the end. They knew he was done. And Urlacher delivered enough direct shots for the Bears for enough years that they owed him the same directness. Instead, the Bears showed total cowardice, as well as a complete misreading of Bears fans. It actually makes me question the competence of the Bears' new management team. They should have called him in and said, "You've done great things here for a long time, Brian, but we have to let you go and move on now. We have a new coach and a new GM, and we're starting over. Instead, the Bears dropped little phony backhanded compliments about Urlacher while everyone was left hanging to figure out if the Bears and Urlacher would sign one more contract. At one point, new coach Marc Trestman said that after looking at film, the Bears saw that Urlacher can still play on first and second down. Words: He can play. Meaning: He's only good enough to be a part-timer. Ownership said that it hoped Urlacher would retire a Bear, but that it had nothing to do with negotiations. According to the Chicago Tribune, Urlacher proposed a two-year deal totaling $11.5 million. The Bears countered with one-year, $2 million. Urlacher said he would have come down from $11.5 million, but that the Bears were only in a pretend negotiation with their offer. "It wasn't even an offer,'' Urlacher told the Tribune. "It was an ultimatum. I feel like I'm a decent football player still. It was insulting, somewhat of a slap in the face.'' No. Wrong action, wrong body part. It was a kick in the backside, a kick out the door. The Bears wanted him to turn it down, and knew that he would. They feared how Chicagoans would take it if they just dumped him. This way the Bears could claim they tried. And how did Chicago take it? It was time. Urlacher said he will look for another team now. He'll find one, too, and play next season at 35. But he said, just as the Bears did, that he wished he could have finished his career in Chicago. That's an old-time sentiment. Hardly anyone does that anymore, not even out of sports. Everyone jumps from job to job. Michael Jordan didn't even finish with the Bulls. But in a few years, Urlacher will be back, doing Bears games on the radio or something if he wants. Rumor is that the Packers are considering bringing back Brett Favre for a day to retire his jersey. The Bears can do that with Urlacher if they want, though it seems like a waste of time. "It was painful watching him run last year,'' said the guy in line behind me, stocking up on various red meats. No tears for the Urlacher era. Sometimes, things just end.
Original Story:
http://msn.foxsports.com/nfl/story/Br...
THE BACKYARD
BEST OF MAXIM
RELATED ARTICLES
Marc Trestman understands that Chicago Bears fans anxiously want to know whether iconic middle linebacker Brian Urlacher will be returning for a 14th NFL season. Unfortunately for them, Chicago's new head coach doesn't have an update. Urlacher remained unsigned Wednesday as Trestman spoke with the media Wednesday morning at the NFL owners meeting. The fact Urlacher hasn...
Brian Urlacher is in search of a new team after the Bears chose to part ways and not re-sign him.  Many experts figure the Minnesota Vikings would be a logical landing spot. The Vikings and Urlacher's camp have had some initial conversations, and there seems to be mutual interest. Pro Football Talk is reporting that the interest won't be serious until Urlacher comes down in...
The Chicago Bears announced yesterday that they are parting ways with Brian Urlacher, middle linebacker stalwart and balding man that pretty much has embodied everything about Chicago football for the last 13 years. 13 years! That number is bigger than the reading level age comparison of most of our readers! And this site's writer, too.  Point being, Brian Urlacher, a middle...
After the Chicago Bears announced tonight that they weren't going to be re-signing linebacker Brian Urlacher, he made it clear that he was given an ultiminatium. The Bears reportedly made Urlacher a one-year, $2 million offer and said take it, or leave it. "It wasn't even an offer, it was an ultimatum," Urlacher told the Chicago Tribune. "I feel like I'm a decent football...
Not trying to resign linebacker Brian Urlacher is a move that is going to be widely looked upon as a little crazy; at least by many Bears fans. However, what might really be crazy is what the team is reported to have offered the long time veteran-- One year for $2 million. Yes, he is not a spring chicken. Yes, he has had some injuries over the last few years, but $2 million...
Brian Urlacher has been at the core of the Chicago Bears defense for past 13 seasons, but that will soon change,. After attempting to work out a new contract with the Bears for the past few months, the two sides were unable to work out a new deal and are preparing to move on without one another. Urlacher, 34, has been one the best middle linebackers in football for over a decade...
Of course, we've all seen this video before. I feel like Brady has one of these surprisingly athletic but not really that athletic moves every year. Last year it might've been either his scramble for a TD against Buffalo or when he kicked Ed Reed in the balls, can't decide which I liked more. Anyway, Brian Urlacher is leaving Chicago after they basically told him they...
According to Dan Pompei of the Chicago Tribune, the Bears have signed former Broncos' linebacker D.J. Williams to take over for Brian Urlacher. Williams was a heck of a player in Denver before he found trouble.  The Bears are now giving him a chance to turn things around. Williams, 30, was cut by the Broncos after a season in which he faced two suspensions, a six game suspension...
It didn't take long for the Chicago Bears to find Brian Urlacher's replacement. On Friday, the Bears announced that D.J. Williams was signed to a one-year deal. The deal is worth $900,000 and isn't guaranteed, but Williams can earn up to $1.75 in 2013 after a series of roster bonuses. Williams spent all nine of his NFL seasons with the Denver Broncos playing inside...
The Chicago Bears announced Wednesday that the team was unable to reach an agreement on a new contract with unrestricted free agent middle linebacker Brian Urlacher. 
NFL News

Delivered to your inbox

You'll also receive Yardbarker's daily Top 10, featuring the best sports stories from around the web. Customize your newsletter to get articles on your favorite sports and teams. And the best part? It's free!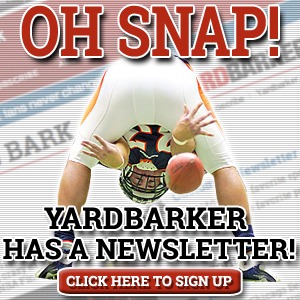 Latest Rumors
The Backyard

Today's Best Stuff

For Bloggers

Join the Yardbarker Network for more promotion, traffic, and money.

Company Info

Help

What is Yardbarker?

Yardbarker is the largest network of sports blogs and pro athlete blogs on the web. This site is the hub of the Yardbarker Network, where our editors and algorithms curate the best sports content from our network and beyond.