Found October 05, 2012 on 60 Max Power O:
Last season, San Francisco 49ers head coach Jim Harbaugh inherited a team that hadn't notched a winning season in almost a decade. Harbaugh took the same group of players that went 6-10 under Mike Singletary and led them to the NFC Championship. Starting quarterback Alex Smith, who many people called a first-round bust, revitalized his career with the most efficient season of his career. 
The impact that coaches have on the success of a football team cannot be understated. Unfortunately, this impact is not always a positive one like Jim Harbaugh's turnaround of the 49ers. To see the other side of the coin, look no further than the Sean Payton-less New Orleans Saints, who, at 0-4, have already lost more games than they did all of last season. The difference between a great coach and a bad coach can be the difference between a sub-.500 season and a Super Bowl victory.
Carolina Panthers second-year head coach Ron Rivera made his fair share of rookie mistakes last season. The Panthers coughed up second-half leads on a weekly basis in 2011, finishing with a 6-10 record. To Rivera's credit, the Panthers improved tremendously on offense from the 2-14 debacle in 2010, ascending from the worst offenses in the NFL to one of the best. Neither Bill Belicheck, Tom Coughlin or Tony Dungy – all future Hall of Fame head coaches – were able to eclipse six wins in their first season as head coach. All three obviously went on to be extremley successful, so it's not entirely fair to judge a coach based on his first season pacing the sidlines, especially one with a rookie quarterback and a young team like Ron Rivera.  
The second season, however, is judgment season for NFL head coaches.
This is especially true in situations where the talent is there and expectations are high. Both Dungy and Coughlin led their respective teams to the playoffs in their second season. In fact, Belicheck rebounded from a forgettable 5-11 campaign by winning the Super Bowl the following year with the New England Patriots. Interestingly, every Super Bowl-winning head coach in the past 17 years led their team to the playoffs in at least one of their first two seasons on the job. If this trend continues, Rivera will not bring the Lombardi Trophy to Carolina if the Panthers do not make the playoffs this season
And so far, things aren't looking good.
Rivera has been unimpressive through the first quarter of the season. The Panthers, at 1-3, simply looked unprepared in their two losses against the Buccaneers and Giants.
The Bucs, who have lost three straight since topping the Panthers in Week 1, were able to hold Cam Newton and the offense to a measely 10 points. A week later, that same Tampa Bay defense surrendered 41 points to the Giants, including 25 in the fourth quarter.
The Panthers' primetime matchup against the Giants in Week 3 got ugly quick, and was clearly over by halftime.
Last Sunday, Ron Rivera's team had a chance to beat their division-rival Atlanta Falcons, return to .500 and put themselves within a single game of first place in the NFC South.
Leading by one with about a minute left, the Panthers, facing a third down and two from around midfield, simply needed to pick up a first down to win the game. Cam Newton picked up the first down, but forgot to take the football with him. His untimely fumble was luckily recovered by Mike Tolbert, but it cost them first-down yardage. Consequently, Carolina faced fourth down and one with the game on the line. Rivera was faced with a tough coaching decision – go for the yard and end the game or punt it away and ask your defense to stop Matt Ryan and the Falcons offense? As we all know, Rivera chose to punt – and it cost the Panthers the game. A coach who goes for it in that situation thinks, "All we need is one yard and we win the football game," a clear winner's mentality. The reason Rivera chose to punt was driven by fear – fear that his offense couldn't ice the game.
Rivera should have trusted Cam Newton. He should have given him the opportunity to overcome his fumble on the previous play, pick up the first down and notch his first win in the fourth quarter of a pivotal divisonal game. Instead, Rivera took the ball out of Newton's hand and asked the defense, which had gotten torched by the pass all afternoon, to win the game.
To be clear, there are times where punting is the right move in that situation.
If the Panthers had struggled rushing the football or had defended the pass well, punting may have been the right call. Yes, there is no way to know what would have happened if the Panthers had gone for it on fourth down. But we do know that Rivera's decision to punt resulted in a devastating loss.
Regardless, the game never comes down to a single play or coaching decision. Panthers fans must forgive Rivera and hope that he can turn things around.
And that is certainly possible.
In 2001, Bill Belicheck's New England Patriots started 1-4 and, at this point, Belicheck was 6-15 as the team's head coach. The Patriots went on to finish 11-5 and upset the heavily favored St. Louis Rams in Super Bowl XXXVI. Likewise, Tom Coughlin, who started 1-4 start with the Jacksonville Jaguars in his second year as an NFL coach, ultimately led his team to the AFC Championship.
So, the jury is still out on Rivera, but not for much longer. The upcoming stretch of games will define him as a head coach. From now on, it's all about wins. There are no more moral victories.
Will Ron Rivera, like Bill Belicheck and Tom Coughlin, lead his team from a disappointing 1-3 start to a playoff berth – or join the ranks of the mediocre?
I'm still a believer. Despite the slow start, Rivera will find a way to take the Carolina Panthers to the playoffs this season.
What do you think?
Be sure to check out other great articles at Sports Media 101.
Original Story:
http://www.60maxpowero.com/patriots/c...
THE BACKYARD
BEST OF MAXIM
RELATED ARTICLES
Carolina Panthers Charles Johnson had 0 sacks coming into Week 4 against the Atlanta Falcons with the Panthers as a whole being one of the worst pass rush teams in the NFL. However Johnson exploded onto the scene in Week 4 with 3.5 sacks proving that his flirtations will being deemed a bust will have to wait for a little while longer. Sure, Johnson was a third round draft pick out...
The last few weeks have not been kind to Cam Newton. Underwhelming performances, coupled with a woe-is-me, sulking persona, has ignited criticism from fans, media, and even his own teammates. Just a year ago, Newton was tearing up the league as a rookie phenom. Now he's made a mockery of — in his own town, no less. He's found out the hard way that it's not easy playing quarterback...
Just let me preface this by saying that I'm probably going to get some cruel comments, because I haven't bought what this team was selling from the moment they decided to tie up $81 million on their running back duo. They're fine players, no doubt, but to put that much of a cap hit on a position like that is just foolish. Especially when your defense was in major need of...
The Panthers believe they've found a pass rush. Now they just need to shore up their secondary. Despite Carolina's 12 sacks on the season - including a franchise-record seven against Atlanta last Sunday - the defensive backfield remains an issue. The Panthers are giving up 259 yards passing a game. And they allowed Falcons quarterback Matt Ryan to throw for 369 yards and...
Goodbye Super-Cam, Hello Clark Kent. This season has been quite the roller coaster ride for Cam Newton and the Carolina Panthers. Over the first four weeks of the season, Newton's QBR has been 34.5, 88.3, 15.6, and 68.7. With 50 being the average in the QBR rating system, you can see how Cam's numbers fluctuated week by week. The Panthers are far from the electrifying offense...
Going for broke On Sunday, the Seattle Seahawks take their number one ranked run game into NASCAR country to take on the Carolina Panthers. This game is a tale of two beasts in the backfield that will hope to lead their teams to victory as both QB's are having a rough go of it lately. Matchup: Seattle vs. Carolina Venue:Bank of America Stadium Time: 1:05 PM (Local) Date: October...
  The Carolina Panthers offense will be tested when they square off with the Seattle Seahawks and the NFL's second-ranked defense at Bank of America Stadium on Sunday. Just how good has the Seahawks defense been this season?   Through four games, the Seahawks have only given up an average of 14.5 points per contest. Even more impressive, Pete Carroll's team, which has yet...
Follow @Dan Vasta Photo by Scott Cunningham/Getty Images Many are screaming borefest with this matchup, but Cam Newton against the Seattle defensive line will be a treat. Chris Clemons and Bruce Irvin can tee off on opposing tackles similar to how the Rams dismantled the Cardinals Thursday night, Newton is not exactly a dead duck in the pocket. K.J. Wright has been an exceptional...
Seattle Seahawks (2-2) at Carolina Panthers (1-3) I love exploiting home/road discrepancies, so Seattle is one of my favorite teams to bet on. I'm 4-0 picking their games this year simply following the concept of betting on them at home and against them on the road, all 4 of which were significant plays. They are 29-14 ATS at home since 2007 and 14-29 ATS on the road. This year...
Panthers News

Delivered to your inbox

You'll also receive Yardbarker's daily Top 10, featuring the best sports stories from around the web. Customize your newsletter to get articles on your favorite sports and teams. And the best part? It's free!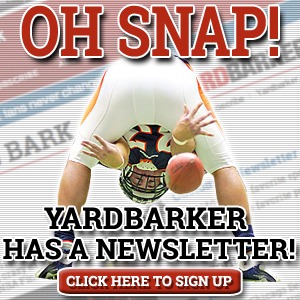 Latest Rumors
The Backyard

Today's Best Stuff

For Bloggers

Join the Yardbarker Network for more promotion, traffic, and money.

Company Info

Help

What is Yardbarker?

Yardbarker is the largest network of sports blogs and pro athlete blogs on the web. This site is the hub of the Yardbarker Network, where our editors and algorithms curate the best sports content from our network and beyond.