Found March 15, 2013 on Fox Sports Arizona:
PLAYERS:
Kevin Kolb
,
Brian Hoyer
,
John Skelton
,
Ryan Lindley
,
Matt Barkley
,
Kurt Warner
,
Matt Leinart
,
Dominique Rodgers-Cromartie
,
Peyton Manning
,
John Elway
,
William Powell
,
Mark Sanchez
,
Sam Bradford
TEAMS:
Arizona Cardinals
,
Oakland Raiders
,
Denver Broncos
,
New York Jets
,
St. Louis Rams
,
USC Trojans
TEMPE, Ariz. The NFL's worst-kept secret is finally official. The Cardinals released quarterback Kevin Kolb on Friday morning, ending a disappointing two-year relationship in which Kolb showed flashes of the ability to become an effective starting quarterback but couldnt stay healthy enough to establish that identity. Foot, head and rib injuries limited Kolb to just 15 of a possible 32 games in 2011 and 2012. He completed 255 of 436 attempts (58.5 percent) of his passes for 3,124 yards with 17 touchdowns and 11 interceptions. Kolb was due a 2 million roster bonus by 1 p.m. Friday. He was also due to make a 9 million base salary and a 500,000 roster bonus next season. Kobs agent Jeff Nalley, never discussed whether his client would be willing to take a pay cut a must if the Cardinals were going to bring him back but it is believed that is what created the impasse and eventual release. By signing Drew Stanon to a three-year deal on Thursday and by placing a second-round tender on Brian Hoyer, the Cardinals made it clear they were moving in another direction. Those two will likely compete with either John Skelton or Ryan Lindley for a roster spot, but the Cardinals also are likely to select a quarterback in Aprils draft. Given the unimpressive resumes of the quarterbacks currently under contract, it is fair to speculate that the Cardinals may use the No. 7 pick on a quarterback such as West Virginias Geno Smith or USCs Matt Barkley. That was considered unlikely before these events because none of the current crop of college QBs is considered a first-round lock; many have significant issues with their technique, arm strength or footwork. Theres a couple guys that are very impressive, had very impressive college careers and could step in and be that next guy, but I just dont know if theres a sure-fire guy where you go, 'This guys got everything, 100 percent, where were willing to take him in the top 10 and he can lead us for the next 15 years, former Cardinals quarterback Kurt Warner said last weekend. The draft is also deep in offensive linemen, leading to the belief that the Cards could use their first pick on that position because that is the most significant shortcoming on the team other than QB. However, that same depth may provide the Cards with a solution in the second or third round if they choose to pursue a QB in the first round. The unwillingness to address the offensive line was one of the failings of the previous coaching staff that led to its almost-complete dismissal. Had the Cardinals addressed the line, Kolb might not have been injured as much and the team might have seen a clearer picture of who he was as a quarterback. I dont understand why a professional team, knowing that they have to have a quarterback or they have no chance, doesnt find five guys to protect him, seven-time Pro Bowl quarterback Steve Young said last weekend at Warner's charity event. Teams that dont focus on that, thats another big flaw in organizational thinking. That was a mistake we made (with San Francisco) in the '90s, not drafting for linemen. Theyve got to take care of that. Following a disastrous 2010 season that saw Matt Leinart cut in the preseason and Derek Anderson and John Skelton lead the Cardinals to a 5-11 record, the Cards shipped 2009 Pro Bowl cornerback Dominique Rodgers-Cromartie and a second-round pick to Philadelphia to land Kolb, who at the time was perhaps the hottest QB commodity on the market. When Kolb was sidelined for the season with a concussion after only nine mostly lackluster games, the Cards vigorously pursued free agent Peyton Manning in the offseason. But Broncos GM John Elway won out. The Cards named Skelton the starter for Week 1 after Kolb performed poorly in the preseason, but Skelton suffered an ankle sprain against the Seahawks, and Kolb stepped and eventually led the Cardinals to a 4-0 start that seem to validate the previous seasons trade. In Week 6, Kolb suffered cracked ribs that separated from his sternum on a botched running play when running back William Powell ran the wrong way. He missed the rest of the season, leading to speculation that the Cards would try to reduce his salary or release him. Multiple reports have surfaced that Kolb could sign quickly with the New York Jets, who had their own quarterback issues last season with Mark Sanchez. Clearly, money was a significant factor in the Cardinals' decision, but new coach Bruce Arians is taking a huge risk with the QBs he currently has under contract. The 49ers and Seahawks have both improved playoff teams this offseason, and the Rams, with an emerging defense and quarterback Sam Bradford, appear better poised to compete in the NFC West than the Cardinals based on their current rosters. With the current cast of quarterbacks, this roster will be a tough sell for fans settling back into the notion that these are the same old Cardinals. Follow Craig Morgan on Twitter
Original Story:
http://www.foxsportsarizona.com/nfl/a...
THE BACKYARD
BEST OF MAXIM
RELATED ARTICLES
According to Ian Rapoport of the NFL Network, the Arizona Cardinals are expected to cut quarterback Kevin Kolb within the next few days. Sources: #Cardinals expect to cut QB Kevin Kolb over the next few days. Due a roster bonus of $2M on March 17. He won't see that, I'm told — Ian Rapoport (@RapSheet) March 14, 2013 It looks like the Cardinals will go into next season with...
Another veteran quarterback has joined the free-agent market. The Arizona Cardinals have released Kevin Kolb after failing to reach agreement on a restructured contract. The news was first reported on Twitter by long-time NFL journalist Adam Caplan (@adamcaplan). Kolb's failure to make a positive impact during his two seasons in Arizona contributed to the January firing of...
Mike Florio of Pro Football Talk reports that the Arizona Cardinals have yet to decide whether or not to pickup QB Kevin's Kolb $2 million roster bonus that will be due on Saturday. Ian Rapoport reports that his sources have informed him that Kolb is likely to be released in the next few days. Kolb also has a $9 million base salary and a $500,000 roster bonus coming his way...
After failing to agree on a restructured contract, the Arizona Cardinals released quarterback Kevin Kolb on Friday. Arizona acquired the 28-year-old Kolb, who Philadelphia took out of the University of Houston with the 36th choice in the 2007 NFL Draft, two years ago from the Eagles in exchange for cornerback Dominique Rodgers-Cromartie and a second round selection. Kolb, who has...
The recent signing of Drew Stanton in Arizona has made Kevin Kolb as expendable as ever for the Cardinals, as many believe that Stanton is a shoe-in to be the starting QB, as he followed new head coach Bruce Arians from Indianapolis. Though Kolb is still owed quite a bit of money, it doesn't look like his future is in the desert according to recent reports. But it could be in the...
Scratch another TE off the market. Former Jets tight end Dustin Keller has agreed to a one year deal with the Miami Dolphins this morning- Former Jets TE Dustin Keller reached agreement on a one-year deal with the Miami Dolphins. — Adam Schefter (@AdamSchefter) March 15, 2013 The Browns currently have Jordan Cameron and Gary Barnidge at the tight end position. There was never...
It's gotten bad for the Jets. We've tried to look away, but there's just so much wreckage. It's OK. It's going to be like Sandy and the Mets. Resign yourself to a few years of pain in the hopes of a brighter tomorrow. Besides all the free agent defections, and the lack of any significant signings , the quarterback situation continues to cause angst. It's really bad. We...
NFL News

Delivered to your inbox

You'll also receive Yardbarker's daily Top 10, featuring the best sports stories from around the web. Customize your newsletter to get articles on your favorite sports and teams. And the best part? It's free!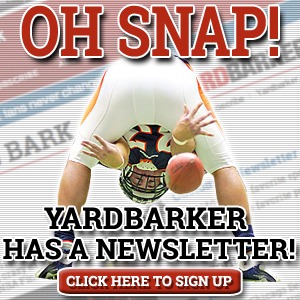 Latest Rumors
The Backyard

Today's Best Stuff

For Bloggers

Join the Yardbarker Network for more promotion, traffic, and money.

Company Info

Help

What is Yardbarker?

Yardbarker is the largest network of sports blogs and pro athlete blogs on the web. This site is the hub of the Yardbarker Network, where our editors and algorithms curate the best sports content from our network and beyond.