Found November 21, 2012 on Sports Blog Net:
When it comes to finding out whether or not head coaches are getting through to their teams, the biggest indication is if the team is giving their maximum effort. Looking at the performances of the Philadelphia Eagles and San Diego Chargers last Sunday, it appears the respective coaches have lost their team. The Eagles lost 31-6 to the Washington Redskins, which drops the team to 3-7, and the seat is hotter than ever for head coach Andy Reid. The Eagles looked lifeless and uninspired in a game filled with bad tackling, bad execution, and lack of effort. As for the Chargers, they lost to the Denver Broncos 30-23, dropping them to 4-6 and three games behind the Broncos for first place in the AFC West. Their head coach, Norv Turner, probably should've been fired at least two seasons ago appears to be a lame-duck coach with each passing game. As I compare the two cases, it looks to be harder to fire Reid than it would Turner. Yes, the Eagles have lost six games in a row and the team looks lifeless, but this has been a tough year, professionally and personally, for Reid. While Reid won't use it as an excuse for why his team is struggling, he did lose his son, Garrett, to an apparent drug overdose in the first few days of training camp. Reid has also been an successful coach during his tenure there. He has led the team to five NFC Championship Games and one Super Bowl. Even though I may feel it's time for Reid to go, I could understand if the Eagles' ownership decided to keep him aboard. Turner, on the other hand, has no excuses and if he isn't fired at least by the end of this season, it might be time to look at the people in ownership and re-evaluate their positions as well. Some guys are just better coordinators than coaches, and Turner definitely fits that mold. The Chargers haven't made the playoffs in the last two seasons and are looking progressively worse under Turner's control. Phillip Rivers, who for a time was in the class of elite quarterbacks in the NFL, hasn't played up to that caliber in the last year and a half. In fact, Rivers has turned the ball over 43 times since the beginning of last season. Some of those turnovers look like an effort of a guy who doesn't care, and that's a direct reflection of the head coach. I never thought Turner was a good coach anyway, but I guess the Chargers had to see that themselves. This conversation would be different if we were talking about an offensive coordinator job. Turner is one of the best offensive play-callers in the league, just not a good head coach. I don't feel these are the only two teams who need a change in head coaches, but these are the two that stand out, primarily because these two teams had high hopes for the season. The Eagles were one of those teams thought to be a contender for the Super Bowl, and the Chargers were looked at as a darkhorse from the AFC. These teams have way too much talent to do this badly, and underachieving is something that won't be tolerated in the NFL. You never want to see coaches get fired and lose their jobs, but you have to do what's best for the team and the future. Unfortunately for Reid and Turner, the future for the Eagles and Chargers look to be better without them. By Charles Taylor
Original Story:
http://bestkeptsecret.sportsblognet.c...
THE BACKYARD
BEST OF MAXIM
RELATED ARTICLES
Andy Reid will not be coaching the Philadelphia Eagles past the 2012 NFL season. I know it, you know it, Reid knows it. Everybody knows it, and it is the right decision, regardless of how supportive of Reid Eagles' owner Jeffrey Lurie has been through the years. It is time for a change. But for anyone in Philadelphia who expects Reid to quit during this season, well, that is just...
Categories: BREAKING NEWS Coaching Staff Eagles NewsTags: Andy ReidPhiladelphia EaglesI have to compliment Eagles owner Jeffrey Lurie for his discipline and consistency in staying out of his coach's way.  He doesn't meddle and that's what you want out of an owner, but he should fire Andy Reid now and not wait for another six weeks. Firing Reid now would put an end to...
I admire Andy Reid for hanging in with his assignment until the very end... And let's face it, until the Eagles are mathematically eliminated from the 2012 divisional race in the NFC East, there is a case to be made for Reid's stubborn clinging to his mission's objective... But barring a modern-day Miracle of Lourdes, Reid's tenure is over in Philadelphia. ...
NFL teams have become adept at using social media to connect with their fan bases. But at some point, when seasons are going really, really bad, they have to know that posting anything – from charity events to team merchandise discounts — is going to get some backlash. That's what happened this week with the San Diego Chargers, who decided to have a nice Black Friday sale....
Two weeks ago I called Cal coach Jeff Tedford the "Andy Reid of college football" as both mens' coaching careers hung in the balance. While Reid still clings to life in Philadelphia, Cal has let Tedford go after nearly eleven seasons in Berkeley. Like Reid, Tedford brought his team to an unprecedented level of sustained success, but like Reid, it was time for him to...
Ever since Michael Vick went down with his concussion, I've been pounding the drum that Nick Foles should remain the Eagles' starting QB for the rest of the season, regardless of how he or the team performs. I even went so far as to say that Andy Reid would be selfish not do so. Before all the Vick lovers come crying, this is not about him.  My reasoning for starting Foles is...
At 3-7, the Philadelphia Eagles' owner Jeffrey Lurie and the Philly fan base are afraid and disgusted with the result of the 2012 season. Afraid because of the constant possibility of making the wrong decision in firing longtime head coach Andy Reid and disgusted with how often Reid has let everyone down season after season. Whenever you make a change at Head Coach, it's a lot...
Image via USA Today Andy Reid's job as head coach of the Philadelphia Eagles is safe at least through Monday night, per a report in the Daily News. And if you're hoping that Reid will show mercy and throw himself on the sword of unemployment, you're out of luck. It ain't happening. Reid was asked whether his own leadership has been rendered ineffective in trying to motivate...
Not that the woes of Andy Reid and the Philadelphia Eagles have been flying under the radar, but now things could turn uglier as they come under the national spotlight. A potentially hostile home crowd awaits them Monday night with the Eagles mired in the longest losing streak of Reid's tenure - which appears to be nearing an end - as they face the Carolina Panthers in a matchup...
The saying "the season is over" is a common one in football. It comes out when a key player goes down or when a team knows they have little to no playoff hopes. I think "the season is over" is a common mindset among Eagles fans right now. However, there are still six games remaining. So what can we learn during those six games? At this point, it seems that Andy Reid is...
It's true that this 2012 Philadelphia Eagles team has played more like the prey, rather than birds of prey, but in the spirit of Thanksgiving I thought it would be better to take a look at the positive side of things. There hasn't been much to cheer about this season, unfortunately.  And, we're facing a future with the most uncertainty since after the 1998 season.  However...
For all you Philadelphia Eagles fans who aren't exactly pleased with head coach Andy Reid, this song parody might be the best thing you see all week. It uses Taylor Swift's hit song, "We are never ever getting back together" as the inspiration and it might be the best parody song we've seen in awhile:
NFL News

Delivered to your inbox

You'll also receive Yardbarker's daily Top 10, featuring the best sports stories from around the web. Customize your newsletter to get articles on your favorite sports and teams. And the best part? It's free!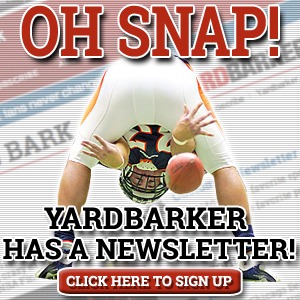 Latest Rumors
The Backyard

Today's Best Stuff

For Bloggers

Join the Yardbarker Network for more promotion, traffic, and money.

Company Info

Help

What is Yardbarker?

Yardbarker is the largest network of sports blogs and pro athlete blogs on the web. This site is the hub of the Yardbarker Network, where our editors and algorithms curate the best sports content from our network and beyond.