Found February 19, 2013 on Fox Sports Wisconsin:
Packers career Chris Jacke was drafted by the Green Bay Packers in the sixth round in 1989. The Packers were in need of a kicker after trotting out four different players to attempt field goals in 1988, including Max Zendejas and his 56.3 percent success rate. As a rookie, Jacke made 78.6 percent of his field goals, which ranked him eighth in the NFL that season. He continued to connect near that pace -- never lower than 73.1 percent and only once exceeding 80 percent -- for all eight seasons in which he played for Green Bay. "When I came in the league, kicking 75 percent was considered very good," said Jacke, 46. "By today's standards, it's obviously not. Kickers today are better trained, field conditions are a lot better. Walking on Lambeau now compared to when I walked on Lambeau and played on Lambeau is kind of different. Some of those playing field conditions were quite bad. We played in Milwaukee, which wasn't the greatest. "My first five years in the league I was 75 percent or better, which had never been done up to that point. I was very proud of that. By today's standards, I probably wouldn't even be on a team kicking 75 percent. I say it all the time: If I would've known then what I know today, I could still be playing. But I think every generation probably says that." In 1996, which turned out to be Jacke's final season with the Packers, he helped Green Bay win Super Bowl XXXI. In that game, Jacke made two of his three field-goal attempts. After Green Bay After celebrating the Super Bowl victory, Jacke was a free agent. The Packers drafted kicker Brett Conway in the third round out of Penn State, though it was undrafted Ryan Longwell who ended up winning the job. Jacke, meanwhile, signed with the Pittsburgh Steelers. "My contract was ending in the year in which I wasn't re-signed, and there was always that possibility of the team -- does it make sense for the team to go after a younger kid?," Jacke said. "I was having some health issues at that time and they made the decision to go with Ryan Longwell. They drafted a kid out of Penn State; a good kicker, but he got injured in the first or second week of training camp and then Ryan Longwell signed and went on to have an excellent career. "You see it coming (not being retained by the Packers) because things can happen. It's just part of the business." Jacke never stepped onto the field for the Steelers and finished the 1997 season with the Washington Redskins, making five extra points and not attempting any field goals. Jacke spent his final two NFL seasons in 1998 and 1999 kicking for the Arizona Cardinals. However, his field-goal percentages in those two seasons were both career lows. "From a financial standpoint, of course it made sense (to keep looking for teams to play for)," Jacke said. "It made you appreciate what Green Bay has, what Wisconsin has. There is no other place like Green Bay to play. From here I went directly to the Pittsburgh Steelers, which is very similar to here, but it's still not Green Bay, Wisconsin. Those two teams are very similar; blue-collar, love their team through thick and thin. We had a lot of thin years while I was playing. "My second and third year (in Green Bay), we won four and six games, but the stadium was full and they still love you; well, most of them do, anyway. But it made you realize just how special this place is after you go to other places." Jacke retired after the 1999 season and an 11-year NFL career. After retirement Jacke will be inducted into the Packers Hall of Fame this year. "It's exciting," he said. "I went on the Hall of Fame website, and I think there's only three other kickers who are in the Hall of Fame here in Green Bay, and to be the fourth, it's really an honor." Jacke will join kickers Don Chandler, Chester Marcol and Jan Stenerud in the team's Hall of Fame. Fred Cone (fullbackkicker) is also in the Packers Hall of Fame. As far as participating in any form of football over the past 14 years, though, Jacke has avoided it. "Just watching my kids when they're playing," Jacke said. "Both my kids play football and both of them play soccer. I was their soccer coach. I never really coached them in football. I tried to separate myself for a little bit, let them be them instead of maybe trying to be Dad or something." Recently, Jacke started to become somewhat interested in coaching or teaching kickers some of the tips and tricks he learned throughout his NFL career. "I know several friends of mine, like (former Packers punter) Craig Hentrich, I talk to him on occasion, he runs a kicking camp and I know several others," Jacke said. "Kicking camps are a dime a dozen. I actually Googled it in the last several months to see what was out there, and there's a lot of them out there. Now, how many of them are good? I don't know. But it's just something that had never really crossed my mind. "You never know; I could screw someone up." As a fan Jacke is aware that it's the politically correct thing to say that he's still a Packers fan -- especially in the year in which he'll join the team's Hall of Fame. But, for Jacke, Green Bay still is his favorite team. "I'm a Packer fan, absolutely," he said. "I was real disappointed in our loss (to San Francisco) like everyone else. I'm still a football fan at heart. My second favorite team is the New England Patriots. I was rooting for the 49ers because it makes us look better if they (win). I'm a football fan at heart. "I'm a big fan of football. I love watching it, even when the Packers aren't playing." Follow Paul Imig on Twitter.
Original Story:
http://www.foxsportswisconsin.com/02/...
THE BACKYARD
BEST OF MAXIM
RELATED ARTICLES
Matthews is set for a bump in pay from escalators in his rookie deal, but with Matthews slated to be a free agent in 2014, the Packers need to get a deal done or risk losing their playmaking linebacker. According to Tom Silverstein of jsonline.com, Matthews is in the drivers seat and Green Bay will have to step up to the table, Silverstein writes: 'Matthews ranks eighth on...
Donald Driver retires. Greg Jennings likely a goner. Those two facts have many feeling pretty uncertain about the success of the Packers' receiving corps in 2013. They should sit down and talk with James Jones. "It's exciting because it means more opportunities," Jones said on NFL Network's Around The League.
Long-time, former Indianapolis Colts quarterback played his last down of football earlier this year as a member of the NFC Pro Bowl squad. One of the most iconic images was when the coaching staffs and NFL officials allowed Saturday to play one final snap with former Colts teammate and now Broncos quarterback Peyton Manning. It was long whispered since then that Saturday would sign...
Green Bay Packers wide receiver James Jones has gone from sometimes unused after thought, to a key cog in the Packers lethal passing game. With the retirement of Donald Driver, and impending departure of Greg Jennings, Jones now see's himself as an important fixture along side Jordy Nelson and Randall Cobb. Jones was on NFL Network yesterday and talked about the future of the Packers...
Gil Brandt of NFL.com believes free agent cornerback/safety Charles Woodson may end up retiring after he realizes how small his value on the open market. Charles Woodson has had a great, great HOF-worthy career. I suspect it will be over after he sees the market for him this offseason. — Gil Brandt (@Gil_Brandt) February 18, 2013 The truth is that with Woodson turning 37 years...
GREEN BAY, Wis. -- The cost of being a Green Bay Packers season ticket holder is increasing. The Packers announced Tuesday morning that ticket prices are rising between 2 and 5, depending on the location of the seat. Team president and CEO Mark Murphy explained the increase to season ticket holders in a letter that accompanied the invoice for payment. This is the fourth straight...
GREEN BAY, Wis. -- Jeff Saturday already made his intentions clear about retiring from the NFL. On Monday, the Green Bay Packers officially released the 14-year veteran center. On Feb. 15, Saturday's agent, Ralph Cindrich, stated via Twitter that Saturday was waiting for the Packers to release him. Once that move was made, it would allow Saturday to sign a one-day contract with...
Tom Silverstein of the Milwaukee Journal-Sentinel writes that there's a good chance the Green Bay Packers will meet with Clay Matthews' representation at the Combine to discuss a long-term deal. Matthews, 26, is in the final year of his rookie contract and will make a $3.73 million after triggering escalators in contract that raised his salary from $1.492 million. According...
Today is the 23rd day of FOX Sports Wisconsin Packers writer Paul Imig's offseason evaluations of every player on Green Bay's roster. Click here for all of Paul's previous evaluations and come back every day through mid-March for Paul's in-depth film and statistical analysis. Coming up soon: Today: S M.D. Jennings Wednesday, Feb. 20: LB Brad Jones Thursday, Feb....
Jordy Nelson's fantasy football value has experienced extreme amounts of turbulence over the past three seasons. He first burst onto the national scene in the 2010 playoffs, aiding the Green Bay Packers to a Super Bowl victory: Although he may have set career highs in the 2010 regular season, which you can observe in the table below, it was hardly noteworthy. That subtle regular...
No quarterback in the league knew what it was like to get hit and go down in 2012 more than Aaron Rodgers. Yet the Packers still fielded a formidable offense. Our Matt Tevsh offers some illogical big-picture numbers on the league's most sacked passer.
NFL News

Delivered to your inbox

You'll also receive Yardbarker's daily Top 10, featuring the best sports stories from around the web. Customize your newsletter to get articles on your favorite sports and teams. And the best part? It's free!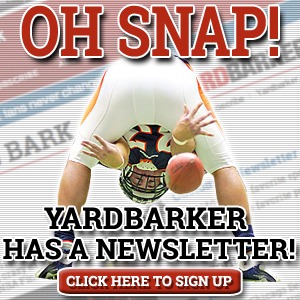 Latest Rumors
The Backyard

Today's Best Stuff

For Bloggers

Join the Yardbarker Network for more promotion, traffic, and money.

Company Info

Help

What is Yardbarker?

Yardbarker is the largest network of sports blogs and pro athlete blogs on the web. This site is the hub of the Yardbarker Network, where our editors and algorithms curate the best sports content from our network and beyond.