Found May 08, 2013 on Fox Sports:
PLAYERS:
Tim Tebow
,
Blaine Gabbert
,
Chad Henne
,
Bill Polian
,
Mark Sanchez
,
Denard Robinson
,
Peyton Manning
,
Matt Ryan
TEAMS:
Jacksonville Jaguars
,
New York Jets
,
Indianapolis Colts
,
Atlanta Falcons
For the Jacksonville Jaguars, Tim Tebow is old news. Even with a segment of Jaguars fans pushing for the franchise to sign Tebow now that the Jacksonville-area native and former University of Florida star is a free agent. Even with the Jaguars having an unsettled situation at quarterback with Blaine Gabbert and Chad Henne. New general manager David Caldwell hasn't changed his stance from the day he was hired in January. Tebow isn't coming to the Jaguars under his watch. "For us, it was always about a fresh start," Caldwell told me and SiriusXM NFL Radio co-host Bill Polian on Tuesday night. "It was about new energy here with coach (Gus) Bradley, with Shad Khan being our new owner, myself as a first-time general manager and a coaching staff that has a lot of first-time coaches there, too. "We just wanted a fresh start. We didn't want the same recurring themes coming up." Among those "themes" would be fan and media pressure to play Tebow, who Forbes Magazine ranked earlier this week as the most influential American athlete despite his throwing struggles at the professional level. The New York Jets experienced that distraction in 2012 after acquiring Tebow in a trade with Denver. When asked by Broncos management where he preferred to get traded, Tebow chose New York over Jacksonville because he believed there was a better chance for him to receive quarterbacking snaps. Tebow, though, barely played last year even as starter Mark Sanchez struggled. Tebow was waived following last month's draft when the Jets couldn't find a trade partner and went unclaimed. This still hasn't kept some Tebow supporters from pushing for his signing in Jacksonville. There was even an online petition posted that asked fans to urge President Obama to call Caldwell and "tell him to stop ignoring the Jaguars fans and sign Tim Tebow!" The petition was removed Monday on the White House web site. Tebow backers point to the fact he was 7-4 as a starter in 2011 while leading Denver to the playoffs and a first-round victory over Pittsburgh. Tebow was able to compensate for a 46.5 completion percentage with his mobility and penchant for leading late comebacks. Tebow has continued to work this offseason with outside coaches and trainers to try and improve his throwing mechanics. But there also is a feeling among some NFL executives that he has no more upside as an NFL passer and it's better to invest in developing a younger quarterback, especially with Tebow having become a lightning rod for controversy with the Jets and Broncos. Asked whether he felt the same based upon his Tebow comments, Caldwell said, "You can read into that however you would like." Polian believes an NFL team shouldn't consider signing Tebow unless he was willing to publicly denounce playing the quarterback position and instead try to stick as a jack-of-all-trades contributor. Tebow, who did appear on special teams for the Jets, has reiterated this offseason that he wants to remain at quarterback. Another strike against a Tebow signing in Jacksonville: The Jaguars already have a former college quarterback who could fill a niche short-yardage or red-zone role at the position if desired. Denard Robinson, a 2013 fifth-round pick from the University of Michigan, impressed the Jaguars during their rookie minicamp last weekend as he is converted to running back. Caldwell said he envisions Robinson receiving "10 to 15 snaps" per game as a rusher or receiver. Robinson also is the frontrunner to return kickoffs. Polian, who had Caldwell on his personnel staff when serving as Indianapolis Colts president and general manager, said eschewing a Tebow signing is wise for the Jaguars. Polian pointed to Caldwell's employment with the Colts and Atlanta Falcons as they fielded Peyton Manning and Matt Ryan respectively under center. "David has been around a lot of really good quarterbacks," Polian said. "He knows what a really good quarterback looks like. He's able to judge quarterbacks. "My opinion is he's made the right judgment. It's time to stop beating that (Tebow) drum." Based on history and his enduring popularity, the beat still will go on until Tebow lands somewhere.
Original Story:
http://msn.foxsports.com/nfl/story/ti...
THE BACKYARD
BEST OF MAXIM
RELATED ARTICLES
BRING HIM IN
Some people really want the Jags to sign free agent quarterback Tim Tebow. There are radio ads telling the team to sign the QB.
Dear Tim, What up, Mr. Tebow?  Had a bit of a rough week, huh?  Listen, I know you're probably busy practicing footwork and mechanics and not-throwing interceptions and stuff, but I was hoping you could give me a minute of your time. I know that you've probably got people pulling your square jawline in a million different directions right now, but I think this is something...
It appears no team's fans are more in love with Tim Tebow than Jags fans. While Jaguars management insists they have no interest in signing the former University of Florida product, fans have attempted to file a petition with the White House and, now, a prominent Florida attorney has taken out an ad on Jacksonville radio waves. John Morgan, who has law offices throughout Florida...
SOME KINDA HATE
According to reports, there likely is little chance that Tim Tebow ends up with the Patriots, as Bill Belichick apparently "hates" the quarterback as a player.
Eleven days after he was cut by the New York Jets, Tim Tebow's future plans remain up in the air. Since his release, Tebow has not spoken publicly about the dismissal or what his next move will be. Does he feel jilted by the Jets? Does he have any other NFL prospects? Would he consider the Canadian Football League? Tebow didn't offer any insight Thursday night during a...
Since Tim Tebow's been released from the New York Jets, teams have basically lined up to say they are not interested in signing him as a quarterback. There are several clubs that are rumored to be potential fits for the free agent, and the New England Patriots tend to make that list considering Tebow's former ties to Josh McDaniels. However, a source told Michael Silver of...
If you thought that Tim Tebow would potentially sign with the Patriots, think again. According to reports, New England Patriots head coach Bill Belichick has said that he "hates" Tim Tebow as a player. The report from Yahoo Sports' Mike Silver says that the team would not bring in Tebow because they wouldn't like the media circus that follows Tebow. The team had...
Even on the unemployment line, Tim Tebow remains a popular presence. The former Jets quarterback, cut by New York last week after one disappointing season and now a free agent, was selected as America's most influential athlete, according to a survey released Monday by Forbes.com. Tebow had the most influence on fans, according to 29 percent of respondents, finishing ahead...
The signing of free-agent rookies Jordan Rodgers and Matt Scott is not viewed as the answer to the Jacksonville Jaguars' quarterback situation.That goes double for a group of fans who posed the question: Why not Tim Tebow?Shortly after he was given his release by the New York Jets a week ago, the Jacksonville native and Heisman Trophy winner at Florida became the subject of a...
  The most obvious question here is, if Tim Tebow is so influential, why can't he get a job in the NFL? According to Forbes, the former New York Jets backup quarterback and current free agent, topped the popular magazine's annual list of America's Most Influential Athletes. Tebow's 29% "influential" rating beat out Michael Phelps (25%), Usain Bolt (23%) who I had no...
NFL News

Delivered to your inbox

You'll also receive Yardbarker's daily Top 10, featuring the best sports stories from around the web. Customize your newsletter to get articles on your favorite sports and teams. And the best part? It's free!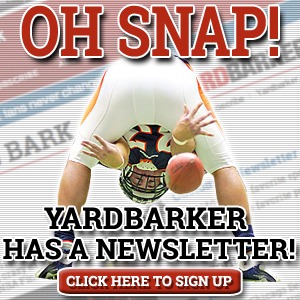 Latest Rumors
The Backyard

Today's Best Stuff

For Bloggers

Join the Yardbarker Network for more promotion, traffic, and money.

Company Info

Help

What is Yardbarker?

Yardbarker is the largest network of sports blogs and pro athlete blogs on the web. This site is the hub of the Yardbarker Network, where our editors and algorithms curate the best sports content from our network and beyond.