Found November 29, 2012 on Kissing Suzy Kolber:
PLAYERS:
Taylor Swift
,
Andy Reid
,
Alfred Morris
,
Ryan Clark
,
Tank Carder
,
Larry Johnson
,
Chris Kluwe
TEAMS:
Jacksonville Jaguars
,
Philadelphia Eagles
,
Washington Redskins
,
Pittsburgh Steelers
,
Minnesota Vikings
In the most unfortunate bit of team outreach to fans since the Browns created, then abruptly pulled back, white flags for fans to wave last week, the Jaguars have released their own take-off of the Terrible Towel and have called it the Jag Rag. Seriously, why does Jacksonville need another fan accessory? The already have one of the best. THEY HAVE THE BAGUARS! Lots of NFL teams have come out with their own version of the towel. Typically, though, that happens in advance of a game in which they are hosting the Steelers. The idea is to counteract all the bandwagon yinzer investing their stadium. The Jaguars do not need such an occasion. They figured doing it in just before a Week 13 game on the road in Buffalo was good enough timing for them. KSK's favorite own-team-loathing Jaguars fan, ****************, already seems excited. How good is @thejagrag at holding formaldehyde or spray paint? Asking for a friend. — **************** (@***************) November 29, 2012 – Ryan Tannehill was not aware that the Patriots could clinch the AFC East title this weekend. Possibly because he thought they were in the NFC South. – Yes, it's a parody of a Taylor Swift song about Andy Reid. While the concept sounds horrible, in execution it's actually quite decent. Quite the contrary for things usually involving Andy. – Speaking of the Iggles, in the five games since Todd Bowles took over their defense, opposing quarterbacks have a 139.9 passer rating, 75.2 completion percentage and have thrown 13 touchdown passes with no interceptions. Hearty guffaws all around, but especially from wherever Juan Castillo is. – The decrepit 1991 Mazda 626 that Alfred Morris has famously been driving to Redskins headquarters this season is breaking down on him, so he had to bum a ride off a woman who lives at his apartment complex this week. SHOULD'VE BEEN MORE OF A GLOREEEE BOYYYY! – Denver has submitted a bid to host a Super Bowl between 2018-2020. Begin the countdown to sportwriters complaining that they won't be able to breathe in the high altitude. And what of Ryan Clark? What if his team makes it!? Because no doubt he'll still be productive at the age of 39. – Other than an apology from the Browns, it appears that no action has been taken by the team or the league against rookie linebacker Tank Carder for his homophobic tweets from last week. Because apparently Larry Johnson can only be punished for that. Though hopefully justice will reign and Chris Kluwe gets to punt him in the balls. – The NFL has been referring fans who were banned from stadia for untoward behavior to an anger management course run by a therapist with faulty credentials who has also plagiarized much of the materials for the course from the likes of NIH, among other sources. That said, at least it hasn't been run by Jim Harbaugh. The post Jaguars Fans Finally Have A Rag To Call Their Own — KSK Kontent Klearinghouse appeared first on Kissing Suzy Kolber.
Original Story:
http://kissingsuzykolber.uproxx.com/2...
THE BACKYARD
BEST OF MAXIM
RELATED ARTICLES
It was not expected that former Eagles defensive end Jason Babin would pass through the waivers process unclaimed. As some predicted that a short list of contenders would quickly upgrade their pass rush to head into the playoffs, it was obvious that a non-contender would earn his rights thanks to how waivers work. Please Click Here To Read This Story
Former Philadelphia Eagles DE Jason Babin had a good amount interest from other teams after he was cut by the Eagles, but we're sure this isn't the place he imagined he'd be going. A league source is reporting that the Jacksonville Jaguars have claimed Babin off waivers, securing his contract through 2015. The talented defensive end now finds himself going from bad...
HOO BOY
Nothing says 2-9 like coming up with a new item called the "Jag Rag."  The Jag Rag will end up costing you around $10 but the good news is that portions of the proceeds go to charity.  So at least if you decide to buy one of these terrible looking things, you will at least be helping out a cause.H/T: Deadspin
For years now Pittsburgh Steelers fans have waived the "Terrible Towel" at Steelers' games.  Now Jacksonville Jaguars fans will have their own towel to waive. Bert Sparks, the entrepreneur and Jacksonville native behind the Jag Rag, is certainly earnest about his endeavor to unite Jaguars fans with his Jag Rag. On his site, a slogan boasts that the Jag Rag is "The Spark...
Jason Babin isn't one to keep a cork in it when a microphone is put in his face, and he kept to that reputation only a few short hours after his arrival in Jacksonville. The new defensive end for the Jaguars took the opportunity to rail against his former team and the media following his [...]
Jaguars receivers Cecil Shorts III (hamstring) and Justin Blackmon (groin) both missed Thursday's practice. SOURCE: John Oehser, Jaguars.comFantasy Spin:There wasn't any word that Shorts or Blackmon suffered injuries Sunday. We'll keep tabs on the situation since Jacksonville's suddenly high-powered passing attack led by Chad Henne plays the Bills in Week 13.
Despite never considering the implications of the products hilarious name, the Jacksonville Jaguars have begun to sell team towels known as a "Jag Rag" (Credit: Dead Spin) In case you have not had enough news about NFL towels recently, we have one more. From Ray Rice "disrespecting" the Pittsburgh Steelers terrible towel to LaMarr Woodley "warning" Ray Rice over his treatment...
  ARE YOU READY FOR SOME MEANINGLESS FOOTBALL!? Ugh. Jags vs. Bills. Ratings galore. Crap on a roll or grease fire on top of a flaming swamp? It is going to be ugly and sad. Anyways, If you guys still care about this season, I decided to do a Q&A with the boys over at The Jagernaut. Enjoy and die.   1) How do you guys feel about Mike Mularkey so far? Mike Mularkey...
Ryan Talbot: Bills 21-10 I predict the game is blacked out and we're all better off for it! Seriously, Buffalo 20-10. Brandon Hess: Bills 34-24 Buffalo can't get off the field on third downs, and have lost all three match-ups against the AFC South this season.  Despite these trends I think this is the week the Bills put together a solid 60 minutes on both sides of the ball. ...
JACKSONVILLE, Fla. (AP) -- The Jacksonville Jaguars have claimed two-time Pro Bowl defensive end Jason Babin off waivers from Philadelphia. The Jaguars (2-9) will pay the remaining 1.69 million of Babin's 2012 salary, essentially taking a low-risk look at someone who could significantly upgrade one of the league's worst pass rushes. Jacksonville has a league-low 13 sacks...
No shortage of Philadelphia Eagles headlines these days… Evan Mathis was playing a different spot on the offensive line at practice on Wednesday–at center, in for Dallas Reynolds. Could this be the case for Sunday? – Birds 24/7 Jason Babin has landed…with the Jacksonville Jaguars. – ProFootballTalk Does Babin's departure signal the beginning of the end of the Wide 9 for...
NFL News

Delivered to your inbox

You'll also receive Yardbarker's daily Top 10, featuring the best sports stories from around the web. Customize your newsletter to get articles on your favorite sports and teams. And the best part? It's free!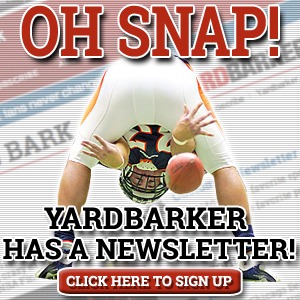 Latest Rumors
Best of Yardbarker

Today's Best Stuff

For Bloggers

Join the Yardbarker Network for more promotion, traffic, and money.

Company Info

Help

What is Yardbarker?

Yardbarker is the largest network of sports blogs and pro athlete blogs on the web. This site is the hub of the Yardbarker Network, where our editors and algorithms curate the best sports content from our network and beyond.