Found March 12, 2012 on The Sport Mentalist:
Back in the 2010 NFL draft, the Jacksonville Jaguars gambledthat they would be able to select quarterback Tim Tebow with either their thirdround pick or have the opportunity to move up and draft him in the secondround.
Unfortunately, Denver Broncos ex-coach Josh McDaniels hadother plans. McDaniels shocked everyone and selected Tebow with the 25
th
overall pick. No one else had Tebow projected to go in the first round.
Now with the news that free agent quarterback Peyton Manningmay be on the verge of signing with the Denver Broncos, the internet is abuzzconcerning the prospect of Tebow being traded.
When I first stated back in November that this would happen Iwas berated with all kinds of rather unpleasant comments from Tebow-fanatics. Iexpected as much since that was the time when Tebowing was at a fever pitch andno one wanted to hear about the prospect of Tebow playing anywhere but Denver.
What's interesting though is now that Manning is flirtingwith the idea of playing for the Broncos there is nary a peep on any of theblog posts I have read recently about Tebow's impending departure. Sorry, justwanted to get that off my chest real quick. Moving on….
So with Tebow most likely on his way out of Mile High, dothe Jaguars take another shot at acquiring him?
The Jaguars are in rebuilding mode and are currently tryingto decide if they want to stick with Blaine Gabbert who they drafted lastseason or if they want to go in another direction. Gabbert had a pretty pedestrianseason by NFL standards so the jury is still out on whether or not he will be agood quarterback.
We all know about Tebow's struggles throwing the ball lastyear but he may flourish under the Jaguars new head coach Mike Mularkey andoffensive coordinator Bob Bratkowski.
Mularkey was responsible for making Kordell Stewart soeffective when he was offensive coordinator of the Pittsburgh Steelers. WhileTebow is not as athletic as Stewart was he is a similar threat with his abilityto throw and run the ball.
Just know that if the Jaguars do bring him in it will be acircus. Tebow will immediately put fans in the seats which may be a good thingfor Jaguars owner Shahid Khan but it may be a bad thing for the team long term.Gabbert will not be able to cement himself as a starter withthe fans chanting for Tebow to play and Tebow won't have the stellar defensebehind him that he had in Denver making it harder to produce that fourthquarter Tebow-magic he is known for.

Hopefully Jaguars' management will consider these thingsbefore they make a play for Tebow. It may not matter since they will probablyface a backlash from their fans if they don't pursue him.

Rest assure that as soon as Tebow officially hits the tradingblock Jaguars fans will be pushing management to trade for him. It's doubtfulthat Jaguars' fans will care whether or not bringing him in is good for thefranchise. They'll be more than happy to see their favorite son come home.

Do you think the Jaguars should trade for Tebow or stick with Gabbert? Hit our comments section and let us know what you think.

Roosevelt Hall is an

NFL

Blogger for The Sport Mentalist and is also an

NBA

Blogger for The Sport Mentalist 2. He can be contacted at RHall_TPFB@Yahoo.com. Follow him on Twitter @sportmentalist

<span style="font-family: "Calibri","sans-serif"; font-size: 11pt; line-height: 115%;">

and add him on Facebook Roosevelt Hall Thesportmentalist.

Also check out these stories:

 John Elway looking for quarterback help Tim Tebow Will Never Measure Up The Odd Couple: Tebow's Win Streak Forces Elway to Keep Him John Elway Will Trade Tim Tebow During the Offseason   
Original Story:
http://thesportmentalist.blogspot.com...
THE BACKYARD
BEST OF MAXIM
RELATED ARTICLES
TIME'S UP, TIMMY?
According to a report, Tim Tebow would be placed on the trading block if the Broncos end up signing Peyton Manning.
(Image courtesy of Getty Images/Doug Pensinger) If the Denver Broncos sign free agent quarterback Peyton Manning, it was been widely assumed that the team would then trade quarterback Tim Tebow.  We at BT however aren't so sure that the team would trade Tebow in such a scenario. There is at least one player in Denver's locker room that agrees, stating that Tebow would not request...
Tim Tebow will have performed his last Mile High Miracle if the Denver Broncos win the race to land Peyton Manning, Pro Football Network reported Sunday. A source close to the team said Tebow stands to be traded upon the arrival of the four-time MVP. The report claims the Jacksonville Jaguars are lining themselves up to acquire the unconventional quarterback, who led the Broncos...
It's official, you can add crime fighting to both Jeremy Lin and Tim Tebow's resumes. Watch as the media darlings stop a purse thief and get a chance to feel up a girl as a reward! Tebow manages to struggle through his passing issues and Lin overcomes his reoccurring turnover troubles to save the day. Believe it or not these are not the real athletes, but a spoof of the actual...
It almost seems real. Robert Griffin III may be the best incoming rookie in video game history, but he's got nothing on the Broncos' current signal-caller. Current, as in things may change depending on Peyton Manning. Nevertheless, Tim Tebow, at the moment, is the 5-1 favorite to become the cover boy for 'Madden 13′, the Sporting News reports (via Bovada.lv). Like last...
Veteran quarterback Peyton Manning has concluded his free agency tour and the Denver Broncos and Arizona Cardinals are now waiting for his decision, according to ESPN's Adam Schefter. If the Broncos were to land Manning, incumbent starting quarterback's Tim Tebow's future in Denver would become  endangered.  While there is a possibility that the Broncos could keep Tebow,...
With Peyton Manning reportedly narrowing his potential suitors to the Cardinals and Broncos, trouble could be on the horizon for Tim Tebow. According to Pro Football Talk, the Broncos would place Tebow on the trading block if Manning chooses the Broncos, likely spelling the end of Tebowmania in Denver. A source tells ESPN that Manning is leaning toward signing with Denver, but the...
If the handwriting was not on the wall before the NFL's Silly Season began, it is now engraved and cemented in: Tim Tebow is not in the future plans for the Denver Broncos. So where might his future play out? The clock is ticking on Tim Tebow's time in Denver, whether the Broncos land Peyton Manning or not. (Photo by Jeffrey Beall via Wikimedia Commons) What Will Become Of...
The 2012 NFL season officially begins tomorrow at 4 p.m. eastern time. That's when the blockbuster NFL draft trade between the St. Louis Rams and Washington Redskins will become official, and the Denver Broncos can sign Peyton Manning, and then Tim Tebow will be set free to get another gig, and then everything starts up again. In the meantime, here's everything you need to know...
The biggest question so far in this offseason continues to be which team will land QB Peyton Manning. The second biggest question of this offseason could become, what happens to QB Tim Tebow if Peyton Manning lands with the Denver Broncos. I have believed since November of this past regular season that Peyton Manning is the only quarterback that the Denver Broncos could...
TEMPE, March 11—According to a nfl.com report, the Peyton Manning party bus has just pulled over in Arizona. Today, he's set to meet with the franchise to determine if he is a good fit there. Before we dig into that situation, let's recap what just happened in Denver. Manning spent close to six hours meeting with the Broncos on Saturday. As soon as owner Pat Bowlen's private...
NFL News

Delivered to your inbox

You'll also receive Yardbarker's daily Top 10, featuring the best sports stories from around the web. Customize your newsletter to get articles on your favorite sports and teams. And the best part? It's free!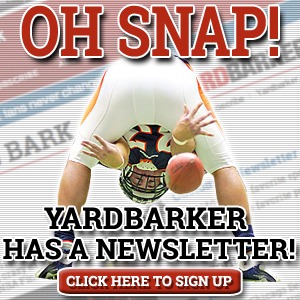 Latest Rumors
The Backyard

Today's Best Stuff

For Bloggers

Join the Yardbarker Network for more promotion, traffic, and money.

Company Info

Help

What is Yardbarker?

Yardbarker is the largest network of sports blogs and pro athlete blogs on the web. This site is the hub of the Yardbarker Network, where our editors and algorithms curate the best sports content from our network and beyond.