Found May 31, 2013 on Fox Sports Kansas City:
KANSAS CITY, Mo. You'd need a GPS to find Jamaal Charles in all these new formations, even on a good day. One series, he's at his standard spot at tailback. The next, he's the deep back in the Pistol. The next, he's out wide, lounging around in Dwayne Bowe's real estate. Over the past month, the Kansas City Chiefs' all-universe tailback has been tried out in more positions than a socket wrench. It's just another wrinkle in Andy Reid's makeover-slash-master plan. Or not. In May, it's kind of hard to tell. "Obviously, we know what he did last year Pro Bowl running back, had over 1,500 yards, excellent, excellent season," new offensive coordinator Doug Pederson told reporters Thursday following the penultimate practice of the this week's round of organized team activities. "He's a guy that we can put in multiple spots. He's a sharp kid. He's worked extremely hard this offseason. "Really, I think the sky is the limit with him with what we're trying to do. Just put him in different spots and using his ability to, again, create matchups defensively." Reid and Pederson are into matchups, with the hope of winning more than they lose, and fingers crossed there. They're also into moving their assets around the chess board as the situation dictates. Or just for the hell of it. Either way, the numbers don't lie: From 2004-2011, Reid's primary rusher with the Eagles Brian Westbrook ('04-'08), then LeSean McCoy ('09-'11) also averaged 65 catches a year. In The Andy Gang's world, "Flex" and "RB1," to use fantasy-speak, are wholly interchangeable positions. All of which makes for an interesting schematic, once laid upon the key pieces that the Reid regime inherited from the previous tenants. It also offers up a fairly large question: Can Jamaal, um, "flex?" "You've seen him sprint out of the single receiver, and he'll come out of the backfield," Pederson continued. "He's a guy that needs to move around, and (one) you can put in different positions, motion out the back, shift him from the backfield. He catches the ball so well that you have to take advantage of that offensively." And hey, there's nothing substantive to say that Charles can't transition from playing the part of a Walter-Payton-You-Are-The-Offense jackhammer into more of the do-everything, Westbrook mold. Charles is only 26, but it's an old 26, thanks largely to that whole Payton-jackhammer thing, and the shorter shelf lives of NFL tailbacks in general. Yet the collegiate scouting gurus didn't seem to have a huge problem with him as a pass-catcher, if Google is to be believed, and he was trusted with kick returns during his first two seasons as a pro (2008-09). The tools are there, allegedly. Although they haven't really been utilized to this point, either, whether that's because Matt Cassel seemingly had eyes only for Bowe, because Cassel couldn't hit the broad side of a very broad barn anyway, or, more likely, some combination of the two. The Chiefs' tailback has collected 37 catches, on average, over the four seasons (out of five) in which he has remained healthy. In his Big 12 days, the former Texas star saw an average of just 16.3 grabs over three seasons with the Burnt Orange, and never snatched more than 18 in any given campaign. Which is not to say Jamaal can't, you know, "flex." It's just to say that we don't really know. So in the spring, you put on the shorts, and you find out. Flexibility is the mantra of the month, and Charles wants to set a good example. A veteran example, now that you mention it. "We've been doing it for a while now, so I'm pretty used to it," Charles said a few weeks back when asked about where he fits in Reid's brave new world. "It's just getting the young guys up in there. And I'm trying to be a veteran player now since I'm the oldest guy in the room. Going back six years ago, I was the youngest person and now I'm just trying to bring more leadership to the field." That and applause. The tailback turned up the catch of the day during Thursday's indoor session, reeling in an over-the-shoulder grab one-handed, no less that had tongues wagging. "Yeah, he's definitely got the talent to (to do it)," tight end Anthony Fasano had observed earlier this month. "I think our offense is going to try to exploit the mismatches." And if anybody can truly appreciate the joy of "flex," it's Reid. Charles ranked 22nd among NFL tailbacks last season in terms of total targets (48) and was 13th in 2010 (61). Meanwhile, in The Andy Gang's West Coast scheme, McCoy wound up eighth in targets in 2012 (67) and was first in 2010 (97). "I think you can use (Charles) more in the passing game," Pederson said. And use him they will. Whether he likes it or not. You can follow Sean Keeler on Twitter @seankeeler or email him at seanmkeeler@gmail.com.
Original Story:
http://www.foxsportskansascity.com/nf...
THE BACKYARD
BEST OF MAXIM
RELATED ARTICLES
Kansas City Chiefs safety Eric Berry is feeling good about what's going down with his team. A new general manager and coach, quarterback, and influx of talented free agents has him excited about the 2013 season. He not only thinks they can improve on the dismal 2-14 record from a year ago, he going as far as saying the playoffs are within their reach. The Chiefs chose him...
According to Sean Keller of FOX Sports Kansas City, Chiefs running back Jamaal Charles has been lining up all over the field during OTA's.  It's looks like new head coach Andy Reid has quite the plan for him this season. One series, he's at his standard spot at tailback. The next, he's the deep back in the pistol. The next, he's out wide, lounging around in Dwayne Bowe's...
The great thing about the NFL is that there are so many positions that every year, there is almost always at least one player who has a breakout year on every team, no matter how good or bad the team is. This is one part in a 32 part segment detailing one potential breakout player (rookies don't count) for the 2013 NFL season on each NFL team. For the Kansas City Chiefs, that player...
Echoeing the words of former NFL head Dennis Green, but it a good way, Kansas City Chiefs quarterbacks coach Matt Nagy is more than satisfied that things are woking out for quarterback Alex Smith and his new team. "He's been everything that we thought he was,"  Nagy said, via the Kansas City Star. "He's a true professional. He's in his [playbook] every day. He's...
After only a week of organized team activities, the Kansas City Chiefs head coaches are already praising new quarterback Alex Smith (Credit: AP Photo) After a week of organized team activities, the Kansas City Chiefs coaches have had a small amount of time to view their newly acquired quarterback Alex Smith. Despite the short amount of practice time, the coaches are impressed by...
According to ESPN's Ed Werder, Chiefs running back Jamaal Charles left practice with a toe injury.  The good news is that is sounds like he'll  be fine. Chiefs RB Jamaal Charles left practice with toe injury. I'm told it was stepped on but he is fine. #chiefs — Ed Werder (@Edwerderespn) May 31, 2013   Need NFL Tickets? The post Jamaal Charles left practice with...
Alex Smith is who we thought he was! It sounds like a line from Dennis Green after a Cardinals loss. Instead, it's closer to a line from Kansas City Chiefs quarterback coach, Matt Nagy. Nagy told the Adam Teicher of the Kansas City Star, "He's been everything that we thought he was. He's a true professional. He's in his (playbook) every day. He's always...
Former Kansas City Chiefs FB, Patrick DiMarco, has been signed by the Atlanta Falcons. DiMarco was cut loose by the Chiefs in early May after they drafted FB Braden Wilson and acquired FB Anthony Sherman from the Cardinals. Patrick started off 2012 on the practice squad and was called up mid-season and started 4 games. He will serve immediately as camp depth but has a shot at making...
Andy Reid is willing to admit he is overloading the Kansas City Chiefs with as much information as he possibly can ahead of the team's mandatory minicamp next week. Reid said after wrapping up three weeks of voluntary workouts Friday that the idea is to give them as much of the playbook as possible. Even though the team has only been together a short time, Reid said there&...
NFL Networks Top 100 Players of 2013 is being released and the AFC West is getting some love with 7 players. So far 4 Kansas City Chiefs, 2 Denver Broncos and 1 San Diego Charger has been selected by fellow NFL players. Follow this post to keep up to date on any new AFC West players to be added to the list! #49 Justin Houston #50 LB -  6′ 3″ – 258 lbs -  Kansas City Chiefs...
NFL News

Delivered to your inbox

You'll also receive Yardbarker's daily Top 10, featuring the best sports stories from around the web. Customize your newsletter to get articles on your favorite sports and teams. And the best part? It's free!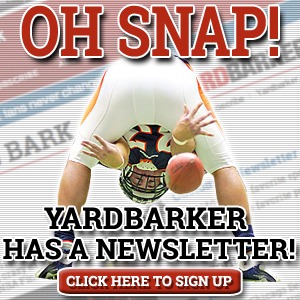 Latest Rumors
The Backyard

Today's Best Stuff

For Bloggers

Join the Yardbarker Network for more promotion, traffic, and money.

Company Info

Help

What is Yardbarker?

Yardbarker is the largest network of sports blogs and pro athlete blogs on the web. This site is the hub of the Yardbarker Network, where our editors and algorithms curate the best sports content from our network and beyond.