Found July 29, 2012 on Fox Sports Houston:
HOUSTON For some, the trading of veteran linebacker DeMeco Ryans to the Eagles on March 20 was a haphazard disregard of not only one of the more popular players in franchise history, but a defensive stalwart. Never mind that Ryans was slowed by a preseason elbow injury and the rebuilt Achilles' tendon that sidelined him in 2010, or that he wasn't an ideal fit in the new defensive scheme implemented by coordinator Wade Phillips. His loss was greeted with a measure of concern and disdain. In shipping Ryans to the NFC, the Texans opened one hole in a unit that finished second in the NFL in yards allowed last season. Finding the right fit to plug that gap wouldn't come easy given Ryans' contributions. "It worried me when I found out first that DeMeco left," Texans outside linebacker Brooks Reed said. "And they brought in Bradie (James) and we had watched film on him before last year even started and we knew that he was in the system already, he was a leader of that (Cowboys) defense. So I was really excited to hear he was coming here. I was like, Aw man, it's perfect.' "He's filling DeMeco's spot perfectly. He's filling that leadership role." There are two ways to look at James' addition to the Texans' defense. First, at 31 years old, James provides another veteran voice on this relatively young unit. He offers valuable experience and perspective, and is someone capable of maintaining an even keel through the 17-week grind of the regular season because he has done so for nine years. Defensive end Antonio Smith is the lone 30-something member of the defense. Linebackers Brian Cushing, Connor Barwin and Reed have combined for seven years of NFL experience, two fewer than James alone. Cornerback Johnathan Joseph and free safety Danieal Manning are both entering their seventh seasons, but both joined the team prior to last season as free agents. There remains plenty of room for growth. "It's his leadership skills, his experience and how long he's been in this league (that provide comfort)," Texans linebackers coach Reggie Herring said. "He knows our package inside and out. He's doing things at the MIKE backer position right now that Cushing could not do cover-wise. I'm not talking about ability but the body position, the intelligence, knowing certain things when you see it and knowing where to be." In addition to his general professional football experience, James has in-depth knowledge of the 3-4 scheme employed by Phillips from their time working together in Dallas. Central to the amazement surrounding the Texans' unexpected defensive success last year was how little time they had to prepare for schematic changes emerging from the lockout. Not only were the Texans integrating two rookies (end J.J. Watt and Reed) and two free agents (Joseph and Manning) into the mix, they were requiring their linebackers to play different positions. James will supply an injection of acumen to a confident defense still in the learning stages. "When you get on the field that's your world," James said. "My job is to be the calm in the storm and not only get guys lined up, but get them productive and get myself to be as productive as possible. Once everybody is on the same page the sky is the limit for this group." In film study James recognized instances where the Texans were improperly aligned yet overcame those errors through sheer will. His task is to eliminate pre-snap misalignments while feeding that ferocity. "That's a guy that doesn't have the ability of Cushing but has the know-how of a vet and knows his limitations and knows how to put his body in a position to make plays and be right in on our defense," Herring said. "He's like a coach on the field. We're very excited. "How much does he have left in his body? That remains to be seen. But as far as leadership, knowing this defense, getting em lined up, executing coverages and helping Cushing out with coverages, he's got it." From a personality perspective, what's critical for James is blending in on his new team. Ryans represented so much more than a productive player on the field; he was a respected compatriot in the locker room and community icon. James understands that Ryans isn't easily replaceable. In the micro context of the defense, the strides made last season were a result of a unit that grew in lockstep. The onus falls on James to find his place with the 10 returning starters so that momentum is maintained. "You come in and you're the only guy that wasn't here," James said. "I'm not saying they had to welcome me with open arms but (how James approaches fitting in with his new teammates) it's just a respect thing. I can't come in here talking about the things that I've done because they don't care about that. You go out there and prove every day what you're about whether you're working hard or you're in the weight room with them or hanging out with them. You just find a way to fit in." Some of those bridges were crossed earlier this summer during organized team activities and minicamp. More work was done when James was introduced to extended members of the organization in the run-up to training camp. As the new guy, familiarization is a necessity. Some of what James has experienced during this transition into his second organization is unique, but as a consummate pro, he can handle the responsibility. That, in part, explains why the Texans signed James. "That was the first time I've been introduced to everybody that works in an organization," James said. "All of those things are new and all of those things are different. Just seeing how we practice here the first week of training camp, all of these things are different. "So you just take it in, take it in stride and just try to get acclimated as quickly as possible." Follow me on Twitter at moisekapenda
Original Story:
http://www.foxsportshouston.com/07/29...
THE BACKYARD
BEST OF MAXIM
RELATED ARTICLES
Today, yours truly is at Philadelphia Eagles training camp as a member of the media.  I've been to camp numerous times before, but this is my first experience with media credentials. Therefore, I went to this morning's walk-through practice not knowing exactly what to expect.  What I found (so far) is that everyone seems nice, helpful and informative. And that the Lehigh University...
There is a reason that football players hate training camp. The intensity, the heat, and the pressure of most knowing that they are fighting for their professional lives. It gets to most players in the NFL at one point or another, even after they've signed a multimillion dollar deals. DeSean Jackson got into what was described as the "best fight of camp so far" with corner...
We had a chance to talk to Houston Texans running back Justin Forsett. We talked about his return to Texas, the weather and what his old team the Seattle Seahawks and what their fans meant to him.     Listen to the exclusive interview with Forsett here.   You can follow Patrick on Twitter.  He is the Editor of State of the Texans and is a draft analyst on Sideline Scouting.
Today was a the opening day of Texans 2012 Training Camp, and there was a buzz in the air. So much 5,012 fans showed up as early as 2 a.m. before the gates opened at 7 a.m. Plenty of notes on today's camp.     Camp Notes   - The first hour of practice was outside, but was soon moved inside. The reason was that they wanted the team to get "acclimated" to the heat. -  Offensive lineman...
Houston Texans receiver Andre Johnson has left practice with a pulled groin muscle. Coach Gary Kubiak says Johnson's injury appears minor, but it may still force Johnson to miss ''a few'' practices. Johnson missed nine games last season with hamstring injuries and was sidelined from the first organized team activities in the spring after arthroscopic surgery...
According to multiple sources wide receiver Andre Johnson will miss up to one week of training camp with a strained groin, and an MRI revealed no real significant damage. The injury happend in one on one drills when he jumped for a pass and came down hard on the ground after the pass. Johnson wanted to continue practice, but trainers put a stop to that in a hurry. With the latest...
Getty Images If an NFL player is going to throw at any point during their football career, the best time is during training camp, rather than a crucial game. Philadelphia Eagles wide receiver DeSean Jackson had trouble holding his lunch down during Friday's practice. "We ran a lot. The heat," Jackson said. "Gave it up a little bit, but it's part of training camp." I feel...
The Eagles are committed to lightening the workload running back LeSean McCoy takes on this season. To do that, offensive coordinator Marty Mornhinweg and coach Andy Reid must identify a steady backup who they can trust on all downs. They'll also have to convince McCoy to accept a breather from time to time. "With our running back position, I think that (general manager...
Juan Castillo may have been the happiest person on the field when the Philadelphia Eagles held their offseason workouts. Castillo's transition to defensive coordinator after 13 years coaching the offense linemen didn't go so well last season. Castillo seemed overmatched at times. He had trouble making adjustments during games, his unit underachieved and he was heavily criticized...
Watching the Olympics on NBC and the incessant overanalysis of the women's gymnastics events in particular, I decided to go to some stream-of-consciousness reporting on Eagles training camp...Maybe it's time to let the viewer (or reader) decide what he or she is actually witnessing...The window of opportunity has opened up at WR for rookie Marvin McNutt with the collarbone...
NFL News

Delivered to your inbox

You'll also receive Yardbarker's daily Top 10, featuring the best sports stories from around the web. Customize your newsletter to get articles on your favorite sports and teams. And the best part? It's free!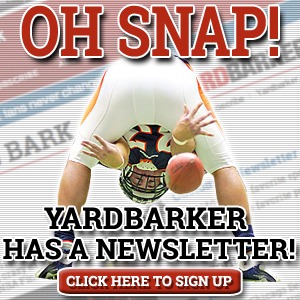 Latest Rumors
The Backyard

Today's Best Stuff

For Bloggers

Join the Yardbarker Network for more promotion, traffic, and money.

Company Info

Help

What is Yardbarker?

Yardbarker is the largest network of sports blogs and pro athlete blogs on the web. This site is the hub of the Yardbarker Network, where our editors and algorithms curate the best sports content from our network and beyond.