Found August 02, 2013 on Fox Sports North:
MANKATO, Minn. -- Jared Allen has always appreciated the honor of being selected to the Pro Bowl and spending the week with his peers in Hawaii. The Minnesota Vikings' five-time Pro Bowl defensive end said one of his best NFL memories was his first Pro Bowl in 2007 and last year he waited out surgery on his left shoulder and right knee to appear in the game. As one of the perennial Pro Bowlers in the league, Allen is against the changes to the game that the league announced this week. "I'm disappointed that it's come to this and that we're always trying to find some way to create new ratings or create a new fan experience," Allen said Friday. "At some point it's got to be about the players. This is our honor and they should at least talk to us before they make this change." The league made several radical changes to the Pro Bowl which will take place starting at the end of this season. Changes include the elimination of kickoffs and the elimination of the return spot in lieu of an extra defensive back, a changed which has come under fire from some players. Return specialists will no longer be eligible to be selected and could lose money in regards to Pro Bowl incentives in their contracts. The league announced the changes this week, stating they were made in conjunction with Dominique Foxworth, the president of the league's players association. The league is also doing away with the traditional AFC vs. NFC format and will include a fantasy football-type televised draft in which players will be selected with the help of Hall of Famers Jerry Rice and Deion Sanders. Eliminating the kickoffs, teams will start each quarter with possession on the 25-yard line. Other changes include a new two-minute warning at the end of the first and third quarters with the ball changing hands at the end of the quarter. Voting will also change with rosters that will consist of 43 players per team, with selection no longer reserved for AFC and NFC squad. Defenses will also have the ability to play Cover-2 or press coverage as opposed to strict man coverages as in the past. "These new rules I hear about are disappointing," Allen said. "I think there wasn't anything wrong with it as far as AFC-NFC and sometimes we try to change tradition, I don't know why. I guess I can see if you're going to take the best six at each position or whatever it is, all the new rules. Eliminating kickoff, that's part of this game. "At some point how many rules of the game do you change and you don't have football anymore. Football is football at its purest form, and kickoff and kickoff return, and not to mention now you're taking a Pro Bowl spot away from a Josh Cribbs. (Former Vikings returner) Percy Harvin made his first Pro Bowl as a return guy. So for me, I think you're cheating the players. I'm personally not for it. We don't have a say in it." Allen was one of seven players for the Vikings to participate last season and even waited on surgery. He was joined in Hawaii by running back Adrian Peterson, fullback Jerome Felton, left tackle Matt Kalil, linebacker Chad Greenway, kicker Blair Walsh and tight end Kyle Rudolph, who won the MVP award. "You respect the fact that your peers voted you into the game," Allen said of delaying surgery. "Your peers, the coaching staff and the fans thought you were an All-Star and that you got honored for that body of work that year. It still means something. It really does. From the way I understand it, you still have the voting process, it's not just the NFC-AFC and then you're going to have the whole draft and that kind of thing. Now a two-minute drill at the end of the game, we might as well have 7-on-7, sign some autographs and hang out by the pool, I guess." Follow Brian Hall on Twitter
Original Story:
http://www.foxsportsnorth.com/nfl/min...
THE BACKYARD
BEST OF MAXIM
RELATED ARTICLES
MANKATO, Minn. -- Early in training camp, new Minnesota Vikings linebacker Desmond Bishop was being interviewed by the media when Erin Henderson approached and put his arm around his new teammate as a show of the budding friendship between the two. Henderson said there was no animosity between the two and wanted to prove things are fine between them. Henderson's gesture wasn...
MANKATO, Minn. -- There's a familiar sight in Mankato for Minnesota Vikings' training camp, a striking player in a purple No. 84 jersey sauntering around the fields at Minnesota State University.There's the occasional spectacular catch, the excitement when said player plants his foot in the ground to make a move. The new No. 84 looks a bit like the former No. 84 that...
MANKATO, Minn. -- Minnesota Vikings offensive tackle DeMarcus Love was suspended for the first four games of the regular season for a violation of the NFL's policy on performance-enhancing drugs, the league announced Thursday. Love, 25, will be eligible to return following Minnesota's Sept. 29 game in London against the Pittsburgh Steelers. He's eligible to participate...
Minnesota Vikings offensive tackle DeMarcus Love has been suspended without pay for four games for violating the NFL's policy on performance enhancing drugs. The league announced the punishment Thursday. Love will remain eligible to practice this month and play in exhibition games, but once the regular season starts he must be away from his team through Sept. 29, when the Vikings...
Throughout the month of July, Purple Jesus Diaries was hosting an event where people entered to win a free, signed, new design, Christian Ponder jersey. If you didn't enter, you obviously didn't win it (contest is now over, so stop trying to send in entries!), but someone actually DID win it, and we now want to share his Vikings story that he submitted: Winner Robert...
  Even with all the drama surrounding the NFC East, I believe Adrian Peterson's bold statement of eclipsing the 2,500 rushing yard mark will be the biggest headline going into this season. With the NFL training camp already in full gear and with the Hall of Fame Game between the Dallas Cowboys and the Miami Dolphins airing this Sunday, Aug. 4, at 8:00 on NBC, I believe it's...
The NFL has suspended Vikings offensive lineman DeMarcus Love for testing positive for performance enhancing drugs. NFL suspended Vikings OL DeMarcus Love four games for violating PED policy. — NFL: AroundTheLeague (@NFL_ATL) August 1, 2013 It sounds like Love took something over the counter and didn't know it contained a banned substance. What I'm told on DeMarcus Love...
Minnesota Vikings WR Greg Jennings seemed to be in a war of words with his former team the Green Bay Packers. The whole back and forth got to the point where it seemed to become a distraction of sorts. So coach Leslie Frazier weighed in, but not to back Jennings up or the Packers, he just said 'that's not something we're high on.' Apparently, it was something low enough...
Minnesota Vikings wide receiver Greg Jennings apologized, through comments to the media, for his recent remarks about Green Bay Packers quarterback Aaron Rodgers - going so far as to call him by name this time. According to the Star Tribune in Minneapolis, Jennings addressed his previous comments and a recent - and widely reported - talk with coach Leslie Frazier concerning those...
Leslie Frazier talks about the linebacker position, how Matt Cassel is adjusting, his big expectations for Kyle Rudolph, and why he doesn't mind Adrian Peterson setting high goals
MINNEAPOLIS -- How simple it seems on its glass-covered surface. Community constructs state-of-the-art stadium. Said stadium is fully able to house high-profile soccer matches. Highest level of American professional soccer comes to play in stadium. Oh, if only it were that easy. While plans for the new Vikings stadium do indeed provide a viable pitch, an overabundance of fan seating...
(Updates with rest of story.) By DAVE CAMPBELL AP Pro Football Writer The Minnesota Vikings still have a UCLA-educated punter with an erudite degree, one whose background was in soccer before trying his leg at another sport. This guy, though, doesn't play bass guitar in a grunge band. He only tweets a handful of times per week. He probably won't publicize his political views...
NFL News

Delivered to your inbox

You'll also receive Yardbarker's daily Top 10, featuring the best sports stories from around the web. Customize your newsletter to get articles on your favorite sports and teams. And the best part? It's free!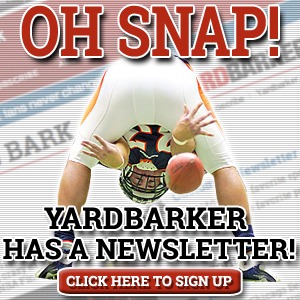 Latest Rumors
The Backyard

Today's Best Stuff

For Bloggers

Join the Yardbarker Network for more promotion, traffic, and money.

Company Info

Help

What is Yardbarker?

Yardbarker is the largest network of sports blogs and pro athlete blogs on the web. This site is the hub of the Yardbarker Network, where our editors and algorithms curate the best sports content from our network and beyond.