Found December 09, 2011 on It's Always Sunny in Detroit:
The Lions are looking to get back to their winning ways this Sunday as they host the 2-10 Minnesota Vikings. Vikings defensive end Jared Allen was previewing the game with KFAN-AM in Minneapolis when he expressed his disdain for the city of Detroit.
"I don't like going to Detroit. I'll be honest, it's gloomy, it sucks. Everything is brown and then there is snow on the ground. There's like Brownstones everywhere and I'm like, 'Awesome.' I don't know, I couldn't do it. If I had to live in Detroit, I think I'd just drown myself in the river that was across the way."
You're complaining of snow when you make your in-season home in Minneapolis? Come on now. Brownstones everywhere? This isn't Boston or Chicago. In fact I only know of one strip of said brownstones in downtown. If you lived here you'd throw yourself into the river that was across the way? I'm assuming you're talking about the Detroit River that separates Detroit from Windsor, Ontario Canada. Newsflash: the river is still there fool. It's not going anywhere.

And if bashing Detroit wasn't enough, Allen felt the need to dump on the city of New Orleans too.
"New Orleans looks like I'm driving through a third-world country every time I get off the plane, I'm like, 'Oh, flak jacket.' I'm trying to get down. I'm like, 'Ah, crap, I can't carry my gun here. This sucks.'"
This screams of MENSA-like intelligence. What are the odds that Allen has ever been to Somalia, Ethiopia or Yemen? Highly doubtful.

Spoken like a true winner, Allen said that the current Vikings' motivation is "not to be the worst team in Vikings history." Atta boy Jared, keep drinking that purple Kool Aid...and don't use it as a mixer this time. You wouldn't want to pick up your fourth DUI, would you?
Original Story:
http://feedproxy.google.com/~r/ItsAlw...
THE BACKYARD
BEST OF MAXIM
RELATED ARTICLES
We all know Jared Allen has never been shy about speaking his mind.  After all, this is the guy who once offered his butt to Brett Favre and thought "schism" was an STD.  Allen may have outdone himself this time.  The Vikings are traveling to Detroit this weekend to take on the Lions, and apparently [...]
Minnesota Vikings defensive end Jared Allen isn't a fan of Detroit and New Orleans. No, we're not talking about the Lions and Saints, per se - but the actual cities themselves. "I don't like going to Detroit," the 29-year-old Allen told the Minneapolis Star Tribune. "I'll be honest. It's gloomy, it sucks. Everything is brown and then there is snow on...
ALLEN PARK, Mich. -- Ndamukong Suh will get a warm reception from defensive coordinator Gunther Cunningham when he returns to the Lions Monday after serving a two-game suspension. But Cunningham is being considerably cooler toward Minnesota Vikings defensive end Jared Allen because of the disparaging comments Allen made earlier in the week about the city of Detroit. The Lions play...
Controversial comments? What controversial comments? Jared Allen and Gunther … [visit site to read more] Gunther Cunningham Loves Jared Allen (Video) - The Viking Age - The Viking Age - A Minnesota Vikings Fan Site - News, Blogs, Opinion and more.
The Vikings best defensive player, Jared Allen, outspoken as ever, told a Twin Cities radio station what he thinks of Detroit. Mlive's Justin Rogers: I don't like going to Detroit," Allen said. "I'll be honest, it's gloomy, it sucks. Everything is brown and then there is snow on the ground. There's like Brownstones everywhere and I'm like, '...
Jared Allen said on PFT Live earlier this week that he'd love to beat the Lions, because misery loves company. And the Vikings are pretty miserable right now. Simply visiting Detroit is enough to put Allen in a bad mood. "I don't like going to Detroit," Allen told KFAN via MLive.com. "I'll be honest, it's…
Minnesota Vikings defensive end Jared Allen comment about Detroit being filled with depressing Brownstones left me wondering if he's really every been to the motor city.
Defensive end Jared Allen and the Vikings play the Lions on Sunday at Ford Field. Allen has been called "colorful" and a "big mouth," everything in between and things a lot worse.
Detroit Lions defensive coordinator Gunther Cunningham spent four seasons with Jared Allen in Kansas City and knows the Minnesota Vikings defensive end well.
Series: Vikings lead 66-32-2 Last Meeting(s): The Lions beat Minnesota in overtime in Week 3, 26-23. The Vikings led 20-0 at halftime but managed only three more points. Detroit ran for just 20 yards but Matt Stafford threw for 378 yards and two touchdowns, both to Calvin Johnson. Minnesota's Jared Allen and Brian Robison combined for five sacks while Detroit had four of their...
The last time the Vikings played at Ford Field, they were the home team. Now, they couldn't be less welcome guests. After the Week 3 contest that teetered on the brink of disaster, Jared Allen & Co. are coming to Detroit, dead set on finishing what they started. The Lions and Vikings are headed in opposite directions: the Lions started 5-0 but are 2-5 since; the Vikings...
Vikings News

Delivered to your inbox

You'll also receive Yardbarker's daily Top 10, featuring the best sports stories from around the web. Customize your newsletter to get articles on your favorite sports and teams. And the best part? It's free!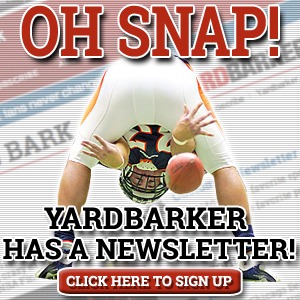 Latest Rumors
The Backyard

Today's Best Stuff

For Bloggers

Join the Yardbarker Network for more promotion, traffic, and money.

Company Info

Help

What is Yardbarker?

Yardbarker is the largest network of sports blogs and pro athlete blogs on the web. This site is the hub of the Yardbarker Network, where our editors and algorithms curate the best sports content from our network and beyond.