Found June 13, 2013 on Fox Sports Wisconsin:
GREEN BAY, Wis. -- This is an all-new Jermichael Finley. The most outspoken member of the Green Bay Packers has completely shifted his locker room demeanor and off-the-field attitude in recent months. Over the past five years, when Finley has had something to say, he was willing to tell anyone who would listen. The honest and straight-shooting tight end hadn't yet acquired the filter that most NFL players eventually realize is necessary for sustaining a career. Last season, Finley didn't hide his true feelings when he felt a lack of chemistry with quarterback Aaron Rodgers. Finley repeated how chemistry was an issue between the two, emphasizing his points during an October 2012 locker room interview. That, of course, made headlines across the country. It also left Rodgers and other Packers players to deal with the fallout. Before a divisional showdown with the rival Chicago Bears late last season, Finley took aim at the face of the franchise, Brian Urlacher. Finley told FOXSportsWisconsin.com that Urlacher was "playing a little slow out there" and that the Bears aren't "losing too much if he's out." Finley was arguably spot-on with his analysis, as Urlacher was released by Chicago a few months later and then forced to retire when other teams didn't show much interest. But that didn't stop Finley's quote from being one of the biggest talking points heading into that Week 15 matchup. It also led to Urlacher firing back at him and prompted Lance Briggs to call Finley "an idiot." Those are just a couple examples of Finley's controversial remarks. Now, Finley has become the complete opposite. He's declining interviews and, when he is talking to the media, is giving responses that would fit into Twitter's 140-character limit. "If I do what I'm supposed to do, everything else will take care of itself," Finley said during minicamp. That isn't a shortened quote from Finley. It was his entire answer. Coach Mike McCarthy, who likely suffered a headache or two in the past when hearing of certain Finley comments, noticed a change in the 26-year-old already late last season. "I really felt Jermichael Finley was a different man, a different player from the bye week on," McCarthy said during his season-ending press conference in January. "I had an opportunity to talk to him about that at length in his exit interview, so I feel very good about the way he finished the year. "There was a change in that young man." As Finley reported for offseason workouts in May and June, McCarthy was again impressed. But this time it was with Finley's strength and overall physical appearance. "I think Jermichael looks excellent," McCarthy said during minicamp. "He's put weight back on. He's back where I like to see him, the playing weight that he's playing with, and he's stronger. He's playing with more confidence. I really like the offseason that Jermichael has put together so far." Later that day in the locker room, Finley spoke briefly with reporters. The main interview topic was McCarthy's positive assessment of him, but Finley even seemed cautious with his responses to that. "It's good to hear," Finley said. "I feel good. Moving well right now and real confident in my play. It's only minicamp right now. I like to hear that from him, but it's minicamp." Given that McCarthy mentioned Finley's added weight, the question was posed as to just how much weight it was. Finley avoided a firm responses. Twice. "I feel good; That's all I can say," Finley said. "I put on some weight, I'm moving well and I appreciate Coach for the confidence." A couple minutes later, Finley still had his guard up when asked again. "My weight is at me feeling good and moving fast and physical, feeling healthy," Finley said. Weight is not typically a touchy subject for NFL players. Most will discuss it without hesitation. It's not a secret. When the team and the league updates his player information, weight will be one of the top items. Yet, Finley wouldn't get into it, even when McCarthy viewed it in a positive light. This should come as a welcomed relief to Packers fans, many of whom have turned on Finley over the years. Whether it was Finley's post-catch celebrations, his dropped passes or his sometimes brash statements, fans were tired of it all. Even though Finley broke the franchise record in 2012 for most catches by a tight end, it didn't appear to matter to most of the people who packed the stands at Lambeau Field. At the moment, Finley seems to care only about his performance on the field. Sure, he might be thinking about the fact that he's in the last year of his current contract with Green Bay and will be a free agent next offseason, but a lucrative deal won't be waiting for him then without having an impactful season first. Finley used to talk openly about his desire to be mentioned in the same breath as elite tight ends like Rob Gronkowski, Jimmy Graham and Vernon Davis. It's not that Finley doesn't still want that, but he's approaching it much differently. "No goal," Finley said. "If I play my style of ball, everything else will fall in place and take care of itself at the end of it." This is a new world that Finley is living in. It's a new challenge for him. The regular season is three months away and a lot can happen to change this new attitude between then and the playoffs. But, at least for now, it's working. "I feel strong right now; healthy," Finley said. "I feel confident. I'm just excited." Follow Paul Imig on Twitter
Original Story:
http://www.foxsportswisconsin.com/nfl...
THE BACKYARD
BEST OF MAXIM
RELATED ARTICLES
PACKER FOR LIFE
Despite a previously rocky relationship, Brett Favre lately has gone out of his way to praise his quarterbacking successor for the Packers, Aaron Rodgers.
GREEN BAY, Wis. Terrell Manning was told not to worry. Multiple visits to the Green Bay Packers' training room during the 2012 preseason revealed that the rookie inside linebacker simply had a stomach ache. Weeks went by with Manning sleeping less than two hours per day, spending most of his nights confined to the restroom. When his pain reached an excruciating level, Manning...
Join our own Marques Eversoll (@MJEversoll), Jason Perone (@JasonPerone) and Kris Burke (@KrisLBurke) as we talk about the latest Packers happenings and interview rookie running back Johnathan Franklin. We'll be chatting about the draft and his experience as a Packer so far.  Tune in! Join the writers at AllGreenBayPackers.com for a fast hitting discussion of all things Packers...
Gilbert Pena, the Packers' 26-year-old rookie defensive tackle, gave up football and school for four years to be with his cancer-stricken mom. She's beaten the cancer and now Pena hopes to beat the odds as an undrafted free agent.
Green Bay Packers legend Brett Favre is putting the past behind him as he mends fences with the club that he made magic with.   Please click here to read this story & listen to Favre's entire interview. The post Brett Favre: Aaron Rodgers will shatter everything I did appeared first on Players View.
Matthew Mulligan was devastated when he was surprisingly released by St. Louis. That disappointment turned into elation when he was signed by the Packers. Rather than catch passes, Mulligan relishes doing "the dirty work that nobody else wants" to do.
Brett Favre and the Green Bay Packers continue to inch closer to burying the hatchet. There has always been a noticeable amount of tension between Favre and Aaron Rodgers since the Packers decided to commit to the former Cal star as their quarterback of the future, but it appears the Ole Gunslinger is even ready [...]
Brett Favre hasn't just buried the hatchet. He's dug a hole so deep for said hatchet that it looks like it won't ever come back. Favre has made efforts recently to put himself back in the good graces of the Packers family, including taking blame for his split with the team. The Packers have also said they want to patch things up. Now Favre, who's had his share of uncomfortable...
No defensive lineman on the Packers' roster stands taller than 6-foot-4 first-round draft pick Datone Jones. His height was a weapon in high school and college and could be in the NFL in two playmaking areas the Packers sorely need a boost.
I think Favre has done a good job of mending the relationship that he once had with the Green Bay Packers organization. After even going on record and admitting that he was at fault for the rift between the two sides, you had to know things would start looking up. So when Favre comes out [...]
NFL News

Delivered to your inbox

You'll also receive Yardbarker's daily Top 10, featuring the best sports stories from around the web. Customize your newsletter to get articles on your favorite sports and teams. And the best part? It's free!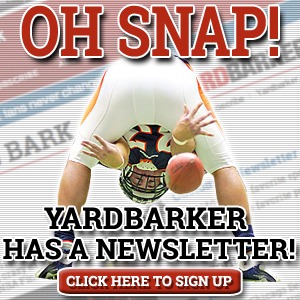 Latest Rumors
The Backyard

Today's Best Stuff

For Bloggers

Join the Yardbarker Network for more promotion, traffic, and money.

Company Info

Help

What is Yardbarker?

Yardbarker is the largest network of sports blogs and pro athlete blogs on the web. This site is the hub of the Yardbarker Network, where our editors and algorithms curate the best sports content from our network and beyond.