Found September 21, 2012 on 60 Max Power O:
The following article is a guest contribution by Benjamin Haynes, Esq.   Haynes is a former Division 1 Basketball Player at Oral Roberts University and currently practices law in the State of Florida.
A week ago, the Green Bay Packers dominated the Chicago Bears in a 23-10 win. The Bears quarterback, Jay Cutler, had an atrocious game throwing only 11 for 27 with 4 interceptions. During that game, Cutler shoved and yelled at teammate J'Marcus Webb on the sideline during the loss. Cutler was sacked seven times during the game and was visibly frustrated.
The following day, Blake Baratz , Jermichael Finley's (of the Green Bay Packers) agent, tweeted the following:
"Jay Cutler, u serious in ur press conf last night?U sound like a 6 yr old who just had his animal crackers taken. Quit being a [expletive], own up,"
Baratz added,
"There's a major difference & drop off in leadership from Manning, Brees, Brady, to the next best QB's in the league. Cutler doesn't get it."
After a reading of the list of quarterbacks named off by Baratz, it was then asked why Baratz left his client's quarterback, Aaron Rodgers, off of the list. Baratz tweeted his reply:
"ARod is a great QB he isn't a great leader. There's a major difference. Leaders take the blame & make every1 better. He doesn't."
While it is understandable that Baratz would take a shot at Cutler after Cutler's performance, Baratz could potentially have placed his client in a bad situation with his comments on Aaron Rodgers. Why would Baratz take an unprovoked shot at Rodgers? It would be more understandable if an agent were voicing his frustrations had Aaron not thrown his client the ball all game, but Aaron found Jermichael Finley four times during the Thursday night match up for a total of 26 yards. Those four catches attributed to almost 20% of Rodgers' completions that evening. Further, the Packers won the game.
On Tuesday, Baratz responded to complaints and justified his tweets:
"Last comment on Twitter Frenzy: 1) I apologize 2 @jermichaelf88 because he had nothing 2 do w MY comments or opinions. I understand the power of social media and how it can be taken in & out of context. Again, I will apologize for that.

"I will always own up 2 my own opinions, I have no reason 2 hide from them, but please always understand, they're mine & mine only."
It isn't likely that Jermichael will just look over this issue. In June, Jermichael stressed the importance of having a good relationship with his quarterback. He was quoted in the Milwaukee Journal Sentinel saying, "Having chemistry with your quarterback is a big key to success." Now, there could be some unwarranted tension between the tight end and his quarterback.
Baratz has a duty to help his client with his career, not hurt it.  Rodgers could very well be thinking that Jermichael was complaining to Baratz and Baratz was just voicing Jermichael's thoughts. Further, even if Jermichael was voicing frustrations to Baratz, it is Baratz responsibility as Jermichael's agent to keep those discussions confidential. As an agent, Baratz should know that if he is frustrated, not to open up the all-too-accessible Twitter application on his phone and start voicing opinions. It is unwise and has the potential to hurt his client in a significant way.
Jermichael Finley's Agent Takes Jab at Aaron Rodgers Via Twitter from Sports Agent Blog - Sports Business, Sports Law, Sports Negotiations, NCAA Rules
Check out other great articles at sportsagentblog.com.
Original Story:
http://www.60maxpowero.com/patriots/c...
THE BACKYARD
BEST OF MAXIM
RELATED ARTICLES
GREEN BAY, Wis. -- Packers coach Mike McCarthy called it "ignorant." Quarterback Aaron Rodgers said it was "silly." But tight end Jermichael Finley, whose agent, Blake Baratz, recently made negative statements about Rodgers' leadership abilities, had no issue with it."I wasn't upset at all," Finley said at his locker on Thursday. "He (Baratz...
The day will soon come when Brett Favre and the Packers decide to play nice. The way their relationship ended was obviously less than ideal, but time heals all. When you consider the fact that Favre played 16 seasons with the Packers and brought Green Bay a Super Bowl, it would be crazy to think the feud will last forever. During a recent interview with ESPN's Mike Tirico, Favre...
GREEN BAY, Wis. -- Penalties, dropped passes, missed throws and turnovers have all contributed to the Packers' struggles on offense through two games this season. After the incredible year that Green Bay's offense had in 2011, quarterback Aaron Rodgers and the rest of the group just don't look the same right now.It's only two games and the regular season is far from...
GREEN BAY, Wis. -- Though Packers wide receiver Greg Jennings practiced in full pads on Tuesday, it did not go well. After having Wednesday off, Jennings, who missed Green Bay's Week 2 win over the Bears with a groin injury, did not participate at all in the team's Thursday practice."Maybe we were a little bit too optimistic," coach Mike McCarthy said of Jennings...
Greg Jennings missed the Packers win against the Bears last Thursday due to a groin injury, and has been hampered by the injury in the week leading up to Monday's game against the Seahawks. That being said, coach McCarthy acknowledged that he saw a "big jump" in Jennings health in Saturday's practice and is optimistic that his top wide receiver will take the field in Seattle...
GREEN BAY, Wis. -- When Packers quarterback Aaron Rodgers first got to his locker on Thursday for his weekly interview with the media, the NFL MVP faced multiple questions about his leadership and the negative comments made by Blake Baratz, the agent for Jermichael Finley. Rodgers' response to all of that can be found in detail in this story.But once all of that was settled,...
The Packers hoped Pro Bowl wide receiver Greg Jennings would practice on Thursday. Instead, he remained a spectator after a rehab workout didn't go as well as hoped. Plus, injury reports and much more from Thursday.
Deion is better rapper Juan… Clay Mathews if off to a monster start this season with 6 sacks on the season already.  The Packers defense make a nice start this week against rookie QB Russell Wilson, even if the Seahawks have one of the best home field advantages in the NFL.  Check out Jockstagram.com for the best pictures of Athletes all in one place. Get Right Defenses Practice...
Packers News

Delivered to your inbox

You'll also receive Yardbarker's daily Top 10, featuring the best sports stories from around the web. Customize your newsletter to get articles on your favorite sports and teams. And the best part? It's free!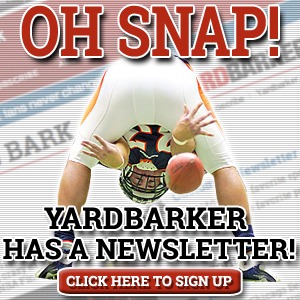 Latest Rumors
The Backyard

Today's Best Stuff

For Bloggers

Join the Yardbarker Network for more promotion, traffic, and money.

Company Info

Help

What is Yardbarker?

Yardbarker is the largest network of sports blogs and pro athlete blogs on the web. This site is the hub of the Yardbarker Network, where our editors and algorithms curate the best sports content from our network and beyond.