Found March 17, 2012 on Fox Sports Southwest:
PLAYERS:
Jerry Jones
,
Brandon Carr
,
Deion Sanders
,
Cortland Finnegan
,
Rob Ryan
,
Orlando Scandrick
,
Terence Newman
,
Frank Walker
,
Calvin Johnson
,
Mike Jenkins
,
Kyle Orton
,
Tony Romo
,
Jay Cutler
,
Mackenzy Bernadeau
,
Nate Livings
,
Kyle Kosier
,
Tyron Smith
,
Doug Free
,
Dan Connor
,
Bruce Carter
,
Sean Lee
,
Brodney Pool
TEAMS:
Dallas Cowboys
,
Detroit Lions
,
Tennessee Titans
,
St. Louis Rams
,
Philadelphia Eagles
,
Chicago Bears
,
Carolina Panthers
,
Cincinnati Bengals
,
Green Bay Packers
,
New York Giants
,
Kansas City Chiefs
,
Penn State Nittany Lions
Dallas Cowboys owner Jerry Jones finally issued a heartfelt apology to his organization's loyal fan base. It came in the form of several free-agent signings that could be viewed as an admission the Cowboys desperately needed more talent to compete for a playoff spot. When we last heard from Jones during the NFL Combine, he said his team was talented enough to compete for a Super Bowl. This brought down the house until folks realized he was serious. His rationale was the Green Bay Packers and New York Giants won the Super Bowl the past two years by getting hot at the right time. Of course, Jones left out the part about the Cowboys having gaping holes throughout their roster. But this past week, the Cowboys showed a sense of urgency in free agency we haven't seen in years. There appeared to be an actual plan in place, the centerpiece being Kansas City Chiefs cornerback Brandon Carr. Jones and a delegation of Cowboys coaches flew to Kansas City immediately to pick up Carr and then took him to Cowboys Stadium, where they played highlights of the cornerback on the massive video board. This was the college recruiting trip that Carr never took when he ended up at Division II Grand Valley (Mich.) State. The Cowboys also had a built-in advantage. "I grew up a Cowboys fan," Carr on Thursday told 103.3 FM-KESN. "The very first uniform, Christmas . . . my parents bought me a Cowboys outfit with the helmet, and my cousin had Detroit Lions and we used to go at it one-on-one in the backyard until the sun went down, even in the snow. The Cowboys are the team that I grew up watching. Deion Sanders I used to idolize him . . . try to do his dance and show some flash like him in the playground playing with my friends. "So once I saw that the Cowboys were interested and the interest level and everything was real, you see the reports in the paper and stuff like that, but until you actually hear it, I said, Man, this is the place I could see myself being, so let's see what this holds,' and I came away signed on the dotted line and I'm a Dallas Cowboy." Carr received 26.5 million in guaranteed money from the Cowboys, which is about what the St. Louis Rams paid former Tennessee Titans cornerback Cortland Finnegan. At 26, Carr is two years younger than Finnegan and he's excellent in press man coverage, which is preferred by Cowboys defensive coordinator Rob Ryan. Carr's not able to move inside and cover the slot receiver like Finnegan does, but the Cowboys already have a highly paid nickel corner, Orlando Scandrick. Though he had a good run with the Cowboys, Terence Newman's nagging injuries have undermined this team's pass defense the past few years. The club did a poor job of developing quality depth at the position, forcing it to bring in vagabonds such as Frank Walker just to get through the season. Carr didn't show up in Kansas City with hat in hand. But the Chiefs' head coach at the time, Herm Edwards, didn't waste any time getting Carr into the starting lineup. Edwards, who was a big, physical cornerback for the Philadelphia Eagles, felt like Carr had the perfect size and strength to intimidate wide receivers at the line of scrimmage. And if you watched Carr line up across from Detroit's Calvin Johnson last season, you know he did a nice job of redirecting some of his routes. Johnson caught only three passes for 29 yards in that game, although two of them were for touchdowns. But don't dwell on that last part. "He's a big, fast corner with a bunch of starts under his belt," said an AFC coach who asked not to be identified. "He got better every year. Brandon's gained a lot of confidence each year making plays on the ball. He's not naturally a tough or gritty player but adequate in that area. He can run with anyone. He just needs to use his size and strength more at the line of scrimmage." The Cowboys also love Carr's durability. He's started all 64 games of his NFL career. That's a refreshing number when you've watched how many games Cowboys cornerbacks have missed because of injury. The player who will be starting opposite Carr, Mike Jenkins, showed a willingness to play through a painful shoulder injury last season. And Carr's eager to work with his new teammates. "I watched them some," Carr said. "I watched them act, the different players and coaches, how those guys act, how their personalities are, but the feedback I got was good and everything I saw on film was guys, young guys with a lot of ability. We have a whole offseason to fine tune some things and really get after it, but those guys can make plays. They're going to push me to that next level, and hopefully I can push them to that next level as well." Carr was the big-ticket item, but the Cowboys also added quality depth at other positions. The signing of Kyle Orton to back up Tony Romo was universally praised, although the 5.9 million Orton's reportedly being paid in the first year of the contract seems a bit steep. But if you saw what happened to the Chicago Bears' 2011 season once Jay Cutler was injured, it makes a little more sense. Romo has suffered injuries in three of the past four seasons, so having a quality backup such as Orton is a smart move. "He's got size and a solid arm, but limitations in mobility," said a veteran AFC scout. "No one has ever raved about him as a leader or it factor' guy, but he's a good option as a backup for sure." The Cowboys also signed guards Mackenzy Bernadeau (Carolina Panthers) and Nate Livings (Cincinnati Bengals). Livings, 30, has started more games, but there's a belief that Bernadeau, at 26, has a higher upside. It looks as if the Cowboys will part ways with Kyle Kosier, who's been one of their most consistent blockers for years. With Bernadeau and Livings being paid starter money, the massive overhaul of the offensive line continues. Tyron Smith will move to left tackle and Doug Free will return to the right side. Free's now the elder statesman of the group, having joined the Cowboys in 2007. The signing of former Panthers inside linebacker Dan Connor is also about creating depth. If Dallas' 2011 second-round pick, Bruce Carter, isn't ready to seize the starting role, Connor's not a bad option. He's struggled in coverage at times, but scouts have indicated he showed improvement in that area last season. He would be playing next to former Penn State teammate Sean Lee. The weakest link of the free-agent class is probably safety Brodney Pool, who's basically a 1.2 million stop-gap player for one season in case Dallas doesn't find someone in the draft. But overall, the Cowboys have accomplished a lot the past few days. As far as apologies go to a frustrated fan base, Jones could've done a lot worse.
Original Story:
http://www.foxsportssouthwest.com/03/...
THE BACKYARD
BEST OF MAXIM
RELATED ARTICLES
Brandon Carr is the new cornerback for the Dallas Cowboys. This post is not a complaint about the Dallas Cowboys free agents signed so far. They generally make sense and have filled some needs on both sides of the ball. The money involved is what does not make quite as much sense. Jerry can spend his money how he chooses, of course, but it is everyone's business how much salary...
Most expect the Cowboys to release guard Kyle Kosier. With the Cowboys signing guards Mackenzy Bernadeau and Nate Livings, the writing is on the wall for Kyle Kosier. The Cowboys will release him this week. He leaves Dallas after not having played in a single Pro Bowl. Once upon a time, the Cowboys signed Kosier to replace a lineman who had made 10 Pro Bowls as a Cowboy. Fortunately...
I've been very fond of Bradie James for years now. You would often find me screaming, "I love me some Bradie" or simply "BRADDDIIIEEEE" during games and game chats. Learning that the Cowboys issued a newly signed player the #56, really hurts. Bradie hasn't even been released or moved on to another team yet. I understand the business, but I dont have to like it. Bradie...
The Cowboys acquired Deion Sanders by giving him a 7-year, $35 million contract in 1995. Few big-name cornerbacks in Dallas Cowboys history have arrived either through trades or through free agency. Brandon Carr is among a small handful of corners who have made headlines by signing with Dallas. Here are quotes focusing on three of the big-name acquisitions at cornerback. No...
Despite another disappointing, middle-of-the-road finish at 8–8, despite missing the playoffs for the third time in four years, despite boasting a roster of very few defensive stars and more than a few offensive underachievers, Dallas Cowboys owner Jerry Jones has remained optimistic, saying that he expected his team to be a Super Bowl contender in the 2012–13 campaign...
The NFL offseason is now cruising by at a rapid pace. The news brings new developments on a seemingly daily basis, and I have been scolded by many of my readers for not weighing in each day on the developments. I do, but usually do so on twitter (@sportssturm) and can only break out full-length blogs when time permits. And guess what? Today, time permits. So, let's catch up by...
According to Jason LaCanfora of the NFL Network, the Dallas Cowboys signed former Bengals offensive lineman Nate Livings to a five-year, $19 million deal with $6.2 million guaranteed. The Cowboys also decided to part ways with veteran guard Kyle Kosier, with the addition of Livings.
IRVING, Texas (AP) -- The Dallas Cowboys have signed free-agent guard Nate Livings to a five-year contract. Livings joined the Cincinnati Bengals as an undrafted rookie free agent in 2006. He played in his first regular-season game in 2008 and has 47 starts in 52 career games. The Cowboys announced the deal on Friday.
The Dallas Cowboys signed offensive lineman Nate Livings to a five-year contract. The deal is worth a reported $19 million, including $6.2 million guaranteed. Livings, who turned 30 Friday, has started all 32 games in the past two seasons for the Cincinnati Bengals.
The Dallas Cowboys have reached an agreement with former Cincinnati Bengals guard Nate Livings.  The deal is a 5 year, $19 million dollar contract which includes  $6.2 million guaranteed.
According to ESPN NFL Insider Adam Schefter, the Dallas Cowboys have agreed to terms with former offensive guard Nate Livings after visiting the team on Thursday. The five-year deal is worth $19 million with $6.2 million guaranteed. And despite losing another free agent, and despite the fact Cincinnati hasn't signed a free agent on the market since Tuesday, I can't possibly...
NFL News

Delivered to your inbox

You'll also receive Yardbarker's daily Top 10, featuring the best sports stories from around the web. Customize your newsletter to get articles on your favorite sports and teams. And the best part? It's free!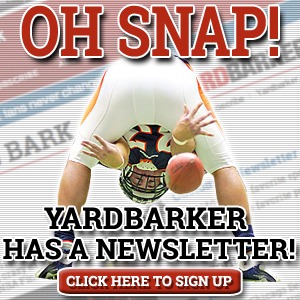 Latest Rumors
The Backyard

Today's Best Stuff

For Bloggers

Join the Yardbarker Network for more promotion, traffic, and money.

Company Info

Help

What is Yardbarker?

Yardbarker is the largest network of sports blogs and pro athlete blogs on the web. This site is the hub of the Yardbarker Network, where our editors and algorithms curate the best sports content from our network and beyond.