Found January 08, 2013 on Fox Sports Southwest:
PLAYERS:
Rob Ryan
,
Jason Garrett
,
Ernie Sims
,
Brady Poppinga
,
Lovie Smith
,
Norv Turner
,
Mike Holmgren
,
Tony Romo
TEAMS:
Dallas Cowboys
,
Arizona Cardinals
,
Chicago Bears
,
San Diego Chargers
Apparently when Jerry Jones vowed last week to make things uncomfortable at Valley Ranch, he wasn't kidding. Running backs coach Skip Peete was the first man overboard Monday, but the Cowboys followed that by firing defensive coordinator Rob Ryan on Tuesday. With his next firing, Jones could aim even higher. There is absolutely nothing to suggest that head coach Jason Garrett should feel comfortable about returning for a third full season as head coach. Jones disappeared immediately after vowing to make changes last week. It was a telling sign that he didn't attend the Cotton Bowl game between Texas A&M and Oklahoma at Cowboys Stadium because he normally would love basking in that scene. It would not surprise me at all to hear that offensive coordinatoroffensive line coach Bill Callahan is also gone in the coming days. And once Jerry decides to wipe out Garrett's offensive assistants, what's the point in keeping Jason? But first things first, the demise of Ryan might sound unfair on the surface but it shouldn't come as a surprise. Yes, he was coaching a defense down the stretch that was missing five starters and a nickel cornerback. He did a nice job of incorporating new players such as linebackers Ernie Sims and Brady Poppinga on the fly. But when he had most of his starters early in the season, there were still too many breakdowns. You saw the Cowboys' defense called for having 12 players on a weekly basis. And sometimes he might only have nine or 10 on the field. Last season, Ryan had the excuse of not having an offseason with his players. There were numerous communication breakdowns. That was supposed to change this season, but it never did. Ryan also had an embarrassing situation in Cincinnati in which he was flagged 15 yards for walking on the field to curse at a Bengals offensive tackle. Ryan was much more entertaining than the robotic Garrett, but the production of his defense never matched his bluster. And he was in rare form Tuesday after finding out of his dismissal. "I inherited a team that was 31st in the league in defense and made them better," Ryan said while confirming his firing to ESPNDallas.com. "I (expletive) made them a hell of a lot better. I'll be out of work for like five minutes." Well, we'll have to see about that. Perhaps his twin brother Rex will provide sanctuary with the Jets. Ryan did have a great relationship with his players, but they haven't earned the right to complain too loudly about a firing. Jones could turn to former Cowboys player Ray Horton, who's spent the past two seasons as the Arizona Cardinals' defensive coordinator. Or he could look to native Texan Lovie Smith. But for now, he has decide what to do with his head coach. If Garrett stays, it feels like he would simply be a figure-head for an ownergeneral manager intent on going a different direction. Perhaps Jerry's giving Garrett an opportunity right now to see if there's interest from any other teams. He desperately wanted this to work with Garrett, but it had to sting to hear former Cowboys coach Jimmy Johnson talk about a "country club" atmosphere at Valley Ranch. There's talk that Jones might attempt to bring in Norv Turner as offensive coordinator. And Turner would want to bring some of his own position coaches. If Jerry's willing to give Turner that type of power, he should go ahead and fire Garrett. That would be ridiculous to fire most of Garrett's hand-picked assistants and then allow him to remain head coach. It's way too early to know if this is the correct path for the Cowboys, but at least Jones is following through on his promise. In the past, he has taken comfort in the Cowboys being close to making the playoffs. So who would Jerry hire to replace Garrett? The most obvious answer would be his longtime friend Mike Holmgren, who has made it clear that he's interested in coaching again. And at one point, it was reported by ESPN that Holmgren would only accept a head-coaching position with the Cowboys. He's since expanded that scope, but it's easy to imagine him at Valley Ranch working with quarterback Tony Romo, who grew up idolizing Holmgren's quarterback with the Packers. At this point, no one at Valley Ranch is safe. That is, except for Jerry.
Original Story:
http://www.foxsportssouthwest.com/01/...
THE BACKYARD
BEST OF MAXIM
RELATED ARTICLES
Well, see ya later Why did Jerry Jones fire Rob Ryan? After the season was over, Jones famously said that things were going to be uncomfortable around Valley Ranch. He promised, in so many words, significant change. But why Rob Ryan? Sure, the defense was porous and played poorly. But Ryan had to assemble a team that excluded as many as seven of his starters. The team's top tackler...
The Dallas Cowboys' failure to make the playoffs cost Rob Ryan his job, as the defensive coordinator was fired Tuesday, according to multiple media reports. "I inherited a team that was 31st in the league in defense and made them better. I (expletive) made them a hell of a lot better. I'll be out of work for like five minutes," Ryan told ESPNDallas. The Cowboys...
The Dallas Cowboys have fired defensive coordinator Rob Ryan. Ryan's firing was not entirely unexpected as team owner Jerry Jones promised to make things "very uncomfortable for the next few weeks and months at Valley Ranch." Ryan had served as the Cowboys defensive coordinator for the last two seasons. He had one year left on his contract. "I inherited a team that was 31st...
Jerry Jones promised changes last week and the Cowboys owner delivered Tuesday by firing defensive coordinator Rob Ryan. Was it the right change? Looking at all the facts and numbers and knowing the Cowboys' biggest weaknesses the firing of Ryan smells like a case of merely making a change for change's sake. That's usually the worst reason to make a franchise-altering...
The pain of a 28-18 season-ending loss and a very average 8-8 season still a fresh wound, Dallas Cowboys owner Jerry Jones said three days after the disappointment in Washington that things were going to get "very uncomfortable" at Valley Ranch over the next few weeks.The news Monday of the firing of running backs coach Skip Peete stunned nobody and hardly registered on...
The Dallas Cowboys have fired defensive coordinator Rob Ryan, sources have told FOXSports.com.
The Cowboys fired another assistant coach, and this time its defensive coordinator Rob Ryan. This is a move that I wanted to see happen, and one that needed to happen. Fact is, Ryan talked too much and couldn't back it up, nor did he he ever elevate the defense to a top flight defense. Its funny to hear that his defense was exotic and aggressive – it was not. How many times did...
When Rob Ryan joined the Cowboys' coaching staff in 2011, he was expected to fix what was then the NFL's second-worst defense. The complete defensive transformation that owner Jerry Jones expected when hiring Ryan didn't exactly take place during his two years in Dallas, but the progress made can't be denied upon his exit. Ryan was fired on Monday night, as the Cowboys try...
It's not every coordinator firing that KSK bothers to cover, but not every coordinator is Rob Ryan, a man who never stopped rocking, being real or doing eightballs in the first seat of his 1999 Ford Econoline conversion van. This off-season, both Ryan brothers were almost out of jobs, which would have left this a much poorer league for the sake of depravity. That might sit well...
Jerry Jones promised changes were coming to the Dallas Cowboys, and they're starting to trickle in. The Cowboys fired defensive coordinator Rob Ryan on Tuesday, according to ESPN.com. Dallas went 8-8 during the 2012 season. The Cowboys' defense was ranked 19th in total yards, 19th against the pass and 22nd against the run. Ryan is the twin brother of New York Jets head coach...
Dallas Cowboys owner Jerry Jones said in a radio interview last week that there would be some changes coming to the team in the coming weeks. Fans are starting to see some of those changes with defensive coordinator Rob Ryan being fired yesterday. The move comes after the Cowboys finished the season at 8-8 and out of the playoffs once again this season. Ryan's defensive unit struggled...
Not sure if this is out there but I just heard the Cowboys have fired Rob Ryan. Brian Costello (@BrianCoz) January 9, 2013That's how it all started.  Within minutes it had spread like wildfire.  I didn't want to believe it- this man, who held together a respectable defense in the final weeks of the season using walk-on players, had just been fired.This hadn't been...
NFL News

Delivered to your inbox

You'll also receive Yardbarker's daily Top 10, featuring the best sports stories from around the web. Customize your newsletter to get articles on your favorite sports and teams. And the best part? It's free!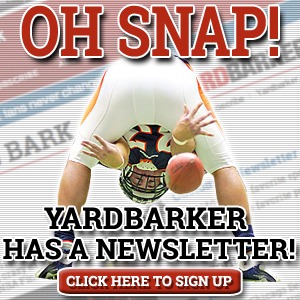 Latest Rumors
The Backyard

Today's Best Stuff

For Bloggers

Join the Yardbarker Network for more promotion, traffic, and money.

Company Info

Help

What is Yardbarker?

Yardbarker is the largest network of sports blogs and pro athlete blogs on the web. This site is the hub of the Yardbarker Network, where our editors and algorithms curate the best sports content from our network and beyond.