Posted May 11, 2013 on AP on Fox
The congratulatory messages flooded Oday Aboushi's Twitter page for a few days after he was drafted by the New York Jets two weeks ago. Many were happy to see the hometown kid from the New York borough of Staten Island starting his NFL career close to his family and friends. It was the other tweets, first dozens and then hundreds, from places such as Dubai and Saudi Arabia that made the enormity of the situation really sink in. As a Palestinian-American, the Jets' offensive lineman is a rarity in the NFL. Aboushi, drafted in the fifth round out after a standout career at the University of Virginia, is one of just a handful of players with that ethnic background. ''People weren't just talking about me being a New York Jet, but being one of the first Arab-Americans, a Palestinian-American, to be drafted. It's settling in now. It's a different feeling, one that I'm embracing and really loving.'' As are Palestinian-Americans around the country. The short list of NFL players with Palestinian backgrounds includes former linebacker Tarek Saleh; former quarterback Gibran Hamdan, who is half Palestinian and half Pakistani; and former defensive lineman Nader Abdallah. ''You don't see many of us in the sport,'' said Aboushi, who signed a four-year deal Friday. ''So for me to kind of break that mold and sort of open the door for other people, and show them that it is possible, it's a great feeling. It's a pleasure for me, an honor, and I'm happy to be able to be that sort of person for people.'' The 6-foot-5, 308-pound Aboushi is the ninth of 10 children born in Brooklyn to Palestinian parents who came to the U.S. from the town of Beit Hanina in the occupied territory of the West Bank. His family, which now resides in Staten Island, includes lawyers, doctors and accountants, but Aboushi might end up being the greatest success story of all. And to some, he already is. ''You can't underestimate what a big deal this is,'' said Linda Sarsour, the executive director of the Arab-American Association of New York. ''When a lot of Americans think of Palestinians, I feel like there are two images. There's either the image of a suicide bomber or an image of some poor refugee in Gaza. There's really nothing in between. ''Oday, being a young Palestinian-American born to Palestinian immigrant parents in New York and gets drafted by the Jets - the dream of every American boy - I think gives a new image to what it is when you think of Palestinian, when you think Arab and when you think Muslim.'' Sarsour, a fellow Palestinian-American, is a long-time friend of Aboushi's family. Sarsour's 14-year-old son, Tamir, has been using a photo of him posing with Aboushi, when the offensive lineman helped Staten Island victims of Superstorm Sandy in December, as his Facebook profile picture. ''He's a role model for young Arab-American and Muslim people who are trying to find their roles in the community, like, who are we and what can we be in this country at this time?'' Sarsour said. ''It has been such a profound experience. There are not many times that we feel like this, unfortunately. I can't remember the last time post-9/11 that I've felt this proud and so triumphant and victorious as when Oday was drafted by the New York Jets.'' Embracing his background, and being celebrated for it, is nothing new for Aboushi. He was one of about a dozen Muslim athletes honored in 2011 at a reception hosted by then-Secretary of State Hillary Rodham Clinton at the State Department in Washington. ''He's not the first of his kind, but what makes him different, to me, is that he's proud of who he is and where he comes from,'' Sarsour said. ''The fact he's proud to say he's Muslim and use a word like `Allah,' which scares a lot of people, and the fact he can't dance around his name - it's Oday Aboushi, not something like Michael Smith - makes him different. He's figured out how to become an All-American football player and how to still be proud of being a Palestinian, and an Arab and a Muslim, and knowing that he is a rising star in a community that needed a rising star.'' Aboushi, who speaks English and Arabic, is a practicing Muslim who went to Xaverian High School, an all-boys Catholic school in Brooklyn - which might seem like a potentially uncomfortable mix. ''It was never an issue,'' he said. ''It really taught me a lot about the two religions. I didn't have to, but I attended the masses out of respect. There's nothing wrong with learning and broadening your horizons. Honestly, besides the football aspect, religion class was actually one of the better aspects of my time at Xaverian.'' At Virginia, the holy month of Ramadan fell during training camp with the football team. As is custom, he fasted from sunrise to sunset, having the school's trainers monitor his health and nutrition. ''There were some days I'd break it, like during two-a-days where you don't want to put your body in harm's way,'' Aboushi said. ''But for the most part, the trainers did a great job with early breakfasts and late dinners.'' Ramadan ends around Aug. 7 this year, about a week into training camp with the Jets, but Aboushi doesn't think it will be an issue for him or the team. He is expected to work mostly at left and right tackle to add depth to the Jets' revamped offensive line, and possibly some at guard. And, through it all, Aboushi will have plenty of people from all over the map rooting him on. ''This is how you build bridges with the rest of the world, an NFL player is the way you do it,'' Sarsour said. ''And I think it's powerful.''
Original Story:
http://msn.foxsports.com/nfl/story/Je...
THE BACKYARD
BEST OF MAXIM
RELATED ARTICLES
The New York Jets haven't had a flashy off-season but that doesn't mean it hasn't been productive. There has been measured progress at a variety of positions but the most notable infusion of talent has occurred at running back. Plodding Shonn Greene was wisely allowed to leave in free agency and in his place the Jets added a duo of backs with immensely high potential, Chris...
Is Tim Tebow being blackballed by the NFL? The short and simple answer is that Tim Tebow is not good enough as a player to be a distraction in the NFL, and the media circus around him is a distraction. There's no question Tim Tebow is one of the biggest media stories as an athlete. Forbes just named him America's most influential athlete. The Onion just named him America...
Chalk up another blow to the Jets' PR image. According to CBSNewYork.com, a white male clad in a Jets jersey (pictured) has been connected to a string of six bank robberies in Manhattan over the last month. Police say the male successfully robbed two banks on Friday, escaping with nearly $13,000 at one and $2,500 at the other. He's also been linked to an April 12 bank...
On Friday, New York Jets head coach Rex Ryan ripped into 2nd year LB Quinton Coples about his lousy work ethic in the weight room, telling reporters that "If Quinton doesn't do a better job in the weight room, then he might have to ... he's gotta compete like anybody else for a job... so, I was disappointed in Q in the weight room in the last day." On Saturday...
The Jets are in rebuilding mode. Once the draft is over and camps start up, fans start looking to the season ahead, and wondering if their team has what it takes to get into the postseason. At the end of last season I didn't think there was any way they were making the playoffs in 2013, but at that time John Idzik wasn't in control. He has turned the team around more...
While the recently drafted rookie class of the Green Bay Packers gathers this weekend to be wowed, dazzled and overwhelmed by all that is the Green 'n' Gold, we thought we'd share an update with you to the story of Steve, our longtime friend and regular reader of Packer Fans United. He said it was OK to publish this latest adventure. So, without further ado...A Packer...
Former New York Jets wide receiver George Sauer died in Westerville, Ohio, this week, the team confirmed Saturday.
Part of the reason why Mark Sanchez struggled so mightily during the 2012 season was the fact that he lost his top target — WR Santonio Holmes — early on in the campaign, and management didn't do a great job of adding other receiving targets behind Holmes in the months prior. Now healthy, Holmes should be of great help to Sanchez (or David Garrard or Geno Smith or Greg McElroy...
With first year offensive coordinator Marty Mornhinweg attempting to change the complexion of a spotty offense, Jets' rookie Geno Smith is working diligently to take command of a West Coast style system.
The New York Jets have enough problems this summer to concern themselves with on the field. Unfortunately, Rex Ryan might have to be on the lookout for more than just a starting quarterback. He might also be recruited to help New York police stop a serial bank robber. An unknown person took to Manhattan on Friday for an afternoon crime spree, according to authorities, hitting...
Welcome to New York, Geno Smith. Late last month, the former West Virginia quarterback fired his agent, Select Sports, after falling to the second round of the NFL draft. Now property of the Jets, Smith is finding that there are perks to being a quarterback in New York City — like being courted by Jay-Z, for one. Early in April, it came out that the rapper-mogul was selling his...
We'll have updates posted here throughout the day. 49ers 49ers sign fourth-round pick DE Quinton Dial to a four-year contract. (Matt Barrows) Jets Jets sign fourth-round pick OT Oday Aboushi to a four-year contract. Jets sign fifth-round pick G William Campbell to a four-year contract. (Rich Cimini) Lions Lions sign first-round pick DE Ziggy Ansah to a four-year...
NFL News

Delivered to your inbox

You'll also receive Yardbarker's daily Top 10, featuring the best sports stories from around the web. Customize your newsletter to get articles on your favorite sports and teams. And the best part? It's free!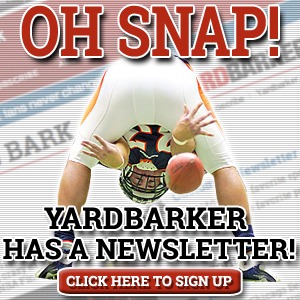 Latest Rumors
The Backyard

Today's Best Stuff

For Bloggers

Join the Yardbarker Network for more promotion, traffic, and money.

Company Info

Help

What is Yardbarker?

Yardbarker is the largest network of sports blogs and pro athlete blogs on the web. This site is the hub of the Yardbarker Network, where our editors and algorithms curate the best sports content from our network and beyond.