Found April 26, 2013 on New York Sports-Kings:
Sheldon Richardson, left, and Dee Milliner, right, are ready for Tom Brady, Images via ESPN.com and DraftInsiders.com With their two first-round draft choices, Nos. 9 and 13 overall,  the New York Jets opted to shore up their defense. At No. 9, they selected Alabama cornerback Dee Milliner to replace Pro Bowl cover man Darrelle Revis, who was dealt to Tampa Bay. At No. 13, the pick they got in exchange for Revis, the Jets grabbed Missouri defensive lineman Sheldon Richardson, who is expected to boost the team's interior pass rush. Both rookies know exactly who they were brought in to deal with: Patriots quarterback Tom Brady. Via USA Today, this is what Milliner  had to say about facing New England's All-Pro passer: "It's always a good challenge to go up against one of the greatest quarterbacks in our division. I'm looking forward to that. Hopefully I get my hands on a couple of his balls and take them back." Get his hands on a couple of Brady's balls? Careful Dee, that's probably a 15-yard penalty and a $20,000 fine. All joke aside, the Jets' other first-round pick was just as eager to make Brady's life a little tougher two Sundays out of the year. Via NFL.com: "Everybody wants a piece of Tom Brady and guys of their stature. They don't get touched a lot, really, or throw picks. So we've got to make him do that." The Jets know who they've got to take down if they want to make waves in the AFC East. And from the sound of it, they just acquired two players who know exactly who public enemy number 1 is when you're a Jet, and what they've got to do to help Gang Green get back into playoff contention.   The post Jets' first-round rookies eager to face Tom Brady appeared first on New York Sports Kings.
Original Story:
http://nysportskings.com/jets-first-r...
THE BACKYARD
BEST OF MAXIM
RELATED ARTICLES
Sound the alarm, Tom Brady might be growing his hair out again!
A few quick thoughts on the New York Jets selection of Alabama cornerback Dee Milliner with the 9th overall pick, along with a few predictions for tonight With the 9th overall pick the New York Jets were preparing to take West Virginia wide receiver Tavon Austin. However, after a somewhat surprising trade-up by the St. Louis Rams to snatch him away (Thanks Buffalo!), the Jets went...
patsfanfotoshop: With the Draft officially here, I can not wait to see Tom Brady and Danny Amendola together this season.
With the 13th pick in the 2013 NFL Draft, the New York Jets selected Missouri Defensive Tackle Sheldon Richardson. While this move seemed to have many fans, analysts, and spectators confused considering the overall depth on the defensive line, along with the immense amount of holes throughout the roster, Jets General Manager John Idzik was adamant in his draft approach of selecting...
Well, it's the draft, and the Patriots are trying to acquire more picks. So, after locking up Tom Brady long-term, why not try to cash in for the QB prospect they spent a third round pick on two years ago? Ryan Mallet is on the trade block, and the Patriots are looking for either a second or first round pick. With a draft that's been touted as one of the worst for QBs in...
Nick Saban isn't a man with much patience for the media. He comes from the Bill Belichick coaching tree, so that isn't overly surprising. The Alabama coach didn't take kindly to the media prodding him with questions and statements after cornerback Dee Milliner was selected 9th overall by the New York Jets in Thursday night's first round of the NFL Draft. Most of them were...
Dobson was one of the highest ranked Wide Receiver prospects, and the Patriots now get their guy to replace Brandon Lloyd He is a bigger receiver to maybe finally give Tom Brady someone to throw the ball up to on the outside. Dobson is 6-3 and from Marshall. Remind you of anyone? (Randy Moss was 6-4 out of Marshall). He is also known for having great hands. Mike Mayock did say...
Day 1 of the 2013 NFL Draft had many Jet fans feeling "meh." The selections of CB Dee Milliner and DT Sheldon Richardson were met with mixed reactions, and questions as to why the Jets went with two defensive players in the first. "Is Rex Ryan still running the show?" Day 2 helped bring together the picture of the new regime. John Idzik and his associates...
Of the allotted time given to the Patriots for draft preparations, they opted to spend a good majority of it looking at potential weapons for Tom Brady. The Patriots spent roughly 25% of the time they were given to looking into wide receiver options. After losing Wes Welker to the Denver Broncos and Brandon Lloyd due to his inability to be a normal human being, the Patriots see...
Detroit Lions5th Overall SelectionZiggy AnsahDefensive EndBrigham Young6'5", 271 poundsAnsah was a needs selection as the Detroit Lions lost both of their defensive ends Avril (Seahawks) and Vanden Bosch (released). Ansah has good speed and has a assortment of power moves to get past opposing offensive lines.  The hard part for Ziggy Ansah, will be the constant comparison...
Could the 'no-ring circus' laughingstock of the National Football League actually be starting (using that term loosely) to look like a real football team again? Of course, I don't need to preface the above statement for you to know who I'm talking about. The New York Jets made some bold moves in the first round of the draft. Dee Milliner—the Jets first pick, drafted 9th...
NFL News

Delivered to your inbox

You'll also receive Yardbarker's daily Top 10, featuring the best sports stories from around the web. Customize your newsletter to get articles on your favorite sports and teams. And the best part? It's free!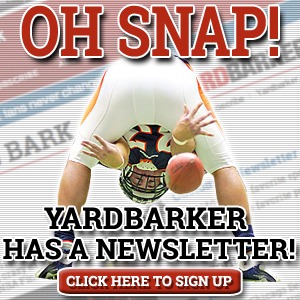 Latest Rumors
Best of Yardbarker

Today's Best Stuff

For Bloggers

Join the Yardbarker Network for more promotion, traffic, and money.

Company Info

Help

What is Yardbarker?

Yardbarker is the largest network of sports blogs and pro athlete blogs on the web. This site is the hub of the Yardbarker Network, where our editors and algorithms curate the best sports content from our network and beyond.