Found May 31, 2012 on Down and Distance:
In a recent interview with the 49ers head coach Jim Harbaugh, Harbaugh had some interesting comments when the subject of the niners' pursuing former free agent Peyton Manning came up.
"It's an erroneous perception that we were flirting with Peyton Manning," Harbaugh said. "I keep hearing that over and over again. It's silly, and it's untrue. It's phony. Even the perception that we were pursuing him … we were evaluating him."
Everyone that believes that stand on your head… It's obvious that this little attempt of kicking the event under the rug was all because Harbuagh wanted to solidify Alex Smith's role. In case you don't remember, earlier this off-season, Alex Smith had a little dispute with the niners' in which he was unhappy with the original deal offered and even more upset at the fact that the team was said to be pursing free-agent Peyton Manning. After all was
said and done, Smith got his money and the 49ers backed off of Manning. All was well in San Francisco… Right?
Ever since that contract dispute, people have been questioning if the 49ers are truly committed to Smith. The main argument that the niners' aren't commited to Smith is the pursuit of Peyton Manning. The former Colt was the center of attention for this off-seasons free agent period. It seemed like everyone wanted a look at Manning, especially teams that didn't have a dignified franchise quarterback. So why were the 49ers spotted watching Manning work out at Duke? For the same reason the Jaguars, Dolphins and other teams did, Manning would improve their team at the quarterback position. Sorry Alex Smith, but any team would put you on the bench to start a future hall of famer who shows the will to continue winning.
It seems that Smith thinks that he single handedly led his team to the NFC Championship game. Alex Smith finished 19th in passing yards for 2011 and 9th in QB Rating. Those aren't exactly big money stats… Smith, your defense didn't allow a rushing touchdown through 14 games! That's unheard of! Take away your elite defense, and you probably wouldn't have even been in the playoffs. But, put Peyton Manning in your place with that elite defense, and the 49ers would have probably have been hoisting high the Lombardi Trophy back in February. So the niners' pursuing Peyton Manning wasn't betrayal, it just made since.
To say the least, it was a bit of a mess, and now it's trying to be swept under the rug by Harbaugh. It's just not that easy, nobodies fooled by this failed attempt to make Smith feel like he's wanted. Harbaugh would have loved to have Manning on his team, but he has had to settle for Smith. I understand  that you want Alex Smith to feel confident in his role, but throwing out lies to the media isn't the answer. He needs to get out there and get ready for the upcoming season. Let Smith show HIM that he deserves the respect he's asking for.
Original Story:
http://sports-kings.com/downanddistan...
THE BACKYARD
BEST OF MAXIM
RELATED ARTICLES
I've heard coaches stretch the truth, avoid questions they don't want to answer and even "interpret" a question differently in order to give the response they want but it always bothers me when a coach just flat out lies to the media.San Francisco 49ers' head coach Jim Harbaugh addressed what he called an "erroneous perception that we were flirting with Peyton Manning...
Jim Harbaugh came out today and just flat out lied, saying that the 49ers had Alex Smith in their plans all along. He claimed that they were never really trying to replace him with Peyton Manning, just exploring their options. Hm. I can't say I believe any of that. In fact, I would go so far as to say that I'm 100 percent sure that every bit of what Jim Harbaugh said on this...
It's confirmed: Jim Harbaugh could sell a ketchup popsicle to a woman in white gloves. Or at least he'd try to if it was in the best interest of his football team. The 49ers coach spoke to the media on Wednesday and attempted to spin the reports that said the team pursued Peyton Manning in March. "There's a perception out there, and it's an erroneous perception, that...
San Francisco head coach Jim Harbaugh claimed Wednesday afternoon that the 49ers never considered pursuing future Hall of Fame quarterback Peyton Manning when he was a free agent this winter. Prior to signing a five-year contract worth $96 million with … Continue reading →
The first episode of Hard Knocks will air Tuesday, August 7 at 10 pm ET — Miami Dolphins (@MiamiDolphins) May 29, 2012 So Peyton Manning says no to Dolphins, Broncos and Manning say no to Hard Knocks, and, like love-scorned phoenixes rising from the flames of heartbreak, the two find each other. Don't worry, HBO can't be too sad. They will get to feature a first-time head...
After taking his job as Denver Broncos quarterback, Peyton Manning now has beaten Tim Tebow to the top spot for the best-selling jersey in the NFL.
On Wednesday, two Denver Bronco players — one offensive and one defensive — will be ranked between 41-and-50 on NFL Network's Top 100 Players of 2012, the network has confirmed. The two players will represent the fourth and fifth Broncos to make the list (joining No. 98 Willis McGahee, No. 68 Elvis Dumervil and No. 52 Von Miller). That's a big improvement from 2011, when...
There was a spate of articles in the Star recently about what Peyton is up to. I didn't read them. It felt strange and foreign to overtly ignore news about someone that I cared so much about, a player whose every move was of daily interest to me for more than a decade. At some point, I stopped in and tried to scan one of them, but that felt even more strange. It probably...
In case you haven't been listening to the radio, this is a parody of Gotye's "Somebody I Used To Know." It focuses on a Indianapolis Colts fan and a Denver Broncos fan dealing with the departures of Peyton Manning and Tim Tebow from their team. Can't beat starting your day with a little football humor!
49ers News

Delivered to your inbox

You'll also receive Yardbarker's daily Top 10, featuring the best sports stories from around the web. Customize your newsletter to get articles on your favorite sports and teams. And the best part? It's free!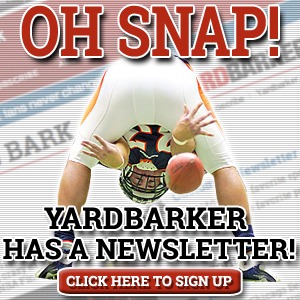 Latest Rumors
The Backyard

Today's Best Stuff

For Bloggers

Join the Yardbarker Network for more promotion, traffic, and money.

Company Info

Help

What is Yardbarker?

Yardbarker is the largest network of sports blogs and pro athlete blogs on the web. This site is the hub of the Yardbarker Network, where our editors and algorithms curate the best sports content from our network and beyond.