Found April 07, 2012 on Pro Football Zone:
The NFL draft is almost upon us and it looks like Indianapolis Colts owner Jim Irsay has given us a hint as to where the Colts mindset is at this point, when it comes to who they might take with the first overall pick. Irsay admitted on Twitter that their sights have always been set on Stanford quarterback Andrew Luck, but they're open to anything.
ColtsFans,roster reshaping exciting n producing a very physical MONSTER!Things have always pointed toward #12 but eval process is OpenMinded — Jim Irsay (@JimIrsay) April 7, 2012
Even though Irsay won't rule out drafting Baylor's Robert Griffin III, Luck is the front-runner at the moment to be the first pick and that'll likely not change.
Original Story:
http://profootballzone.com/indianapol...
THE BACKYARD
BEST OF MAXIM
RELATED ARTICLES
Colts owner Jim Irsay's unannounced decision of his first round pick may have gotten a little easier after Baylor quarterback Robert Griffin III declined to meet with the Colts April 3.   Irsay reveled on Twitter that he was playing the field evenly. He reached out to Robert Griffin III agent Ben Dogra to meet, but he said no. It is unclear if Irsay intended to workout with Griffin...
Every off-season, fans join in with experts to come up with their best idea of how the upcoming draft will turn out. Some try to pick for every team, effectively prognosticating the entire draft outcome, while others will focus just on the picks of their favorite team. No matter which method is used, very few of the picks end up being right for the vast majority of those who...
I've got a nagging feeling that Robert Griffin III may develop into the better overall quarterback than his draft class peer, but, if I'm the Colts it still makes sense to go with Luck rather than what lies behind door #2. I apologize for the bad Luck pun, we were all subjected to it during this season's 'Suck for Luck' campaign, and, we're going to have to put up...
Gary Brackett's story is well known around Indianapolis, but the story you know is only part of an incredible journey from the streets of the projects to football fields of the NFL. I recently spoke with Gary about his book, and after reading it, felt it was imperative to share my thoughts. The book itself is breezy, yet powerful. It is written very much in Brackett'...
Fairly frequently someone asks why the Colts would release Dallas Clark when he may have good years left. It's an easy answer and luckily Nate Dunlevy has already covered that ground: One of the biggest surprises to fans this offseason is the fact that Dallas Clark is still without work. Many have wondered why he hasn't been picked up by anyone. There have been rumors from...
C'mon, Jim Irsay! Pull the trigger on the biggest flip-flop in NFL Draft history by taking Robert Griffin III instead of Andrew Luck. Ruin the license plates that are starting to show up in and around Washington D.C. proclaiming the love for the likely new Redskins QB. Dan Steinberg at D.C. Sports Bog writes that one fan even has Luck plates on reserve just in case Irsay goes insane...
Last week Colts Authority started taking a close look at how the Indianapolis Colts has changed as a franchise. Last week's stories considered all of the pieces that were a part of a string of historical regular season success that have departed Indianapolis and some of the new faces on defense and how they will fit into the team's future. Today, Colts Authority will consider...
At this point in free agency, most of the top names have already been signed to teams to play for in 2012. Still, all nine of these players have the potential to fill a crucial need for your team in 2012 without breaking the bank. 1.Dallas Clark- Not long ago, Dallas Clark was one of the very best tight ends in football. Although I am sure many people would disagree, I still think...
We have been over why the Indianapolis Colts have the first pick in this year's draft, and it is not just because Peyton Manning was hurt.  Check that out here: Indianapolis Colts Draft Review Now the real question, how do they get back on top, and make sure they never have something like this year happen again? Here is my Indianapolis Colts 2012 Mock Draft, and you already know...
Pro Football Weekly (via Paul Kuharsky) says the Colts need receivers badly: The Colts wisely re-signed Reggie Wayne to give Luck a consistent and dependable target, but they need to add another player who can work outside the numbers. Wayne, 33, is not a deep threat at this stage of his career and a field stretcher is sorely needed to keep defenses honest. Following the release...
While hardly a surprise, the Indianapolis Colts are expected to take Stanford quarterback Andrew Luck with the first overall pick of the draft later this month. Although Jim Irsay hasn't said as much, the Colts owner essentially showed his hand to his Twitter followers on Saturday. "ColtsFans, roster reshaping exciting (and) producing a very physical MONSTER! Things have...
NFL News

Delivered to your inbox

You'll also receive Yardbarker's daily Top 10, featuring the best sports stories from around the web. Customize your newsletter to get articles on your favorite sports and teams. And the best part? It's free!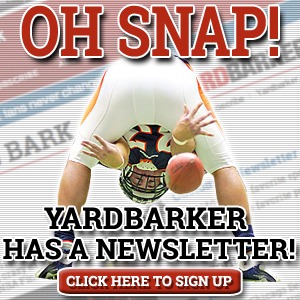 Latest Rumors
Best of Yardbarker

Today's Best Stuff

For Bloggers

Join the Yardbarker Network for more promotion, traffic, and money.

Company Info

Help

What is Yardbarker?

Yardbarker is the largest network of sports blogs and pro athlete blogs on the web. This site is the hub of the Yardbarker Network, where our editors and algorithms curate the best sports content from our network and beyond.