Found March 21, 2012 on Pro Football Zone:
From Pro Football Zone: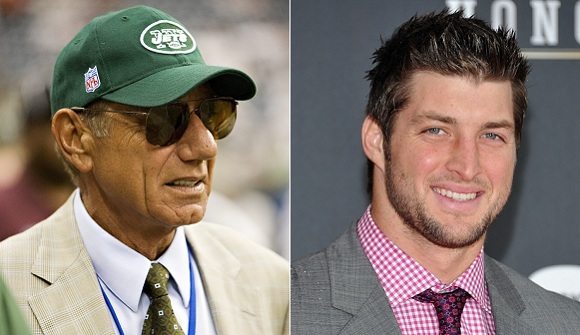 Former New York Jets quarterback Joe Namath can't believe that his former team actually traded for quarterback Tim Tebow.
"I'm just sorry that I can't agree with this situation. I think it's just a publicity stunt. I can't go with it. I think it's wrong," Namath told 1050 ESPN Radio on Wednesday, per NFL.com. "I don't think they know what they're doing over there."
You know things are really bad with the Jets when one of their most famous players of all time believes they don't even know what they're doing.
Also from Pro Football Zone
Jets CB: We don't need Tim Tebow
Jeremy Shockey denies being Saints snitch
Saints coach not handling his suspension well
Original Story:
http://profootballzone.com/nfl/joe-na...
THE BACKYARD
BEST OF MAXIM
AROUND THE WEB
RELATED ARTICLES
Let the Tim Tebow sweepstakes begin.With Peyton Manning supplanting Tebow as Denver's starting quarterback, other teams have discussed acquiring the unconventional Tebow from the Broncos, including the Jacksonville Jaguars, Green Bay Packers, Miami Dolphins and New York Jets, according to an ESPN.com report.Among those teams, one league source categorized the Jets as "a...
Adam Schefter is reporting that the Denver Broncos trade of Tim Tebow to the New York Jets could be nullified based on language within Tebow's contract. The St. Louis Rams could become interested in acquiring Tebow if that happens, Schefter reports.Filed to ESPN (1): Denver and Jets have encountered hangup in language in Tim Tebow's contract that could nullify trade.— Adam...
The New York Jets are considering a deal that would bring Tim Tebow to the Big Apple, according to multiple reports. The Denver Broncos reportedly are looking to part ways with the unconventional quarterback, having signed four-time MVP Peyton Manning. The Star-Ledger and the New York Daily News both reported Tuesday that sources close to the team say the Jets have a "real...
This story originally posted by Chris Chard of 206SportsTalk.com The Big Apple just took an big bite out of some Tebowmania today when, after some confusing negotations, the Denver Broncos released their "God loving, football running, 4th quarter miracle worker" Tim Tebow to the New York Jets earlier. The ex-Florida Gator quarterback had just recently been passed over by John...
A lifelong New York Jets fan made a deathbed prediction last week that his favorite team would get Tim Tebow and then, sadly, passed away. In a cruel twist of fate, Russell Francis, spoke those words to his wife before news broke that Tebow was headed to New York in a trade with the Denver Broncos.  A swap that nobody saw coming, according to The New York Daily News. His family...
OK, so now reports have surfaced that this Tim Tebow to N.Y. deal may die because, of all things, the Jets do not like language in the contract they may or may not have read. So my reaction to this news is more of an if, as in if this happens. If this does kill the deal, well, my apologies for wasting your time. If not and the Jets pony up, the $5 mil, though, I promise it will be...
Tim Tebow is coming to New York. Really. After a big false start, the New York Jets pulled off a Tebow-like comeback Wednesday night, getting the quarterback who turned the Denver Broncos from an also-ran into a playoff team last season and became the NFL's most talked-about player — for a fourth- and sixth-round draft pick. Now, Tebowmania is opening on Broadway. And, there's...
According to a lot of reports in the NFL world. The Jets have interest in making a trade for Tim Tebow from the Broncos. The Denver Broncos have signed future hall of fame QB Peyton Manning to a five year deal for 96 million dollars Tuesday. They are looking to move Tim Tebow out of town and the Jets are one of the teams that could get him in a trade. I actually like the idea...
By now – It's no mystery Tim Tebow is in for the ride of his life joining the New York Jets – We really need to look at this because it's a lot worse than we once thought.. The NY Post is already saying that the presence of "devout star" is going to be hell on Mark Sanchez – Sanchez has plenty enough to worry about trying to bond with Santonio Holmes, and new receiver...
According to Jay Glazer of FOX Sports, the New York Jets have traded a fourth round pick to the Denver Broncos for quarterback Tim Tebow.Now Jets head coach Rex Ryan and offensive coordinator Tony Sparano can run the wildcat as much as they want.  Even though the wildcat is pretty much a joke in the NFL right now.I would love to see Tebow and Antonio Cromartie in the locker room...
Season 2, Episode 90 of The Terrible Podcast is up and with David Todd and start with the crazy few days of news around the NFL and that included the Bountygate punishment handed down by NFL commissioner Roger Goodell to the New Orleans Saints and the trade of quarterback Tim Tebow to the New York Jets. Was the punishment just by Goodell and was it a good deal for the Jets? We discuss...
Latest Rumors
The Backyard
Going Viral

Today's Best Stuff

For Bloggers

Join the Yardbarker Network for more promotion, traffic, and money.

Company Info

Help

What is Yardbarker?

Yardbarker is the largest network of sports blogs and pro athlete blogs on the web. This site is the hub of the Yardbarker Network, where our editors and algorithms curate the best sports content from our network and beyond.