Found November 16, 2011 on Sportress of Blogitude: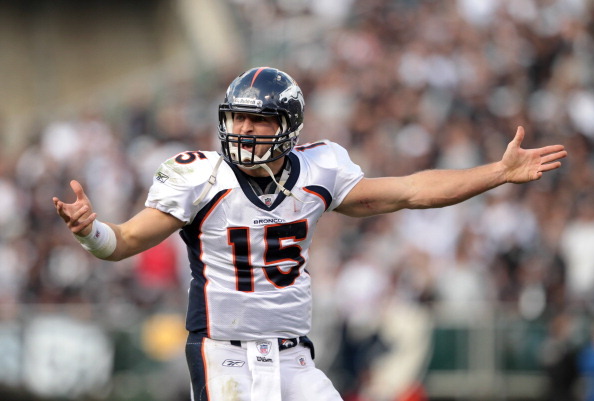 On Monday, NFL.com reporter Jeff Darlington took a seat in John Fox's office and listened to the Denver Broncos head coach wax philosophical regarding the quarterback his team by all appearances begrudgingly sends out to lead the Broncos every week. And by the time you finish reading the below quotes, I imagine you, like me, might be left wondering, "Is this guy really sold on Tebow or is he just making the best out of a bad situation on a team that he inherited?"
Here's what Fox had to say about how the Broncos are winning ugly with Tebow at the helm:
"Do whatever the hell it takes," he laughed. "I mean, what the hell? You don't get points for style in this league. Let me tell you something: My man is really good in this offense. You know what I mean?
"If we were trying to run a regular offense, he'd be screwed."
Ouch. For the next 45 minutes, Darlington watched as Fox broke down game film and listened as the coach simultaneously (and somewhat reluctantly) praised Tebow while at the same time bemoaned his lot in life as the Broncos' first-year head coach. There are an abundance of telling quotes from Fox in the article, but perhaps this one sums it up best:
"After the loss to Detroit (a 45-10 blowout), we decided if Tim is going to be our guy, we can't do that other crap. We had to tweak it."
Reading the article in its entirety should make one feel badly for the Broncos coach. To me, it seems nothing would have been better for him — not to mention the entire organization — than had Tebow gone out, played terribly and lost. And depending on which way you look at it, especially if you're an NFL purist, Tebow only went out and did one of those two things. They say winning cures everything, but to listen to John Fox, that might not be true in every situation. Don't get me wrong, I'm sure Fox is happy the team is going out there and winning football games, it's just that he likely wishes they were doing it differently. That said, the Broncos are winning with Tebow and his unorthodox play under center, which is leading to some folks in Broncos camp to warm up to the new system. "I don't think anyone within the organization is immune to the fact that there may be something special about the guy," the source said. "I don't think anybody is sold on the long-term success of this offense yet -- but I think we've warmed up to it."
Also from Sportress of Blogitude
Czech porn star wants to own a football club
Video: The soccer goal of the year?
Video: High school DL uses suplex to sack quarterback
Original Story:
http://www.sportressofblogitude.com/2...
THE BACKYARD
BEST OF MAXIM
RELATED ARTICLES
DENVER, CO -- Tim Tebow did it again. Backed up on their own five-yard line, Tebow marched down the field before scampering 20 yards for the go-ahead score with 56 seconds remaining in the game. That put the Denver Broncos up for good, 17-13, defeating the New York Jets on Thursday night.Tebow saw the Jets stack the box with nine defenders and man coverage on the edge. He rolled...
It's official. Beating the Dolphins, the Raiders, and the Chiefs didn't really count.  Leading the Broncos from behind with a 95-yard drive against one of the best and proudest defenses in the NFL has taken Tebowmania to a new level. Tim Tebow and his Broncos, after a sluggish night through more than three quarters, put…
Tebow in actionWe don't think there has ever been a more polarizing figure in the history of the NFL then Tim Tebow. Criticism that he can't throw, experts saying he can't run a pro system, analysts saying there his mechanics are awful.But give the man this.He wins.The latest was a game winning 20-yard TD run with less than a minute to go and rallying his Denver Broncos...
Tim Tebow capped a 95-yard drive with a 20-yard touchdown run with 58 seconds to play, lifting the Broncos to a stunning 17-13 victory over the visiting Jets on Thursday night.
Tim Tebow's 20-yard touchdown run with 58 seconds left capped a 95-yard drive and sent the Denver Broncos to a 17-13 victory over the stunned New York Jets on Thursday night.
Darrelle Revis isn't concerned about Tim Tebow's arm and he's not concerned about Tim Tebow's legs. What is he concerned about it Tim Tebow's ability to lull him to sleep in the defensive backfield by orchestrating an offense that runs the ball 60 times per game. "The biggest thing for the secondary is for us not to fall asleep,' Revis told reporters...
Jets coach Rex Ryan is preparing to face Broncos quarterback Tim Tebow on Thursday night, and Ryan says he's admired Tebow since he was in college. "I thought he was a great competitor and he is a winner, and that's what he's showing right now," Ryan said, in comments distributed by the Jets' PR staff.…
Florham Park, NJ -- Here we go again. It is said week in and week out but this is another big game for the New York Jets. Let's face it, every game from here on out is a big game for them, but that is beside the point. This week they have to focus on the Denver Broncos at Mile High Stadium, where the air is thin and the spirits are high from the semi-professional play of QB...
DENVER — As we've all come to know, Rex Ryan loves making guarantees as much as he loves eating Mexican food. So in the spirit of Rex, here's a guarantee: The 4-5 Broncos cannot and will not beat the 5-4 Jets with quarterback Tim Tebow throwing the ball eight...
Broncos News

Delivered to your inbox

You'll also receive Yardbarker's daily Top 10, featuring the best sports stories from around the web. Customize your newsletter to get articles on your favorite sports and teams. And the best part? It's free!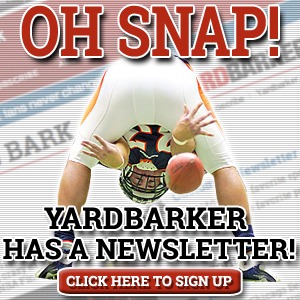 Latest Rumors
Best of Yardbarker

Today's Best Stuff

For Bloggers

Join the Yardbarker Network for more promotion, traffic, and money.

Company Info

Help

What is Yardbarker?

Yardbarker is the largest network of sports blogs and pro athlete blogs on the web. This site is the hub of the Yardbarker Network, where our editors and algorithms curate the best sports content from our network and beyond.