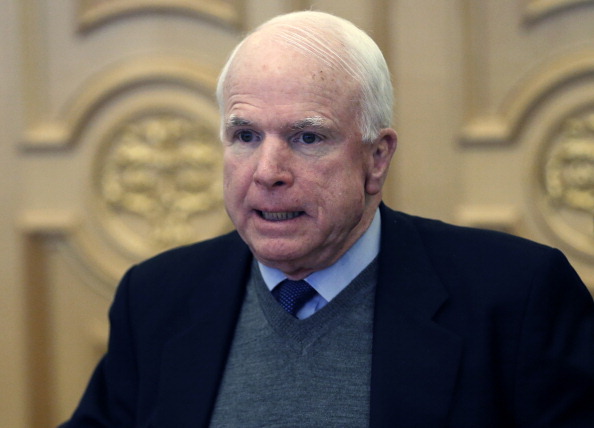 There has been a long and controversial debate over whether the Washington Redskins should change their team nickname.On Friday, Senator John McCain threw his opinion on the matter into the mix as well, saying he would "probably change" the name if the decision was up to him."If they think it's that offensive and terrible, I would certainly -- probably -- I'm not the owner and he has the rights of an owner. But frankly I would probably change the name," McCain said during an appearance on the Dan Patrick Show. "Myself I'm not offended. You're not offended. But there are Native Americans who are."Patrick then asked if McCain believed there were any connections between the Redskins situation and the Donald Sterling mess."I'm not sure I connect the two. But I do believe if I were [Snyder] I would sit down with Native American leaders," McCain said. "I've been involved in Indian Affairs in a long, long time. We have a large Native American population in our state. I'd call the Native American leaders together and I'd sit down with them and say 'What is it you want?' If I were him I'd have a dialogue."It's hard to imagine that aforementioned dialogue actually occurring. Why? Well, because if Snyder sits down with Native American leaders we know what they will suggest to change the name. And if Snyder doesn't want to do it, one can read between the lines and realize a meeting is not likely to happen.Via Eye on Football
Read the rest of this story...
MORE FROM YARDBARKER
NFL News

Delivered to your inbox

You'll also receive Yardbarker's daily Top 10, featuring the best sports stories from around the web. Customize your newsletter to get articles on your favorite sports and teams. And the best part? It's free!
Best of Yardbarker
NFL News
MLB News

Today's Best Stuff

For Bloggers

Join the Yardbarker Network for more promotion, traffic, and money.

Company Info

Help

What is Yardbarker?

Yardbarker is the largest network of sports blogs and pro athlete blogs on the web. This site is the hub of the Yardbarker Network, where our editors and algorithms curate the best sports content from our network and beyond.