Found December 30, 2011 on Purple Jesus Diaries:
You know what? I'll be the first to admit that Purple Jesus Diaries has probably ignored John Sullivan more than we should have during his career with the Vikings. It's not that we don't think he's a fine football player (I actually have no idea!), it's just that he's kind of invisible when placed around the rest of the characters on this team. I mean really, if you had a choice to write about John Sullivan or Chris Kluwe, who do you choose?
While the answer appears simple, THAT MAY ALL BE ABOUT TO CHANGE.
BOOM. John Sullivan has a smokin' hot lady friend. As a fan, this make me very proud. I like it when I find out that players on the team I happen to cheer for are doing well for themselves. It boosts my confidence, telling me that just MAYBE the team has a chance because the guys playing maybe aren't a bunch of doodle-bugs afterall. Or maybe they are, but at least we know they're people too, and that makes hating them a lot harder.
This lady is Ashley Tarutis (@ashleytarutis), who certainly knows how to decorate for Christmas. She also happens to be a Master's student at the University of Notre Dame (BBOOOOO!!!) and is a volleyball player for them. She also originally hails from Long Beach, California, and was almost born on the 4th of July. Would that have been fun? I kind of feel like it would have been a crap job to share your birthday with America. I want two separate days of binge drinking, dammit! So Ashley lucked out.
What this all means, if any or nothing at all, is that John Sullivan became a hell of a lot cooler for no reason at all. Maybe it's the lumberjack look with his red flannel. Maybe it's the fact that Jim Kleinsasser is retiring this year, and we need a new woodsy-looking guy with a beard on the team. Maybe it's because he signed that contract extension recently, and I better find out a little bit more about him. More likely, it's the fact that he's towering over Ashley here, which has definitely assuaged any negative feelings I've had that he may be too small to play center for us. I mean look at him! He's taller than a fireplace! That has to be a good thing!
Whatever it is, prepare for some "Sullivan The Lumberjack" fan-fiction in your near future. Or maybe Al Borland fan fiction. He kind of looks like Al Borland here, right? Weird. Whatever. Best of luck to these two crazy kids, whatever may happen in their life. Go get 'em, you two!
[follow]
Original Story:
http://www.purplejesusdiaries.com/201...
THE BACKYARD
BEST OF MAXIM
RELATED ARTICLES
Vikings fans everywhere held their breath Sunday when running back Adrian Peterson suffered what looked to be a devastating leg injury. Everyone's worst fears were realized a day later when Peterson's injury was confirmed to be a torn ACL and MCL. But despite the mental and physical agony Peterson was undoubtedly going through, he still had time to fulfill a promise to a...
Jim Kleinsasser has spent 13 seasons' worth of Sundays flattening opponents with pancake blocks and paving the way for some of the game's great running backs. This Sunday will be his last. The Minnesota Vikings' battering ram is calling it a career. And it's been more than anyone could have imagined when the Vikings drafted him in the second round back in 1999....
How much has the NFC North changed over the past two years? Sunday's game in Minnesota is all the evidence needed. The Vikings (3-12) are wrapping up their second straight season at the bottom of the division after being the NFC North Champions in 2009. Minnesota is even looking for its first division win of 2011 Sunday against the Chicago Bears. Chicago (7-8) won the NFC North...
The Vikings gave Chad Greenway a big contract, yet they don't put him in a position to make big plays.
Joe Webb has been making it harder for Leslie Frazier to dismiss the possibility of him being a starting quarterback. Frazier is pushing that decision off until the offseason.
We heard a rumor about Vikings cornerback Benny Sapp being arrested Friday afternoon, but were not able to confirm the story and ultimately didn't post anything about it. The Vikings decided to address the issue on Friday night after the story took a life of its own locally. "We've been made aware that Benny Sapp received a citation,…
Punter Chris Kluwe talked to former Vikings QB Donovan McNabb and said he plans to pay the $5,000 charitable donation he agreed to during the preseason. Plus, Adrian Peterson has his surgery, Redskins safety Reed Doughty was fined and more.
Police say Minnesota Vikings cornerback Benny Sapp has been cited for fifth-degree assault and careless driving, both misdemeanors, after a run-in with security at Children's Hospital in Minneapolis.
Leslie Frazier is finishing his first full season as head coach of the Vikings and says he has no reason to question his future after a 3-12 season.
Get keys to the game, fast facts, series history and more as the Vikings and Bears get ready to close down their seasons with one last meeting. As they do, Jared Allen still has record goals on his plate.
Minnesota Vikings officials insist their first choice for a stadium remains the St. Paul suburb of Arden Hills. But they are also taking a closer look at a site in downtown Minneapolis near the Basilica of St. Mary.
Vikings News

Delivered to your inbox

You'll also receive Yardbarker's daily Top 10, featuring the best sports stories from around the web. Customize your newsletter to get articles on your favorite sports and teams. And the best part? It's free!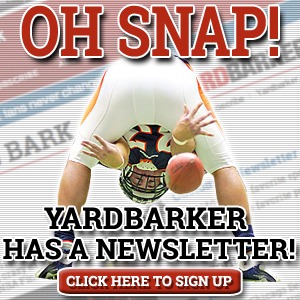 Latest Rumors
Best of Yardbarker

Today's Best Stuff

For Bloggers

Join the Yardbarker Network for more promotion, traffic, and money.

Company Info

Help

What is Yardbarker?

Yardbarker is the largest network of sports blogs and pro athlete blogs on the web. This site is the hub of the Yardbarker Network, where our editors and algorithms curate the best sports content from our network and beyond.