Found August 20, 2013 on Fox Sports Florida:
TAMPA, Fla. -- The sky is falling. Look for new answers. Demand more. If you listen to chatter about the Tampa Bay Buccaneers' offense long enough, you will hear no shortage of extremes. It is en vogue on message boards, local airwaves and elsewhere to swing a piata stick at Josh Freeman & Co. Two weeks of preseason games are past. The criticism is in late-season form. Chill out, already. Look, there was little to like from the top unit during the Bucs' 25-21 loss to the New England Patriots last Friday at Gillette Stadium. Freeman went 2 for 3 for 8 yards. He was sacked three times. He looked uncomfortable. The offense trudged through a mud of its making. Then Tuesday, Hall of Fame quarterback Fran Tarkenton delivered this verbal haymaker. "He plays sometimes at a nice level," Tarkenton said of Freeman in an interview with WDAE 620 AM. "I've watched him a lot. He just plays God-awful. ... Josh Freeman has proven to me he can't play." God-awful? He can't play? Really? Add Tarkenton's words to the long line in the past week quick to cut Freeman, each like a thousand little knives. Yawn. The act has become predictable, stale. Sure, Freeman has scars. He has been inconsistent. He has thrown 39 combined interceptions the past two seasons. His laid-back demeanor bugs observers who want quarterbacks to be more fire-and-brimstone than calm and cool. But step back from the flames. This is the same quarterback who set franchise records of 4,065 passing yards and 27 touchdowns last season. This is the same quarterback who is the Bucs' obvious answer behind center. This is the same quarterback who, no matter what he does, will have some suggesting that his starter status is shaky because of the shiny new toy behind him. (No, rookie Mike Glennon is not ready.) If Freeman fails to produce, there will be time for criticism. He shares the same huddle with Vincent Jackson, Mike Williams and Doug Martin. On paper, this offense has too much talent to underachieve, to disappoint. The Bucs have little room for error in the NFC South. If Freeman and the offense struggle well into the season, then the arrows slung his way will be fair game. There will be questions to answer, explanations to be made. Let's flip the calendar to September first. Late Tuesday morning, defensive tackle Gerald McCoy was a voice of reason in the Bucs locker room. He has heard the barbs toward Freeman, toward the offense, especially after the no-show in New England. He thinks they're ridiculous. He's right. "People give him so much scrutiny," McCoy said of Freeman. "I'm like, 'Man, you've got to relax. Calm down man.' I think he gets treated unfairly a lot. To me, it's a sensitive area, because I got it for two years. I'm actually still getting it." This is life in the floodlights. This is life for Freeman and the Bucs' offense now. Coach Greg Schiano said "nothing surprises me" when asked if Freeman's critics, well, surprise him. He said he lives in a bunker, free from the static -- "One Buc Bunker" he called it -- and Freeman would be wise to move in for the next four months. "That goes with being the quarterback, the head coach," Schiano said of the criticism. "Probably the quarterback even more than the head coach is open to a lot of that. Nothing would surprise me. But the only thing he needs to know is the only people that really matter are his teammates, his coach and his owners and the management. Those are the only people that make the decisions around here. He just needs to keep going. And I think he has had a really good camp so far." God-awful? He can't play? Really? Just the latest swing. Just the latest reason to shake your head. You can follow Andrew Astleford on Twitter @aastleford or email him at aastleford@gmail.com.
Original Story:
http://www.foxsportsflorida.com/nfl/t...
THE BACKYARD
BEST OF MAXIM
RELATED ARTICLES
Pro Football Hall of Fame quarterback Fran Tarkenton was very criticial of Buccaneers quarterback Josh Freeman during an appearance on 620 WDAE. "They've had him there for four years and they have question marks about you?'' Tarkenton said, via ESPN.com. "You didn't have question marks about Matt Ryan after his fourth year or Joe Flacco. That means they don't think...
Former NFL great Fran tarkenton is not a fan of Buccaneers quarterback Josh Freeman. Tarkenton was on WDAE radio, and according to ESPN.com, said that "Freeman plays god awful at times." "He plays sometimes at a nice level," Tarkenton said. "I've watched him a lot. He just plays god-awful. That's who you are. It's just a player being able to play or not play. Josh...
ESPN's Adam Schefter reporter on the NFL Insiders yesterday that the foot infection that Carl Nicks is dealing with could force him to miss a month of football, according to Rick Stroud of the Tampa Times. With Nicks out,   Cody Wallace or Jamon Meredith will likely step in for Nicks.     Need NFL Tickets? Loading... ZergNet The post Foot...
As the 2013 NFL regular season is getting ready to start in a few weeks, everyone has an opinion as to what is going to happen this season. Former New York Jets QB Joe Namath always chimes in as to what he thinks is right or wrong with his former team. This afternoon, Minnesota Vikings QB Fran Tarkenton decided he needed to weigh in on the quarterback of the Tampa Bay Buccaneers...
Darrelle Revis and Davin Joseph took steps forward Monday on the Tampa Bay Buccaneers' injury front. Carl Nicks took a step back on his troublesome left foot. Nicks, the starting guard who missed the second half of last season with a lingering injury on his left big toe, has developed a blister on the same foot. It is infected, and Nicks could not practice Monday. ''...
TAMPA, Fla. -- Two-time Pro Bowl guard Carl Nicks has suffered a setback in his recovery after developing a blister on his left foot that became infected. The two-time Pro Bowler, signed by the Tampa Bay Buccaneers to a five-year, 47.5 million deal in March 2012, played seven games last season before sustaining a torn plantar plate in his left foot. The Bucs used caution with him...
Heading into the 2013 preseason, place kicker was not a position of need for the Tampa Bay Buccaneers. Tampa had Conner Barth on the roster, a kicker who converted 28 of 33 field goals last season, going six of nine from 50 yards or more. Barth was perfect on extra point attempts as well, miking 39 of 39. The position became an area of serious concern when Barth ruptured his Achilles...
The Tampa Bay Buccaneers announced today the signing of 13-year veteran kicker Rian Lindell.  Lindell (6-3, 227) joins the Buccaneers after spending the past 10 seasons with the Buffalo Bills, where he holds franchise records in field goal percentage (83.3), consecutive PAT's made (225), field goal percentage in a single season (92.0) and consecutive field goals made (18). He...
The Tampa Bay Buccaneers are exploring options at kicker again. Two sources told FOX Sports that the Bucs are bringing in veterans for tryouts on Thursday. One of them is former Dallas Cowboys kicker David Buehler. The decision stems from concerns about the two kickers currently on the active roster. Lawrence Tynes, who spent the previous six seasons with the New York Giants, hasn...
While Tampa Bay placekicker Derek Dimke has performed well as Connor Barth's replacement since Barth was lost for the season with an Achilles injury the Bucs may not be comfortable heading into 2013 with a first-year kicker lined up to hit a potential game-winning last-second field goal this season. PewterReport.com can confirm an earlier report from FOXSports 1's Alex Marvez...
NFL News

Delivered to your inbox

You'll also receive Yardbarker's daily Top 10, featuring the best sports stories from around the web. Customize your newsletter to get articles on your favorite sports and teams. And the best part? It's free!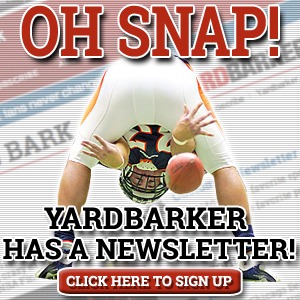 Latest Rumors
The Backyard

Today's Best Stuff

For Bloggers

Join the Yardbarker Network for more promotion, traffic, and money.

Company Info

Help

What is Yardbarker?

Yardbarker is the largest network of sports blogs and pro athlete blogs on the web. This site is the hub of the Yardbarker Network, where our editors and algorithms curate the best sports content from our network and beyond.