Found July 05, 2013 on Football and Futbol:
Check out our 2013 Oakland Raiders E-Book When I look back at the Raiders starting QB's over the past decade, I can't help but notice that there hasn't been a whole lot of security. The post Rich Gannon era has seen over ten starting QB's for the Raiders, and none of them have left their mark as a leader for the offense. There have been a few hopefuls like Andrew Walters, Daunte Culpepper, and "Big Bust" Jamarcus Russell. We can now add Carson Palmer to that group of underachieving signal callers. I can't lie, when Hue Jackson gave up the majority of our high draft picks and our first born to acquire a retired Carson Palmer from Cincinnati, I was more thrilled than skeptical. We had finally picked ourselves a proven quarterback that could lead our team in the right direction. Barely two seasons later, he is now wearing a different jersey and we are starting fresh, once again. This past offseason the Raiders were able to trade for Matt Flynn. Luckily we only had to give up a fourth round pick this year and an undisclosed pick next year. Flynn has been part of some unfortunate situations throughout his brief career. He spent four seasons behind Aaron Rodgers after he was drafted by the Green Bay Packers in the 7th round out of LSU in the 2008 draft. He was finally able to get his chance to start when Rodgers was declared inactive in a game against the New England Patriots. Flynn threw for over 250 yards and 3 touchdowns before suffering a nail-biting loss. His second start came two years later when he played against Detroit. Flynn threw for an astonishing 480 yards and 6 touchdowns, setting two Packer records for the win. The following offseason, Flynn was regarded as one of the top free agents on the market. He was signed by the Seattle Seahawks for $19.5 million with $10 million guaranteed over 3 years. Flynn was signed to compete with Tavarius Jackson and rookie Russell Wilson for the starting role. Wilson beat both men out and once again, Flynn found himself on the sidelines. Seattle saw Flynn as a valuable expenditure, allowing him to depart to Oakland along with his rather large contract in exchange for draft picks. Matt Flynn has not had many opportunities to prove himself to be a starter in the NFL. He has had glimpses of success and will have the opportunity to establish himself as the long term starter in Oakland… Just as long as another rookie with the last name of Wilson doesn't beat him out during the season.
Original Story:
http://www.footballandfutbol.com/just...
THE BACKYARD
BEST OF MAXIM
RELATED ARTICLES
"Within the first five minutes of the game, the other team's quarterback must go down, and he must go down hard". This quote belongs to the late, great Al Davis, in a testament of the importancy of having a stout pass-rush to the success of a defense. Ironically, the Oakland Raiders, the franchise that will always be represented by his [...]
Check out our 2013 Oakland Raiders E-Book And now, taking the field, your Los Angeles Raiders! Now this would not be the first time to happen, the Raiders moving from Oakland to L.A, but if they were to move again would you, as a fan, be disappointed? Or would you realize the stadium they currently play in is one of the worst in the league, not to mention the area that surrounds...
What up RaiderNation? Welcome to this week's edition of My Two Cents, with your favorite antediluvian Raider fan, Old Timer. This week we will be talking about the position battle at Wide Receiver. Currently there are 12 WR's on the roster. In alphabetical order, they are: Brice Butler, Josh Cribbs, Juron Criner, Jacoby Ford, Andre Holmes, Greg Jenkins, Sam McGuffie, [...]
There is something to be said for building through the draft. It is a sound strategy for stability and gives coaches time to really develop a player. However, with fans and owners wanting to win now waiting for a guy to get up to NFL-speed is not always an option. That's what free agency is for; a chance to grab proven talent to fill the holes on your roster. The Oakland Raiders...
What up RaiderNation? Today is a day we should all be celebrating. But unlike fans of other teams, we celebrate not only the birth of America, but also the birth of the greatest Raider of all time, Al Davis. My feable attempts at writing can never do justice to that man, a man I respected as much as my own [...]
I've saved the Oakland Raiders first-round selection for my last 2013 rookie Tale of the Tape for several reasons. First, tape for Hayden is harder to find than the other rookies because Hayden was out much of 2012 with his well-documented heart injury. Second, I've been meditating about what skills are needed for an elite cornerback in the ever-changing NFL. In decades...
Raiders News

Delivered to your inbox

You'll also receive Yardbarker's daily Top 10, featuring the best sports stories from around the web. Customize your newsletter to get articles on your favorite sports and teams. And the best part? It's free!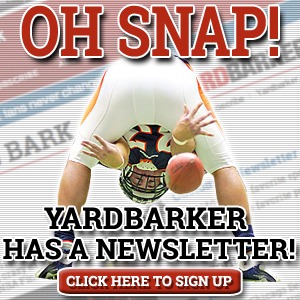 Latest Rumors
The Backyard

Today's Best Stuff

For Bloggers

Join the Yardbarker Network for more promotion, traffic, and money.

Company Info

Help

What is Yardbarker?

Yardbarker is the largest network of sports blogs and pro athlete blogs on the web. This site is the hub of the Yardbarker Network, where our editors and algorithms curate the best sports content from our network and beyond.