Found June 08, 2012 on With Leather:
Brees with a bunch of guys the Saints also didn't want to pay.
As a person who can tell you with little hesitation how to properly operate a Coinstar machine, I have very little sympathy for athletes when they don't get the deals they want. But in the case of Drew Brees and the New Orleans Saints, I'm siding with their franchise QB and telling Tom Benson with a very stern finger-pointing: "Get a damn deal done already."
Love 'em or hate 'em, the Saints have had one hell of a terrible offseason with the whole thing-I-refuse-to-call-Bountygate scandal. Now they're being investigated for violating the no-contact policy at OTAs, and that can all take a backseat for a few minutes if Saints fans just get the news that their beloved Brees is coming back for a few more seasons.
So what's the f*cking hold up, fellas?
According to sources, before this week, the Saints' last offer had been close to $19 million per year over five years, and Brees was asking for about $20.5 million per year.

ESPN's Chris Mortensen reported this week that Brees was asking for $20.3 million per year. It's not clear if that was a new offer or just a different figure on the old offer.

The prediction today is the same as it has been for months. The sides ultimately will agree on a deal that will make Brees the highest-paid player in NFL history, surpassing the $19.2 million per year the Denver Broncos gave quarterback Peyton Manning earlier this offseason. (Via NOLA.com)
Okay, I'm gonna play Devil's avocado here for a second – 5 years? The highest paid player in NFL history? Look, I love Brees. Always have. It still kills me that the Miami Dolphins chose Daunte Culpepper over him. But I will happily point out that he's been the benefactor of a stable of awesome receivers these past few years. Yes, he means so much to the city, but the HIGHEST PAID PLAYER IN HISTORY??? He's 33-years old!
But if the Saints don't pay up, I have a feeling Brees will be just fine with his new sandwich shop. There's always money in a sandwich shop.
(Banner via Allen Berezovsky / Shutterstock.com)
Original Story:
http://feedproxy.google.com/~r/uproxx...
THE BACKYARD
BEST OF MAXIM
RELATED ARTICLES
New Orleans and All-Pro Quarterback Drew Brees are closer to agreeing to a new contract extension than previously expected. The Saints are offering close to 19 million dollars according to NBC Sports. While ESPN reported Brees wanted over 21 million or even 23 million dollars, the quarterback has since denied those claims. Fans are now left to wonder, why hasn't this deal been...
A day after it was reported that the Saints and Drew Brees are about 2 million dollars per year apart on a long term deal and that Drew Brees wants 20.3 million per year, it is now being reported that the Saints have made another official offer to Brees. This comes on the same day that there was some buzz that a deal between the two sides was imminent ahead of next week's mandatory...
Drew Brees is still waiting for a long term deal so what's a millionaire athlete to do in the meantime? Apparently, that was the subject of a trending topic on twitter (one, I unfortunately missed). The people over at 2CentTV decided to bring the trending topic to life and help us understand how Brees might be handling his wait. In the video, Brees does everything from practice...
Getty Images According to a tweet by New Orleans reporter Jennifer Hale, the Drew Brees contract saga may be coming to a close. "Drew Brees contract negotiations are moving forward, and progress is being made. Latest on Fox 8!," the NFL sideline reporter tweeted earlier today. An earlier tweet by Hale was even more positive.  "I'm hearing Friday will be a very happy day...
- #WhileDrewBreesWaits, a hashtag playing on the ongoing Drew Brees contract stalemate, was recently trending on Twitter. The people at 2-Cent TV realized some of the suggestions people made about how Brees is spending his time until said contract gets done. Among the things I was surprised to learn about Breesus: he apparently wears a chintzy Super Bowl XLIV replica jersey at all...
According to ESPN's Chris Mortensen, unsigned franchise player Drew Brees is seeking 20.3 million yearly from the Saints in his new contract. This report comes one day after ProFootballTalk reported that the Saints were offering 18-19 million per year. It's good news that the two sides are closer now than they were earlier in the offseason, but guaranteed money is still a sticking...
Getty Images According to Jennifer Hale of WVUE in New Orleans, quarterback Drew Brees is considering a new contract offer from the Saints.  General manager Mickey Loomis submitted the proposal to Brees' reps.  So far there's been no word on their reaction. I could be wrong, but I wouldn't be surprised if Brees and the Saints agree on a new contract within the next week.
The New Orleans Saints have made a new contract offer to record-setting quarterback Drew Brees, said a person familiar with the situation.
Appeals from players that were suspended because of the Saints' bounty program will be heard June 18, according to a report. Plus, Drew Brees could have a new contract soon, another first-round pick is signed, Chad Ochocinco is released and Brian Banks will get another shot.
Len Pasquarelli, senior NFL writer for The Sports Xchange, brings you all of the latest NFL news, including Drew Brees' contract talks, the severely reduced market for running backs and more.
With all of the turmoil surrounding the New Orleans Saints, you would have thought the Drew Brees contact situation would be dealt with swiftly. Unfortunately for Saints' fans and keeper league Brees owners that hasn't been the case.. Brees is now missing mandatory minicamp. While it isn't a big deal for a player of Brees' stature, it would be nice for a team that is...
NFL News

Delivered to your inbox

You'll also receive Yardbarker's daily Top 10, featuring the best sports stories from around the web. Customize your newsletter to get articles on your favorite sports and teams. And the best part? It's free!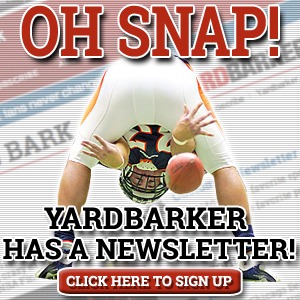 Latest Rumors
Best of Yardbarker

Today's Best Stuff

For Bloggers

Join the Yardbarker Network for more promotion, traffic, and money.

Company Info

Help

What is Yardbarker?

Yardbarker is the largest network of sports blogs and pro athlete blogs on the web. This site is the hub of the Yardbarker Network, where our editors and algorithms curate the best sports content from our network and beyond.