Found September 15, 2013 on Fox Sports Kansas City:
PLAYERS:
Andy Reid
,
Eric Berry
,
Akeem Jordan
,
Lance Dunbar
,
Kendrick Lewis
,
Jamaal Charles
,
Matt Cassel
,
Alex Smith
,
Donald Stephenson
,
Eric Fisher
,
Branden Albert
TEAMS:
Dallas Cowboys
,
Kansas City Chiefs
,
Minnesota Vikings
,
New York Giants
KANSAS CITY, Mo. -- The Bill Belichicks of the world would like you to think the NFL is quantum physics, that it floats above your feeble, triceratops brain and on some higher, purer level of academia. Which, as Einstein liked to say, is utter horse crap. (Of course, he sounded smarter when he said it.) Exhibit A: A year ago at this time, the Kansas City Chiefs had played two games, turned it over six times and collected zero takeaways. They were 0-2, had been outscored 75-41 and were on their way to a 2-14 dumpster fire of an autumn. Exhibit B: After a 17-16 victory over the Dallas Cowboys, the 2013 Chiefs have snatched four takeaways and have yet to turn it over. They're 2-0. They've outscored the opposition 45-18. Lesson No. 1: Take care of the football in the NFL, you win. You don't, you lose. Lesson No. 2: Always remember Lesson No. 1. Simple, right? Congratulations, kids. You just received your doctorate. "It's takeaways and points," coach Andy Reid said after winning his home debut, lifting the new-look Chiefs to their best start since 2010. "On both sides of the ball, we keep it nice and simple. "We try to eliminate the turnovers and we try to score points on offense. The opposite way, don't let them score and have some takeaways, and normally good things happen." There's no complex formula here, no magic wand. It's a fine line, the great demoralizer, the great equalizer. It can give a defense life and reduce an offensive coordinator to tears. In the right hands, it's an absolute weapon. "It's every day, man -- it's every day in practice," said Chiefs safety Eric Berry, whose fumble recovery with 38 seconds left in the third quarter helped set up the game-clinching field goal. "Every time we're touching off, tagging off on the run in practice, we're going after the ball, trying to get interceptions. "We're just trying to get the ball out, because we know that puts our offense in a good position to score and puts them in position to make a play. So that's a big emphasis during practice and it's starting to become second nature for the whole team. It's very important, and it's paying dividends." In a league in which everybody's got gladiators in their corner, turnovers are the "X" factor, the thing that swings the pendulum. On Sunday, the visitors turned it over twice in the second half while in their own territory, miscues that eventually led to those fateful three points. The Chiefs' giveaways: Zero. In Week 1, the Cowboys were plus-five on turnover count at home and knocked off the New York Giants. Again, it ain't rocket science. "We know, firsthand, from last week," Dallas ownergeneral manager Jerry Jones said, "that when you are minus-two in turnovers, you have a real uphill battle." For the second straight game, the boys in red got a little bit of something from everybody. But the single most pivotal moment might have come on that aforementioned takeaway, the result of Chiefs linebacker Akeem Jordan stripping Cowboys tailback Lance Dunbar as he went down after a 4-yard reception. Berry wound up with the rock at the Kansas City 47, then returned it 22 yards to the Cowboys' 31-yard line. "We knew that we needed a turnover -- that was the mindset," said safety Kendrick Lewis, who collected a tackle for a loss and a pass breakup. "And on the defense, we talked to each other on the sidelines, we were telling each other, 'We need the ball, go get the ball,' and that's how we went out there and swarmed together as a defense and were able to come up with two big-time plays." Last year: Minus-6. This year: Plus-4. So what's the secret: Personnel? Mindset? All of the above? "Got a good quarterback," running back Jamaal Charles said, matter-of-factly. Matt Cassel is gone, but the pain lives on. The Chiefs don't necessarily need Alex Smith to be brilliant all the time to win -- not with this defense, not with this punter. But they absolutely, unequivocally need him to be better than awful. And Smith was several stages above that -- again. "A lot of it is mindset," tackle Donald Stephenson said. "We all grew up playing ball and (were) taught to hang onto the ball, stuff like that, doing certain things in pass protections. But sometimes, it bounces off the helmet the wrong way and kind of the wrong thing (happens) and it keeps rolling. So it's a little bit of both." And the afternoon wasn't flawless, by any stretch: Those Chiefs had three drives that started in Dallas territory and only came away with those three points to show for it. The Cowboys made life hell on rookie right tackle Eric Fisher and kept the heat on Smith for much of the afternoon, sacking him four times. "You adjust. Whatever you get beat on, you remember it," said Stephenson, who was pressed into relief duty in the second quarter when left tackle Branden Albert was recovering from a shoulder injury. "That way, when you come in during the halftime (break), you talk about it getting fixed and then go out and play. You know, as we prepared (for) this game, there (were) just a couple of things that they showed that sometimes you don't see on film. "We're digging deep into the bag. That's how it is in this league. It takes everybody." It takes a new coach, a new front office, a new quarterback, a new collective mindset. Sometimes, it takes a new uniform combo -- in this case, red tops and red bottoms, believed to be a franchise first. Sometimes, it takes new pregame introductions -- now done individually, with the help of giant flamethrowers. But the more the aesthetics change, the more the basic tenets remain the same. The numbers don't lie: Last fall, the top four teams in the AFC in turnover margin all reached the postseason. Throw in the top four in plusminus in '10 and the top four in '11, and 11 of those 12 clubs wound up in the playoffs. Compare that with the bottom four in turnover margin in '10, '11 and '12, where nine of the 12 ended up missing the party. Lesson No. 3: Did we mention Lesson No. 1? "(There's) a reason why coaches preach it so much," Stephenson said. "It's probably the most truthful thing in stats." Last year, that truth hurt. This year? This year, it's positively beautiful. You can follow Sean Keeler on Twitter @seankeeler or email him at seanmkeeler@gmail.com.
Original Story:
http://www.foxsportskansascity.com/nf...
THE BACKYARD
BEST OF MAXIM
RELATED ARTICLES
Kansas Chiefs safety Eric Berry picked off a Tony Romo pass with the Chiefs up 17-13 in the fourth quarter, however, he was flagged for holding. The Cowboys drove for a field goal, but the Chiefs picked up a first down on a pass interference call against cornerback Morris Claiborne and escape with a win.
Kansas City Chiefs cornerback Dunta Robinson is expected to miss Sunday's game against the Dallas Cowboys to be with a cousin who was hit by a car, ESPN reported Saturday, citing a source. One of Robinson's first cousins slipped into a coma and is in Intensive Care, requiring a breathing machine, according to the report. […]
Charlie Riedel-AP The Kansas City Chiefs made a stride towards returning to respectability today with a 17-16 home victory over the Dallas Cowboys. Quarterback Alex Smith went 21 of 36 for 223 yards and two touchdowns. Jamaal Charles rushed for 55 yards on 16 carries and led the Chiefs with eight catches as the Chiefs offense racked up 313 yards of total offense and just enough points...
The Kansas City Chiefs are 2-0 after edging out Tony Romo's Cowboys by a point on Sunday afternoon.  Andy Reid and Alex Smith have rejuvenated a team that had been languishing for years in a competitive AFC West.  The team is finally playing exciting football, and the fans can feel a different kind of energy in the air. For one unruly fan, that energy happened to be several hundred...
According to Ian Rapoport of the NFL Network,  there's a 50-50 chance that Chiefs cornerback Dunta Robinson will play on Sunday against the Cowboys, who's currently by his cousins side after he was involved in a car accident. Robinson's cousin has slipped into a coma and is in intensive care, requiring the assistance of a breathing machine, according to ESPN, which first...
This Kansas City Chiefs fan was involved in one of the greatest drunken stadium arrests ever.  It took three cops and one person from security to restrain him because he was fighting back the entire time.  Even after he got tasered and punched, for what looks like an attempt at biting one of the cops, this fan would not go quietly. [The Big Lead]
The Kansas City Chiefs don't have a whole lot of time to enjoy their winning start with a game against the Philadelphia Eagles looming Thursday night. The Chiefs pushed their record to 2-0 with a 17-16 victory over the Dallas Cowboys on Sunday, matching their victory total from all of last year. But by the time most fans were reliving the win on their recliners, the Chiefs&...
KANSAS CITY, Mo. -- Even the most ardent of skeptics have to admit: That was actually a lot of fun, wasn't it? Arrowhead Stadium rocking like it was 1993 all over again. There were the Chiefs, proudly monochromatic, eschewing tradition and wearing all red for the first time in their history. An afternoon capped by a win over a franchise with an actual pulse. For the first time...
The Dallas Cowboys and Kansas City Chiefs meet in Week 2 of the season for a match-up of two 1-0 teams. Moving to 2-0 will not be so easy for either The Cowboys hung on for a win against the New York Giants last week and questions will continue about their ability to close out games going forward. They will be playing against a Chiefs team which had a easy match-up against Jacksonville...
Dallas Cowboys (1-0) at Kansas City Chiefs (1-0) After forcing just 16 takeaways last season, the Cowboys forced 6 against the Giants week 1. They won't do that every week, but it's just another sign that takeaways are very inconsistent on a year to year basis. They're also very inconsistent on a week-to-week basis unfortunately for the Cowboys as teams who win the turnover...
KANSAS CITY, Mo. (AP) The Kansas City Chiefs were about 20 minutes removed from a victory over the Cowboys that allowed them to match their victory total from all of last season when questions immediately shifted to Thursday night's game in Philadelphia. Turns out that was about 20 minutes more than they needed. "Our mind-set is to go 3-0," wide receiver Dwayne Bowe...
NFL News

Delivered to your inbox

You'll also receive Yardbarker's daily Top 10, featuring the best sports stories from around the web. Customize your newsletter to get articles on your favorite sports and teams. And the best part? It's free!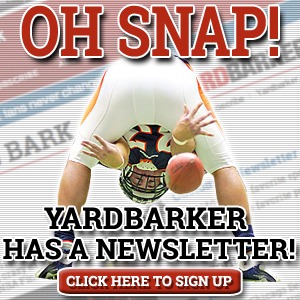 Latest Rumors
The Backyard

Today's Best Stuff

For Bloggers

Join the Yardbarker Network for more promotion, traffic, and money.

Company Info

Help

What is Yardbarker?

Yardbarker is the largest network of sports blogs and pro athlete blogs on the web. This site is the hub of the Yardbarker Network, where our editors and algorithms curate the best sports content from our network and beyond.