Found November 15, 2011 on Giants Kickoff:
PLAYERS:
Kevin Gilbride
,
Brandon Jacobs
,
Ahmad Bradshaw
,
Eli Manning
,
Hakeem Nicks
,
Mario Manningham
,
Jake Ballard
,
Philip Rivers
,
Terrell Thomas
TEAMS:
New York Giants
,
San Diego Chargers
,
Millikin Big Blue
Is Offensive Coordinator
Kevin Gilbride
's conservative and predictable play calling hurting the New York Giants? No one is perfect and I'm not advocating firing the man but he has a history of making bad play calls at crucial times, I still remember his horrible play calls in the 4th quarter in 2009 against the San Diego Chargers which cost the GMEN the game. He is very conservative at the start of games and only opens up the playbook in 4th quarters when the Giants find themselves behind. I wonder sometimes if having an aggressive offensive coordinator could help New York win without having to mount these late come backs which do not always work as seen this past week against the San Francisco 49ers. On twitter he is known as "KillDrive" and after watching his play calling for several years now there is evidence to back up that nickname. Kevin Gilbride Wants To Force A Rushing Attack I understand that teams need to rush the ball in order to control time of possession and to vary plays on drives but you cannot force a run game when you do not have the personnel to play that way! The offensive line has been weak and banged up for the Giants this season, they have slowly improved and definitely played much better against the 49ers. But they still aren't good enough to create a top level rushing attack especially when you have Brandon Jacobs running the ball. In order for Jacobs to be effective he needs an opening the size of a black hole and no offensive line can do that especially ours. Without Ahmad Bradshaw the Giants running game is not consistent even with better line play. DJ Ware did much better this week after they allowed him to play more at the end and sidelined Jacobs, but it took to long to make that decision.
Kevin Gilbride
falls in love with a play to the point that you know when it is coming. The first 2 drives of this past game the Giants scored 2 field goals, it could have easily been 2 touchdowns. Eli Manning was picking apart the 49ers secondary and drove Big Blue to the red zone instead of allowing Eli who was hot to continue throwing, he kills the momentum and starts calling runs. We have Hakeem Nicks, Mario Manningham and a huge target in Jake Ballard yet he calls upon our big, slow ballerina RB Brandon Jacobs. These calls are made against the number one rushing defense in the NFL. Are you kidding me? How does that make any sense? There were several play calls which boggle the mind during this game, but then again I guess New York fans should be used to it. The worst of them all occurred in the 4th quarter, Eli Manning had saved us with some incredible throws under pressure even on 4th downs to continue the drive. Eli positions the Giants 11 yards from a TD to possibly tie the game and on 3rd down
Kevin Gilbride
calls a shotgun draw play. Is that the best possible call when the game is on the line? A screen pass would have been better than that call especially the way the 49ers were crowding the line, it's a ridiculous call which positioned the Giants in an all or nothing 4th down. The funny thing is that as I watched this game with friends and family we all kept saying don't call a draw play, we knew it was coming and apparently so did the San Francisco 49ers. If you cannot fool fans watching the game, how can you expect to catch an NFL defense by surprise? Kevin Gilbride's Predictable, Conservative Play Calling Costs Giants Wins I'm going to take you back to one specific drive which I referred to above, if you want to read the full article you can go to NY Giants Shoot Themselves in Foot vs Chargers. New York takes a 17-14 lead against San Diego in 2009 in the 4th quarter. The defense had played a great game against Philip Rivers and on the next Chargers possession Terrell Thomas intercepts the ball and runs it back to the 4 yard line. You can seal the win with a TD from just 4 yards out. First play called by Gilbride is a run with Jacobs who tippy toes his way no where and during this an offensive lineman holds which costs the Gianst 10 yards. Second play is a mess, looks like some kind of draw which gets nothing. On 3rd down Kevin Gilbride calls Jacobs number again and of course he gets stuffed. New York settles for a field goal and not one ball was thrown into the end zone to try and get a TD. Philip Rivers drives on the Giants with less than two minutes remaining and scores a TD to win the game 21-20. That in a microcosm is how Kevin Gilbride's conservative and predictable play calling hurts the New York Giants offense.
Original Story:
http://giantskickoff.com/2011/11/15/k...
THE BACKYARD
BEST OF MAXIM
RELATED ARTICLES
New York Giants receiver Victor Cruz says he quickly got under a table and stayed down after hearing gunshots at a New York City supper club while celebrating his birthday with teammate Chris Canty and friends. Cruz and Canty were scared but not hurt in the early Tuesday morning incident inside the Juliet Supper Club. The shooting was not related to the party. While there were...
http://www.nj.com/giants/index.ssf/2011/11/giants_run_defense_hampered_by.htmlAndrew Mills/The Star-LedgerGiants linebacker Michael Boley (center) was injured and left the game late in the second quarter as the San Francisco 49ers defeat the New York Giants, 27-20, at Candlestick Park in San Francisco. He was on the sideline in sweats during the second half and did not return.By...
RB Ahmad Bradshaw (foot) and LB Michael Boley (hamstring) will not practice today. Boley is day-to-day and Bradshaw is still not ready to return. Neither is expected to play this Sunday vs the Eagles. CB Aaron Ross, who left the game in San Francisco with a leg contusion, is practicing this afternoon. This week, the Giants will look to give more responsibility to several rookies...
Giants can end Dream Team's playoff pipe dreamCLIPPED WINGS: Michael Vick and the 3-6 "Dream Team" Eagles could have their fleeting playoff hopes crushed by the Giants this week.By Paul Schwartz - NY Post 11/16/11
Giants linebacker Michael Boley and cornerback Aaron Ross are listed as day to day with injuries sustained Sunday in a loss to the San Francisco 49ers. Boley pulled his hamstring late in the first half, and Ross was limited to roughly a half with a thigh bruise. Giants coach Tom...
Can't count on BoleyGETTY IMAGESCRUZ MISS: The 49ers' Carlos Rogers intercepts a pass intended for Victor Cruz during the Giants' 27-20 loss Sunday in San Francisco.By Paul Schwartz - NY Post 11/15/11
Nov 20, 8:20 PM | Turf of MetLife Stadium Philadelphia Eagles vs New York Giants Odds 3-6TEAM RECORD6-3 The Philadelphia Eagles can't win at home but they remain a dangerous road foe and the New York Giants are about to find out in Week 11 odds action Sunday. Both teams come off disheartening losses but the trends favor the Eagles in this NFC East clash. Philly is 6...
Justin Smith batted down an Eli Manning pass on 4th-and-short with less than a minute remaining, helping the San Francisco 49ers hold off the New York Giants 27-20 on Sunday.
NFL News

Delivered to your inbox

You'll also receive Yardbarker's daily Top 10, featuring the best sports stories from around the web. Customize your newsletter to get articles on your favorite sports and teams. And the best part? It's free!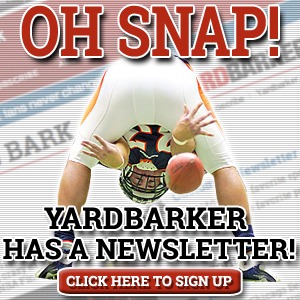 Latest Rumors
Best of Yardbarker

Today's Best Stuff

For Bloggers

Join the Yardbarker Network for more promotion, traffic, and money.

Company Info

Help

What is Yardbarker?

Yardbarker is the largest network of sports blogs and pro athlete blogs on the web. This site is the hub of the Yardbarker Network, where our editors and algorithms curate the best sports content from our network and beyond.